Long postseason games the norm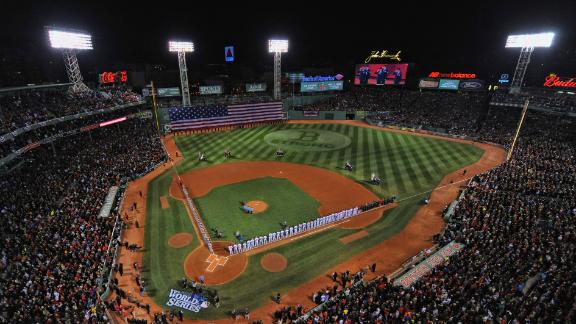 Why Nobody Watches The World Series
Keith Olbermann details the slow decline of World Series viewership since 1971.
Why Nobody Watches The World Series
BOSTON -- Lengthy postseason games that drag on close to midnight might be a challenge for fans who try to balance watching baseball and getting up for work in the morning. But they've become a way of life in the new age of deliberate baseball in October.
According to figures from Major League Baseball, the average nine-inning postseason game in 2013 has taken almost 3 hours, 22 minutes to complete. That's significantly longer than the average running time of nearly 2 hours, 59 minutes per game during the regular season.
But MLB's figures show that the lengthy game times this fall are right in line with the recent trend in October. The postseason running times this year are actually shorter than they were in the 2007 and 2009 seasons (see chart).
Taking Their Sweet Time

Longer games in the postseason aren't anything new. Here are MLB's figures for average time of game over the past seven postseasons.
Year
Avg. Length of Games
2013
3 hours, 22 minutes*
2012
3 hours, 17 minutes
2011
3 hours, 19 minutes
2010
3 hours, 15 minutes
2009
3 hours, 30 minutes
2008
3 hours, 16 minutes
2007
3 hours, 26 minutes
* Through LCS
Source: Major League Baseball
Joe Garagiola Jr., who reports to Joe Torre as baseball's senior vice president of standards and on-field operations, said MLB is constantly thinking of ways to keep games moving. He said he typically raises the issue with teams in spring training rather than October, when the stakes are highest.
"These are the most important games of the year, so you don't want to ask teams to start doing things that really impact how they approach the game," Garagiola said from Fenway Park, where Boston is hosting St. Louis in the first two games of the World Series. "That said, the umpires will encourage teams to try to maintain a good pace, because I think everybody likes that.
"But if people are taking a little more time between pitches, or batters are stepping out because they want to compose themselves, it's because somebody is going to be the world champion at the end of the next eight or nine days. You can't lose sight of that."
Between-innings commercial breaks account for a significant chunk of the longer running times in October. The standard break for an MLB regular-season game is 2 minutes, 5 seconds, and extends to 2:25 for a nationally televised game. During the postseason, the between-innings break increases to 2:55.
The Boston Red Sox, who thrive on working deep counts and fouling off pitches to wear out opposing starters, also have contributed to some of the lengthy postseason running times. MLB's figures show that the Red Sox played the longest games among the 30 MLB teams this season, with an average time of 3 hours, 10 minutes. The Miami Marlins, Toronto Blue Jays and Kansas City Royals played the quickest games, with an average time of slightly more than 2 hours, 50 minutes.
In the opener of the American League Championship Series, Anibal Sanchez and the Detroit Tigers' bullpen pitched no-hit ball for 8 1/3 innings, and the Tigers beat the Red Sox 1-0. The game took 3 hours, 56 minutes to complete.
Boston's Clay Buchholz became a topic of conversation among reporters on Twitter for his deliberate approach during a start later in the ALCS. But Garagiola said now is not the time for MLB to ride herd on batters and pitchers who dawdle.
"You have to cut the teams a little slack," Garagiola said. "If you're seeing more trips to the mound and looking in the dugouts, this is not the time to be confused or unclear or have the pitcher and catcher not be on the same page. One swing and everybody goes home."
ESPN.com MLB Sr. Writer
ESPN.com senior writer
Author of "License to Deal"
Former Denver Post national baseball writer
SPONSORED HEADLINES
MORE MLB HEADLINES
MOST SENT STORIES ON ESPN.COM