Cards, Jays finish as top two teams
Updated:
October 5, 2015, 12:02 PM ET
Week: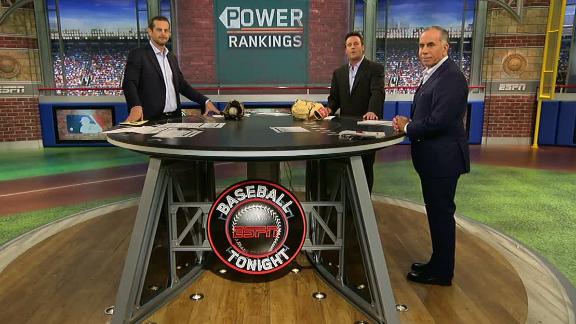 Blue Jays top the MLB Power Rankings
ESPN.com
In the 27th and final week of our rankings, the St. Louis Cardinals closed out a dominant season by finishing the year in the No. 1 spot for the 18th time in the past 19 weeks.
The Toronto Blue Jays, who were the one team to take over the top spot (in Week 24) from the Cardinals during their dominant 19-week stretch, move up one spot to No. 2. The Pittsburgh Pirates (No. 3), Chicago Cubs (No. 4) and Kansas City Royals (No. 5) round out our top five teams.
This week's voters are Jim Bowden of ESPN Insider, Eric Karabell of ESPN Fantasy, Tim Kurkjian of ESPN, David Schoenfield of the SweetSpot Blog Network/ESPN.com and Jayson Stark of ESPN.com. Most of the team comments come courtesy of the bloggers on the SweetSpot Blog Network.
Tell us what you think about the Power Rankings. Use the hashtag #ESPNMLBPOWER.
2015 Power Rankings: October 5
RANK
TEAM / RECORD
TRENDING
COMMENTS
1

--




Last Week: 1

The Cardinals finally clinched the NL Central title against the feisty Pirates to claim their third 100-win season in the last 12 years. Adam Wainwright also returned to the pitching staff, but Yadier Molina may not be back in time for the playoffs. -- Matt Philip (@fungoes), Fungoes
2

1




Last Week: 3

The Blue Jays completed their most successful season in 22 years, winning the AL East, and the league-leading offense recently received a huge boost with the return of shortstop Troy Tulowitzki. Add that to a rotation fronted by David Price and Marcus Stroman, and this team is poised to make some real noise in the postseason. -- Joshua Howsam (@House4545), Blue Jays Plus
3

1




Last Week: 2

The Pirates finished with 98 wins, second most in the majors. The last Pirates team with more? The 1909 club led by Honus Wagner. They'll host the wild-card game for the third straight season, facing Jake Arrieta, who held the Pirates to a .151 average in five starts. -- David Schoenfield (@dschoenfield), SweetSpot
4

1




Last Week: 5

The Cubs finished the season with 97 wins, the most for the franchise since 2008. The average age of the 2008 team was 30.2 years old. The average age of the 2015 Cubs is 26.7 years old. The future is here and the window for a World Series title is now open. -- Joe Aiello (@VFTB), View from the Bleachers
5

1




Last Week: 4

Five straight wins to finish the season helped erase some of the bad feeling from the final month. Yordano Ventura will start Game 1 of the Division Series against the wild-card winner and he posted a 2.38 ERA over his final 11 starts. -- David Schoenfield (@dschoenfield), SweetSpot
6

1




Last Week: 7

The Mets' nosedive in the final week gave the Dodgers home-field advantage in the Division Series that begins Friday. Zack Greinke's 1.66 ERA led the majors and was the lowest since 1995 (Greg Maddux, 1.63). Clayton Kershaw is the first pitcher to reach the 300-strikeout milestone since Curt Schilling and Randy Johnson in 2002. -- Diane Firstman (@dianagram), Value Over Replacement Grit
7

1




Last Week: 6

The Mets recorded 90 wins for the 11th season in team history and for the first time since they went 97-65 in 2006. -- Joe Janish (@metstoday), Mets Today
8

--




Last Week: 8

After a heartbreaking ninth-inning comeback by the Angels on Saturday, the Rangers rebounded to win on Sunday to clinch the AL West title and advance to the ALDS, where there will play the Blue Jays. -- Brandon Land (@one_strike_away), One Strike Away
9

--




Last Week: 9

The Yankees opened the regular season with a mountain of questions and they ended it the same way. While they clinched a playoff spot, no one's quite sure which Yankees squad will show up in October: the one that played well for the first four months or the one that sputtered its way through August and September. -- Stacey Gotsulias (@StaceGots), It's About the Money
10

--




Last Week: 10

They're back in the playoffs for the first time since losing the 2005 World Series. They also tied with the Blue Jays for the MLB lead with 230 home runs, Dallas Keuchel won 20 games and maybe the AL Cy Young Award and Carlos Correa's star arrived. It's just the start of a bright future. -- David Schoenfield (@dschoenfield), SweetSpot
11

1




Last Week: 12

A mad-dash final month -- they went 20-11 in September/October -- fell one game short as a depleted bullpen and Cole Hamels ended their playoff hopes Sunday. The game to forget will be the Sept. 13 loss when the Astros scored five runs in the ninth after having two outs and nobody on to win 5-3. -- David Schoenfield (@dschoenfield), SweetSpot
12

1




Last Week: 11

The Giants will look back on 2015 and wonder what could have been if five Opening Day starters and five starting pitchers didn't see time on the disabled list. Rookies Matt Duffy, Kelby Tomlinson, Chris Heston, Josh Osich and Hunter Strickland opened eyes in the organization and lend hope to a playoff run in 2016. -- Connor Grossman (@connorgrossman), West Coast Bias
13

--




Last Week: 13

The Twins ended a good season on a bad note, getting swept at home by the Royals to put a damper on any postseason hopes, but they finished above .500 for the first time in five years. Finding a catcher and bullpen help will be offseason priorities. -- Nick Nelson (@NickNelsonMN), Twins Daily
14

1




Last Week: 15

Along with his two no-hitters, Max Scherzer also finished the season with a career-best 2.79 ERA. -- ESPN.com
15

1




Last Week: 14

The Indians did not deliver on the high expectations that many had for this team prior to the season. However, the exciting play of rookie of the year candidate Francisco Lindor, improved overall defense and strong starting pitching performances from unlikely candidates such as Josh Tomlin and Cody Anderson, made the second half much more fun to watch. -- Stephanie Liscio (@stephanieliscio), It's Pronounced "Lajaway"
16

--




Last Week: 16

After a disappointing season, the Orioles enter an uncertain offseason with the possibility of several key players departing via free agency. -- Matt Kremnitzer (@mattkremnitzer), Camden Depot
17

--




Last Week: 17

After finishing with the 12th-worst record in baseball, the Red Sox won't have their first-round pick protected in next year's draft. Still, finishing the season with a couple of 35-year-old relievers manning the rotation, president of baseball operations Dave Dombrowski and new GM Mike Hazen aren't likely to sit on their hands as free-agent pitchers find teams in the coming months. -- Ryan P. Morrison (@ryanpmorrison), Inside the 'Zona
18

1




Last Week: 19

The Diamondbacks won their 79th contest of 2015 in typical fashion: A.J. Pollock and Paul Goldschmidt homered, Robbie Ray was sharp and Brad Ziegler recorded the save with the help of a double play. The team has needs to address this winter, but a 15-win improvement has them headed in the right direction. -- Jeff Wiser (@OutfieldGrass24), Inside the 'Zona
19

1




Last Week: 18

The Rays closed out the regular season on a high note as they won five of their last six games, finishing two games ahead of the last-place Red Sox in the AL East. -- ESPN.com
20

--




Last Week: 20

Seattle got their man as the club announced former Angels GM Jerry Dipoto to the same position. After run-ins with a meddling owner and a strong-willed manager in Anaheim, Dipoto inherits a new challenge with the M's. The future of Lloyd McLendon is still murky and the team needs more talent. -- Jeff Wiser (@OutfieldGrass24), Inside the 'Zona
21

--




Last Week: 21

In what turned out to be his last start of the season on Sept. 27, James Shields surpassed the 200-inning mark (202 1/3) for the ninth consecutive season. Earlier, he surpassed the 200-strikeout mark, finishing with 216. Next season, Don Orsillo, dropped by NESN in their coverage of the Red Sox, will be part of the Padres' broadcast team on television and radio. -- Diane Firstman (@dianagram), Value Over Replacement Grit
22

--




Last Week: 22

A franchise single-season strikeout record for Chris Sale, back-to-back 30-home run and 100-RBI campaigns for Jose Abreu, a third-straight 200-innings pitched season for Jose Quintana, a fired bench coach and a protected first-round draft pick are the season-ending plaudits for a White Sox team with a great core and a terrible everything else. -- James Fegan (@TheCatbird_Seat), The Catbird Seat
23

--




Last Week: 23

The Tigers clinched a top-10 draft pick Saturday by losing to the White Sox. It means they can't lose that pick via free-agent compensation, which will make the front office happy. They'll be busy this winter. -- Grey Papke (@walkoffwoodward), Walkoff Woodward
24

--




Last Week: 24

After going a perfect 5-for-5 in Game 1 Saturday, Christian Yelich had hits in each of his first three at-bats in Game 2. With hits in eight straight plate appearances, Yelich tied a Marlins record (Preston Wilson in May 2001). Dee Gordon secured his second straight major league stolen-base title and also collected his 200th hit. -- Diane Firstman (@dianagram), Value Over Replacement Grit
25

1




Last Week: 26

A bittersweet series in San Diego during the last week showed how far the Brewers fell, and how far they advanced in their rebuild. Their new GM, David Stearns, met with the club, preparing to take the reins. Not a single member of the Opening Day rotation started during the last week. By the time this season closed, Brewers fans had the chance to see the future. -- Nicholas Zettel (@spectivewax), Disciples of Uecker
26

1




Last Week: 25

The A's finished with their worst record since 1997, when they were 65-97. -- ESPN.com
27

--




Last Week: 27

The Rockies finished the year having a better record in September and October then they did May through August ... but it still wasn't a winning one. Rockies fans will wonder, despite the new general manager, if it will be another quiet offseason. -- Richard Bergstrom (@RockiesZingers), Rockies Zingers
28

1




Last Week: 29

The Braves finished the season on a strong note, with three straight shutouts of the Cardinals. They shut out their opponent four of their past five games, accounting for nearly half of their 10 shutouts this year. Shelby Miller also ended his 24-start winless streak. He still has the unfortunate distinction of leading the National League in losses (17) despite having the NL's 11th-best ERA at 3.02. -- Martin Gandy (@gondeee), Chop County
29

1




Last Week: 28

Two years ago, the Reds won 90 games and made the playoffs. In 2015, Cincinnati lost nearly 100 games and finished in last place. A precipitous decline for which GM Walt Jocketty must take the lion's share of the blame. -- Chad Dotson (@dotsonc), Redleg Nation
30

--




Last Week: 30

Well, on the bright side they avoided 100 losses. Hey, there were some positives: Maikel Franco looks like a lineup anchor, Aaron Nola had a solid 13-start stint, Jerad Eickhoff (part of the Cole Hamels deal) outpitched his minor league numbers and they'll get the No. 1 pick in next year's draft. -- David Schoenfield (@dschoenfield), SweetSpot