Blue Jays take over the top spot
Updated:
September 14, 2015, 11:56 AM ET
Week: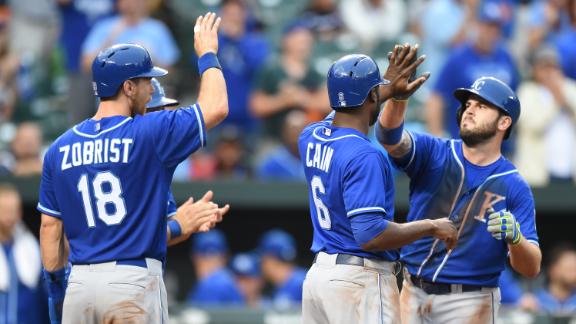 Royals, Blue Jays vying for top of power rankings
ESPN.com
In Week 24 of our rankings, the Toronto Blue Jays ascend to the top spot, pushing the St. Louis Cardinals out of the No. 1 spot for the first time in 16 weeks.
The Cardinals fall to the No. 2 position, and the Kansas City Royals, Pittsburgh Pirates and New York Mets round out our top five teams.
This week's voters are Jim Bowden of ESPN Insider, Eric Karabell of ESPN Fantasy, Tim Kurkjian of ESPN, David Schoenfield of the SweetSpot Blog Network/ESPN.com and Jayson Stark of ESPN.com. Most of the team comments come courtesy of the bloggers on the SweetSpot Blog Network. How do you rank all 30 teams? Go ahead and rank them yourself.
Tell us what you think about the Power Rankings. Use the hashtag #ESPNMLBPOWER.
2015 Power Rankings: September 14
RANK
TEAM / RECORD
TRENDING
COMMENTS
1

3




Last Week: 4

After taking three of four from the Yankees this past weekend, the Blue Jays have begun to build a comfortable lead in the AL East and their first playoff berth in over 20 years seems imminent. The injury to Troy Tulowitzki was definitely a blow, but if any offense can make up for losing that type of player, it is this one. -- Gideon Turk (@gideonturk), Blue Jays Plus
2

1




Last Week: 1

Matt Adams recently returned from the DL and hit a pinch-hit two-run home run on Sunday to help the Cardinals snap their three-game losing streak with a win over the Reds. But their NL Central lead over the Pirates has dwindled to 2½ games. -- Matt Philip (@fungoes), Fungoes
3

1




Last Week: 2

The Royals are now just 4-9 over their past 13 games, but all eyes on are Johnny Cueto, who continues to struggle after he got pounded for eight runs and four home runs on Sunday. In his past five starts, he's 0-5 with a 9.57 ERA, 48 hits in 26⅓ innings, eight home runs allowed and a .390 opponents' batting average. -- David Schoenfield (@dschoenfield), SweetSpot
4

1




Last Week: 3

They start the week just 2½ games behind the Cardinals, the closest they've been to first place since April 27 -- a position they haven't been in all season after starting 0-3. But they face the Cubs at home and the Dodgers on the road this week. -- David Schoenfield (@dschoenfield), SweetSpot
5

3




Last Week: 8

What's not to love about Bartolo Colon? The veteran right-hander is 4-0 with a 0.57 ERA over his past five outings. -- ESPN.com
6

--




Last Week: 6

Jake Arrieta picked up his 19th win of the season on Friday, becoming the first Cub to reach 19 wins since Jon Lieber went 20-6 in 2001 and the first Cub under 30 to do it since Greg Maddux won 20 in 1992. -- Joe Aiello (@VFTB), View from the Bleachers
7

2




Last Week: 5

With a comfortable lead in the division, Los Angeles now finds itself in a dogfight for the second seed in the National League playoffs with the surging Mets. Second seed gets home-field advantage in the division series. The Dodgers are 47-21 at home this year and under .500 on the road. -- Diane Firstman (@dianagram), Value Over Replacement Grit
8

1




Last Week: 9

Sunday's dramatic ninth-inning rally prevented a sweep in Anaheim, but the Astros are 2-4 on this road trip with a big four-game series in Texas starting on Monday. When the Astros visited the Rangers in early August, Texas swept the three-game series. -- David Schoenfield (@dschoenfield), SweetSpot
9

2




Last Week: 7

Masahiro Tanaka helped salvage the last game in what was a dreadful series against the first-place Blue Jays, with the Yanks losing the first three and now sitting 3½ games back in the AL East. Tanaka struck out seven while walking none over seven innings on Sunday, continuing a strong four-game stretch in which he's posted a nifty 3-0 record with a 2.54 ERA. -- Jason Rosenberg (@IIATMS), It's About the Money
10

--




Last Week: 10

Texas is 1½ games behind Houston in the AL West. With three weeks left in the regular season, Texas looks ready to play in the playoffs. -- Brandon Land (@one_strike_away), One Strike Away
11

1




Last Week: 12

Madison Bumgarner came four outs away from throwing the fourth Giants no-hitter against the Padres since 2009. He settled for his third career one-hitter and needs two wins in his final four starts to become the first Giants 20-game winner since 1993. -- Connor Grossman (@connorgrossman), West Coast Bias
12

1




Last Week: 13

Joe Mauer isn't having a great year, but he's doing his part to help the Twins keep pace in the wild-card race. The first baseman has reached base in 33 consecutive games. -- Nick Nelson (@NickNelsonMN), Twins Daily
13

1




Last Week: 14

One reason the Angels are 13th in the AL in runs is a lack of speed. Only the Orioles have fewer steals -- Mike Trout has just one stolen base in the second half. The Angels are third in outs on the basepaths. -- David Schoenfield (@dschoenfield), SweetSpot
14

2




Last Week: 16

In a rain-shortened week, the Indians took two of three from the White Sox and two of three from the Tigers. Francisco Lindor continues to make his case for Rookie of the Year honors, going a double short of the cycle on Wednesday in Chicago. -- Susan Petrone (@susanpetrone), It's Pronounced "Lajaway"
15

4




Last Week: 11

Ian Desmond, a free agent in the offseason, batted .238 with two runs scored and no extra-base hits in what was an abysmal week (1-5) for the Nationals. -- ESPN.com
16

1




Last Week: 15

The Rays, Orioles and Red Sox are all in a three-way battle to stay out of last place in the American League East. After losing two of three to the Red Sox over the weekend, the Rays will play the O's and Sox eight times in their next 11 games. -- ESPN.com
17

--




Last Week: 17

All but eliminated from the playoffs, the Orioles have some big decisions heading into the offseason. Do they re-sign any of their impending free agents? Do they shake up the starting rotation? Dan Duquette has his work cut out for him. -- Matt Kremnitzer (@mattkremnitzer), Camden Depot
18

2




Last Week: 20

Nelson Cruz was 34 when he signed a four-year, $58 million contract with the Mariners last winter. Paying a power hitter through his age-38 season is not ideal, but the M's were counting on the short-term production to help vault them to greatness. While the team has flopped, Cruz has held up his end of the deal, launching his career-best 41st HR Saturday night. -- Jeff Wiser (@OutfieldGrass24), Inside the 'Zona
19

--




Last Week: 19

Allowing four straight hits to start the third inning on Saturday, Rubby De La Rosa finished by allowing six earned runs in 2-plus innings. His 4.75 ERA this season is the result of an 11.21 ERA in four starts against the Dodgers -- he's kept up a combined 4.02 ERA against every other team. -- Ryan P. Morrison (@ryanpmorrison), Inside the 'Zona
20

2




Last Week: 22

Three of former GM Ben Cherington's highest profile pitching acquisitions before this season -- Rick Porcello, Wade Miley and Joe Kelly -- pitched to a combined 15-22 record with a 5.43 ERA in the first half of the season. Since the All-Star break, they are a combined 13-5 with a 3.55 ERA. -- Ryan P. Morrison (@ryanpmorrison), Inside the 'Zona
21

--




Last Week: 21

The good news is that 5-foot, 8-inch Adam Eaton, after hitting six home runs in 918 MLB plate appearances before 2015, clocked his 13th of the year over the center-field wall Friday night. The bad news is that total is enough to put him in sole possession of second place in homers on this year's White Sox team. -- James Fegan (@TheCatbird_Seat), The Catbird Seat
22

4




Last Week: 18

Justin Upton's 25 homers is the most by a Padres player since Chase Headley slammed 31 in 2012. Tyson Ross gave up three homers Thursday. Earlier this season, Ross set a Padres franchise record by working 16 straight starts without allowing a homer and entered Thursday's game with the lowest homer rate (0.26 per nine innings) in the major leagues. -- Diane Firstman (@dianagram), Value Over Replacement Grit
23

1




Last Week: 24

Milwaukee looked unbeatable for a week, but that stretch came to a close rather quickly. Jimmy Nelson, Taylor Jungmann and Zach Davies struggled in their starts against the Reds, Marlins and Pirates, respectively. This time around, the bats were not as heroic, simply unable to cover for their pitchers during a tough week. -- Nicholas Zettel (@spectivewax), Disciples of Uecker
24

1




Last Week: 23

The Tigers will play out the season amid a slew of reports stating Brad Ausmus won't be back at the helm next season, setting up an awkward situation for manager and players alike. They still have the opportunity to play spoiler against Minnesota, Kansas City and Texas over the next few weeks. -- Grey Papke (@walkoffwoodward), Walkoff Woodward
25

--




Last Week: 25

Sonny Gray is second in the American League in ERA (2.28) and first in the AL in batting average against (.205). -- ESPN.com
26

1




Last Week: 27

Jose Fernandez returned to the mound Saturday after missing more than a month with a right biceps strain. Giancarlo Stanton's 27 homers, amassed in only 74 games, is more than the next two Marlins combined (Justin Bour with 16, Derek Dietrich with 10). -- Diane Firstman (@dianagram), Value Over Replacement Grit
27

1




Last Week: 28

The Reds broke a 113-year-old MLB record last week. Cincinnati has started a rookie pitcher in 44 consecutive games; the previous record was held by the 1902 Cardinals. -- Chad Dotson (@dotsonc), Redleg Nation
28

2




Last Week: 26

Fans of losing teams use September to see the future of the team. The Rockies have a strong farm system, but many prospects are far away so there really wasn't anyone to promote. Even playing time for organizational depth was stifled with the return of impending free agents. Purple Mondays in September 2016 should be different. -- Richard Bergstrom (@RockiesZingers), Rockies Zingers
29

1




Last Week: 30

It's been hard to find any positives from this team lately, but the young Braves starting pitchers have thrown six consecutive quality starts. While they have resulted in only two wins, that's two more wins than the team had the previous two weeks. -- Martin Gandy (@gondeee), Chop County
30

1




Last Week: 29

Don't laugh, but this week's series between the Phillies and Braves is a big one: The teams begin the week tied for the worst record in baseball as they "fight" for that No. 1 overall pick in next June's draft. -- David Schoenfield (@dschoenfield), SweetSpot