Cardinals take back the top spot
Updated:
September 21, 2015, 10:54 AM ET
Week: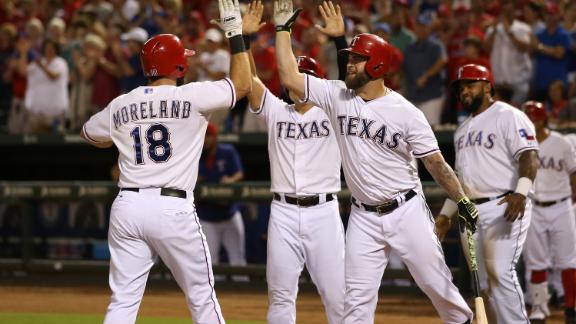 MLB Power Rankings
ESPN.com
In Week 25 of our rankings, the St. Louis Cardinals climb back into the No. 1 spot after falling to No. 2 last week. It's the 16th time the Cardinals are our top team in the past 17 weeks.
The Toronto Blue Jays, our No. 1 team last week, fall to No. 2, while the Chicago Cubs move up three spots to No. 3. The Pittsburgh Pirates (No. 4) and Los Angeles Dodgers (No. 5) round out our top five teams.
This week's voters are Jim Bowden of ESPN Insider, Eric Karabell of ESPN Fantasy, Tim Kurkjian of ESPN, David Schoenfield of the SweetSpot Blog Network/ESPN.com and Jayson Stark of ESPN.com. Most of the team comments come courtesy of the bloggers on the SweetSpot Blog Network.
Tell us what you think about the Power Rankings. Use the hashtag #ESPNMLBPOWER.
2015 Power Rankings: September 21
RANK
TEAM / RECORD
TRENDING
COMMENTS
1

1




Last Week: 2

The Cardinals became the first team to clinch a playoff berth. Matt Holliday also returned from the DL, only to be plunked by Dan Haren in the simmering rivalry with the Cubs. -- Matt Philip (@fungoes), Fungoes
2

1




Last Week: 1

The Blue Jays have a 2½-game lead in the AL East. The offensive numbers are piling up, as the lineup includes three right-handed hitters with 30-plus HRs and 100-plus RBIs -- Edwin Encarnacion, Josh Donaldson and Jose Bautista. Marcus Stroman continued to add to the rotation with seven innings pitched and one run allowed in his last start on Friday. -- Greg Wisniewski (@coolhead2010), Blue Jays Plus
3

3




Last Week: 6

Anthony Rizzo is one hit by pitch away from joining the 30-30 club with 30 home runs and 30 hit by pitches. The only player to do that in MLB history is Don Baylor (1986). -- Joe Aiello (@VFTB), View from the Bleachers
4

--




Last Week: 4

The Pirates' depth will now be tested with Jung Ho Kang out for the season. He was second on the team to Andrew McCutchen in OPS and finishes his first season in the majors at .287/.355/.461 and a 4.0 WAR, third among NL rookies behind Kris Bryant and Matt Duffy. -- David Schoenfield (@dschoenfield), SweetSpot
5

2




Last Week: 7

OK, so Clayton Kershaw finally lost a game when he allowed three runs to the Pirates on Saturday. He still has a 1.38 ERA over his past 21 starts with 199 strikeouts and a .177 batting average against in his past 156⅔ innings. -- David Schoenfield (@dschoenfield), SweetSpot
6

3




Last Week: 3

On Sunday, Kendrys Morales became the first Royals player to hit three home runs in a game since Danny Tartabull in 1991 and the eighth in Royals history. He also added his sixth career triple and moved into third in the AL with 105 RBIs. -- David Schoenfield (@dschoenfield), SweetSpot
7

2




Last Week: 5

The Mets have a six-game lead over the Nationals in the NL East with 13 games left in the regular season. Will they blow it? It's highly unlikely in that they play 10 of those 13 games against the Braves, Reds and Phillies. -- ESPN.com
8

2




Last Week: 10

After sweeping the Astros to take a 12-4 record against them this year, Texas goes into the final two weeks of the season in first place in the AL West. The Rangers are 30-17 since Aug. 1. -- Brandon Land (@one_strike_away), One Strike Away
9

--




Last Week: 9

The Yankees are hanging around and winning just enough games to give some of their fans hope that they can somehow take over the lead in the AL East. But hey, if they can't pass Toronto, and they probably won't, there's always the wild card. -- Stacey Gotsulias (@StaceGots), It's About the Money
10

2




Last Week: 8

Home sweet home. The Astros returned from the disastrous four-game sweep in Texas to beat the A's two of three, rallying from a 6-3 deficit against Sonny Gray and the Oakland bullpen to win 10-6 on Saturday. -- David Schoenfield (@dschoenfield), SweetSpot
11

2




Last Week: 13

The Angels have managed to climb back into the wild-card race in September even though Albert Pujols is hitting under .200 with one home run in the month. But Mike Trout, after hitting .218 with one home run in August, has regained his power stroke with five home runs in his past eight games. -- David Schoenfield (@dschoenfield), SweetSpot
12

1




Last Week: 11

Jake Peavy gave Giants fans something to cheer about last week, becoming the fifth pitcher on the team to hit a home run this season. If one more Giants pitcher hits a home run -- Chris Heston is the likeliest candidate -- they'll set a major league record for home runs from six pitchers. -- Connor Grossman (@connorgrossman), West Coast Bias
13

1




Last Week: 12

An ill-timed five-game losing streak dropped the Twins 2½ games behind Houston for the second AL wild-card spot, and now Minnesota must deal with the Angels, who have an identical record after taking three of four at Target Field over the weekend. -- Nick Nelson (@NickNelsonMN), Twins Daily
14

1




Last Week: 15

The Nationals are making one desperate last push for the playoffs, led by of course, Bryce Harper. Harper is hitting .500/.559/1.071 in his past eight games in which the Nats have gone 7-1. -- Harper Gordek (@harpergordek), Nationals Baseball
15

1




Last Week: 14

As the Indians continue to struggle to climb above the elusive .500 mark, it should be noted that they have a below .500 record against every other AL Central team. They're 28-38 against the Central, and 46-36 against the rest of baseball. -- Stephanie Liscio (@stephanieliscio), It's Pronounced "Lajaway"
16

1




Last Week: 17

Nolan Reimold has given the Orioles a boost at the top of the lineup the past few weeks, batting .295/.392/.523 over that span. That has allowed Manny Machado to slide to second in the order, providing more balance to the O's offense. -- Matt Kremnitzer (@mattkremnitzer), Camden Depot
17

1




Last Week: 18

If Monday's start against the Angels was Taijuan Walker's last start of the year, as has been speculated, he certainly went out on a high note. In his first full big league campaign, the former top prospect was largely unpredictable. The future remains bright, however, as Walker has shown he has the tools to dominate. -- Jeff Wiser (@OutfieldGrass24), Inside the 'Zona
18

2




Last Week: 16

While Chris Archer has had a really good season, he hasn't pitched all that well over his past five starts. During that span, he's compiled a 3.99 ERA. -- ESPN.com
19

1




Last Week: 20

After reaching the 500-home run plateau in his 50th career multihomer game, David Ortiz hit his 35th HR of 2015, tying his total from 2014. Ortiz has averaged more than 34 home runs over his entire 13-year tenure in Boston. -- Ryan P. Morrison (@ryanpmorrison), Inside the 'Zona
20

1




Last Week: 19

The D-backs set an unwanted club record when Brad Ziegler recorded the final out in a win against the Giants on Friday: most relief innings pitched in club history. With 13 games left to play, it's safe to say that a poor MLB rotation has taken its toll on the bullpen, which has not helped Arizona's cause in 2015. -- Jeff Wiser (@OutfieldGrass24), Inside the 'Zona
21

--




Last Week: 21

If it seems bizarre that the White Sox are giving an extended opportunity to the likes of Mike Olt, consider that they have not gotten even a .680 OPS from the third base position since 2010. Olt has been unsurprisingly terrible; 34 percent strikeout rate and five errors in just 14 games, but they have to try something. -- James Fegan (@TheCatbird_Seat), The Catbird Seat
22

2




Last Week: 24

In a week in which their reign as AL Central champions officially mathematically ended, the Tigers beat contenders Minnesota and Kansas City four straight times, throwing a miniature wrench in the AL playoff race. It's Detroit's first four-game winning streak since they started the season 6-0. -- Grey Papke (@walkoffwoodward), Walkoff Woodward
23

1




Last Week: 22

After a down year in 2015 (6-15 with a 4.25 ERA), will Andrew Cashner get back to being the effective pitcher he was for the Padres in each of the past two seasons (2.55 ERA in '14 and 3.09 in '13)? -- ESPN.com
24

1




Last Week: 25

Oakland's current .427 winning percentage would be the franchise's worst since going 65-97 in 1997. -- David Schoenfield (@dschoenfield), SweetSpot
25

1




Last Week: 26

Jose Fernandez has allowed only two home runs -- both solo shots -- in nine starts this season. Here's hoping he'll be healthy and be able to make in the neighborhood of 30 starts in 2016. -- ESPN.com
26

1




Last Week: 27

Todd Frazier has had a rough second half, but last week he became just the second Reds player ever to reach 35 homers and 40 doubles in a season. The first? Hall of Famer Frank Robinson. -- Chad Dotson (@dotsonc), Redleg Nation
27

1




Last Week: 28

The Rockies are playing better baseball in September. It's not as if they called up any top prospects, but the added depth and the energy is leading to more "complete" games, with the Rockies getting good starting pitching, solid bullpen work and timely hitting instead of runs all being bunched up in a particular inning. -- Richard Bergstrom (@RockiesZingers), Rockies Zingers
28

5




Last Week: 23

The Brewers suffered several injury scares in the past week, while their sudden losing streak almost completely erased recent winning gains. Still, the losing isn't all bad, as Ariel Pena and Zach Davies continue to build their pitching approaches, and Domingo Santana is positively raking. -- Nicholas Zettel (@spectivewax), Disciples of Uecker
29

--




Last Week: 29

The Braves are 3-2 in their past five games, the first semblance of a winning record over any length of time since the All-Star break. The team wants to try to end the season on some sort of a positive note, and that includes trying to win ballgames ... even though the smarter organizational decision would be to worry more about securing next year's top draft pick. -- Martin Gandy (@gondeee), Chop County
30

--




Last Week: 30

Good news, Phillies fans! The Braves pulled off the weekend sweep so the Phillies' lead for the worst record is now a comfortable four games. -- David Schoenfield (@dschoenfield), SweetSpot