Cardinals, Pirates the top two teams
Updated:
September 28, 2015, 11:41 AM ET
Week: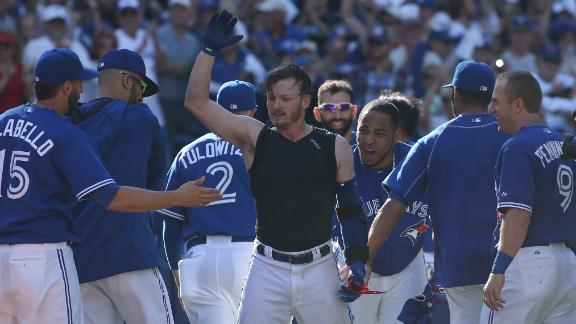 Blue Jays top the MLB Power Rankings
ESPN.com
In Week 26 of our rankings, the St. Louis Cardinals hold tight to the No. 1 spot for the 17th time in the past 18 weeks.
The Pittsburgh Pirates, who are right on the Cardinals' tails, rise two spots to No. 2 while the Toronto Blue Jays (No. 3), Kansas City Royals (No. 4) and Chicago Cubs (No. 5) round out our top five teams.
This week's voters are Jim Bowden of ESPN Insider, Eric Karabell of ESPN Fantasy, Tim Kurkjian of ESPN, David Schoenfield of the SweetSpot Blog Network/ESPN.com and Jayson Stark of ESPN.com. Most of the team comments come courtesy of the bloggers on the SweetSpot Blog Network.
Tell us what you think about the Power Rankings. Use the hashtag #ESPNMLBPOWER.
2015 Power Rankings: September 28
RANK
TEAM / RECORD
TRENDING
COMMENTS
1

--




Last Week: 1

Just as some Cardinals are beginning to heal -- Matt Holliday, Matt Belisle and Matt Adams are back -- they lost Carlos Martinez for the season and Yadier Molina for at least a week. The good news is that Adam Wainwright is trying to return to action in time for the playoffs. -- Matt Philip (@fungoes), Fungoes
2

2




Last Week: 4

The Pirates' eight-game winning streak ended at the hands of the untouchable Jake Arrieta and unless they sweep the Cardinals in the series that starts Monday, they're going to end up as the NL's first wild card despite having the second-best record in the majors. Their reward? Jake Arrieta. -- David Schoenfield (@dschoenfield), SweetSpot
3

1




Last Week: 2

Having clinched a playoff spot on Friday night, the Blue Jays will be playing meaningful October baseball for the first time in 22 years. If Josh Donaldson can muster up a couple more walk-off home runs, the Jays may even beat out the Royals for the top spot in the American League. -- Matt Gwin (@Matt_HBB), Blue Jays Plus
4

2




Last Week: 6

With Greg Holland out as closer, the new 7-8-9 trio for the Royals will be Ryan Madson, Kelvin Herrera and Wade Davis. Danny Duffy has also moved to the pen to give Ned Yost a lefty option for the postseason. Despite a shutout on Sunday, the Royals still rank 28th in the majors in runs allowed per game in September. -- David Schoenfield (@dschoenfield), SweetSpot
5

2




Last Week: 3

The Cubs clinched a spot in the postseason for the 17th time in franchise history this past week. -- Joe Aiello (@VFTB), View from the Bleachers
6

1




Last Week: 7

If Lucas Duda can stay hot for the Mets heading into the postseason, it would greatly help the Mets' offense. The guy has a ton of pop in his bat. -- ESPN.com
7

2




Last Week: 5

The Dodgers are still in a battle with the Mets for home field in the Division Series. They finish with four at home versus the Giants (6-9 against them so far in 2015) and three at San Diego (11-5 versus them). Yasiel Puig still cannot run at full speed, four weeks after he played in his last game, and the Dodgers are not counting on him to return before the playoffs. -- Diane Firstman (@dianagram), Value Over Replacement Grit
8

--




Last Week: 8

After going 4-2 on the road in Seattle and Houston last week, the Rangers have a 2½-game lead over the Astros (three games over the Angels) back home to play three against the Tigers and four against the surging Angels to finish off the regular season. The Rangers' magic number to clinch the AL West is 5. -- Brandon Land (@one_strike_away), One Strike Away
9

--




Last Week: 9

While some of his other stats remain a bit pedestrian (like that 3.99 ERA; although his 3.31 FIP looks better), Michael Pineda's K/BB ratio of 7.00 ranks first in the AL (minimum 140 innings pitched), ahead of Chris Sale. A healthy, efficient and effective Pineda will be essential if the Yanks can get past the wild-card game. -- Jason Rosenberg (@IIATMS), It's About the Money
10

--




Last Week: 10

Dallas Keuchel allowed two hits and one run over seven innings in Sunday's 4-2 win over the Rangers to improve to 15-0 with a 1.46 ERA at home. The Astros enter the final week 2½ behind the Rangers but just a half-game up on the Angels. -- David Schoenfield (@dschoenfield), SweetSpot
11

1




Last Week: 12

All but eliminated from playoff contention, the defending champions have turned their focus to celebrating the end of Tim Hudson's career and finding some playing time for young players like Jarrett Parker, who hit three home runs in one game on Saturday and is batting .524 with six home runs since being called up from Triple-A two weeks ago. -- Andrew Tweedy, (@WCBGiants), West Coast Bias
12

1




Last Week: 11

A sweep of the Mariners gives the Angels a five-game winning streak and a tie with the Astros in the loss column for the second wild card. But closer Huston Street is out after injuring his groin on Saturday and setup man Joe Smith has a sprained ankle. Mike Morin picked up his first save in Sunday's 3-2 win. -- David Schoenfield (@dschoenfield), SweetSpot
13

--




Last Week: 13

Trailing the Astros and Angels for the second wild-card spot, the Twins are in must-win mode as they head to Cleveland for a crucial four-game series. -- Nick Nelson (@NickNelsonMN), Twins Daily
14

1




Last Week: 15

The Indians enter the final week of the regular season four games back of the second AL wild-card spot. Carlos Carrasco pitched a one-hit, 15-strikeout shutout on Friday to start the team's final series against the Royals. He and Corey Kluber are the first Tribe teammates with more than 200 strikeouts each since 1968. -- Susan Petrone (@susanpetrone), It's Pronounced "Lajaway"
15

1




Last Week: 14

The Nats said goodbye to the playoffs this past weekend while the home crowd said goodbye to Jordan Zimmermann and Ian Desmond. Since 2009, no Nats player has played more games than Desmond or started more games than Zimmermann (177). -- Harper Gordek (@harpergordek), Nationals Baseball
16

--




Last Week: 16

Essentially eliminated from playoff consideration, the Orioles have lots of questions heading into next season. Priority No. 1 should be to fix an underwhelming starting rotation that needs an influx of talent. -- Matt Kremnitzer (@mattkremnitzer), Camden Depot
17

2




Last Week: 19

Think you knew Rich Hill? He was dominant for a third time in the September rotation with a two-hit shutout on Friday. In September, he's pitched 23 innings, with 30 strikeouts, 10 hits allowed, two walks -- and 130 curveballs. He's definitely earned a look next year to see if he can sustain anything like this, but the fascinating question is: How much will a team pay to find out? -- Ryan P. Morrison (@ryanpmorrison), Inside the 'Zona
18

--




Last Week: 18

Steven Souza Jr. has struggled mightily at home this season. He's batting just .185 with six home runs in 195 at-bats at Tropicana Field. -- ESPN.com
19

1




Last Week: 20

After robbing a home run over a week ago and moved into Paul Goldschmidt's customary third spot in the order, A.J. Pollock hit a grand slam on Friday off Casey Kelly. Pollock is now eighth in the majors in batting average while also having 19 home runs and 36 stolen bases, and well above average defense at a premium defensive position. -- Ryan P. Morrison (@ryanpmorrison), Inside the 'Zona
20

3




Last Week: 17

The Mariners have bounced back at the plate in a big way, now third in the majors with a .786 OPS in the season's second half after ranking 26th in the first half. Jack Zduriencik's full-time replacement will inherit some of the key cogs of that turnaround, but may have tough decisions to make with Logan Morrison, Mark Trumbo, Franklin Gutierrez and other complementary players. -- Jeff Wiser (@OutfieldGrass24), Inside the 'Zona
21

2




Last Week: 23

Casey Kelly, who was making his first major league start since Sept. 27, 2012 (Tommy John surgery in 2013), allowed six runs in five innings Friday night. Legendary television broadcaster Dick Enberg announced that he would retire following the 2016 season as the primary play-by-play host for Fox Sports San Diego. -- Diane Firstman (@dianagram), Value Over Replacement Grit
22

1




Last Week: 21

The No. 3 pick in the 2014 draft, Carlos Rodon, wrapped up his rookie campaign over the weekend. He ended the year on fire with a 2.28 ERA over 59⅓ innings pitched since Aug. 1, and perhaps most importantly, a 9.5 percent walk rate over that stretch. -- James Fegan (@TheCatbird_Seat), The Catbird Seat
23

1




Last Week: 22

The Tigers continue to limp toward the finish line, but it won't cost Brad Ausmus his job after all. They'll have one last chance to impact the race with a series at Texas this week. -- Grey Papke (@walkoffwoodward), Walkoff Woodward
24

1




Last Week: 25

Although he gave up six runs in five innings Friday night, Jose Fernandez became the first big league pitcher to start off his career 17-0 at home. Johnny Allen (1932-33) and LaMarr Hoyt (1980-82) each started off 16-0. Giancarlo Stanton hasn't played since June 26 due to a broken left hamate bone. He hasn't regained full strength in his left pinkie and ring finger. -- Diane Firstman (@dianagram), Value Over Replacement Grit
25

1




Last Week: 24

Billy Burns is having a strong September -- he has a .309 batting average with seven extra-base hits and 11 RBIs in 68 at-bats in the month. -- ESPN.com
26

2




Last Week: 28

The Brewers played a stunning series in St. Louis, as the front office called on another set of youngsters to increase their expanded roster. As the club gave playing time to this new group of Double-A Biloxi Shuckers, the future seemed closer as the Brewers also matched the Cardinals in a very competitive setting. -- Nicholas Zettel (@spectivewax), Disciples of Uecker
27

--




Last Week: 27

The Rockies' last homestand started roughly when the Pirates clinched at Coors Field, but they were able to sweep the Dodgers to finish up Fan Appreciation Weekend. On Saturday, Nolan Arenado became the youngest third baseman to hit 40 home runs since 21-year-old Eddie Mathews hit 40 in 1953. -- Richard Bergstrom (@RockiesZingers), Rockies Zingers
28

2




Last Week: 26

The Reds can't lose more than 99 games this season. That seems like a small victory, in some way. At least Joey Votto hasn't stopped producing: he's reached base safely in 44 straight games, one short of the MLB high in 2015. -- Chad Dotson (@dotsonc), Redleg Nation
29

--




Last Week: 29

The Braves need one win in their final six games of the season to avoid their first 100-loss season since 1988. May the odds be ever in their favor. -- Martin Gandy (@gondeee), Chop County
30

--




Last Week: 30

The last time the Phillies finished with the majors' worst record? 2000, when they tied with the Cubs at 65-97. How has offense changed? That team averaged 4.37 runs per game, worst in the NL. That would rank fourth in 2015. -- David Schoenfield (@dschoenfield), SweetSpot