Previewing the NL East
Originally Published:
March 28, 2013
By
ESPN.com
and
ESPN The Mag
Editor's note: ESPN.com has teamed with ESPN The Magazine and the SweetSpot Blog Network to produce this year's preview capsules.
Baseball has become so unpredictable that we needed to invent an entirely new way of guessing what will happen next. Below you'll find ESPN Insider Dan Szymborski's projections for the likely range of every team's wins based on projections for every player on every roster. Why, Dan, why now? Because since he started doing this 10 years ago, Dan's median prediction has been accurate within 6.5 wins on average.
We also asked Szymborski to create a new metric, the unpredictability index, which gauges what version of hope fans of every team should have. The metric is an offshoot of Szymborski's ZiPS projection system -- a sabermetric standard-bearer that factors in age, injury history and statistical highs and lows going back four years, and makes its projections based on database comparisons across MLB history. With it, he sums up the volatility from 0 (what you see is what you get) to 2 (who knows).
Meanwhile, Tim Kurkjian predicts division standings, including wild-card teams, and offers up the breakdowns that show how Szymborski's best- and worst-case scenarios will play out.
Click on the links below to go directly to a capsule for each National League East team:
Washington Nationals | Atlanta Braves | Philadelphia Phillies
New York Mets | Miami Marlins
---
Information courtesy of Nationals Baseball
THE PICK
1st Place
98 wins if ... After logging more bases than any other teenager in MLB history, Harper wins the MVP in his first full season, while Strasburg leads the rotation with 220 innings and 20 wins. The Nats' loaded bullpen (eighth in ERA before adding Soriano) ends games after six innings, and the infield defense is the best in the game thanks to a tandem of Gold Gloves at the corners in Adam LaRoche and Ryan Zimmerman.


88 wins if ... Last season's NLDS collapse is still on their minds, Strasburg gets hurt again, Zimmerman's shoulder keeps him off the hot corner, Harper can't get out of his postseason slump (3-for-23!) and Denard Span gets nowhere near his career-best OBP, .392 in 2009.


Unpredictability score -- 0.81: With Stephen Strasburg and Bryce Harper safer bets than last year and the team as a whole deeper going into this season, the Nats are both a very good team and one lacking a major downside.
Information courtesy of Capitol Avenue Club
THE PICK
2nd Place
97 wins if ... Closer Craig Kimbrel and the bullpen dominate even more than last year (2.76 ERA, second in MLB), and an Upton HR race and fast start by Jason Heyward ignite the O.


85 wins if ... The Uptons combine for personal lows (.240 BA, 350 K's), the Braves sorely miss Chipper's career 13.3 strikeout rate and Brandon Beachy's arm, and they can't build on 23 straight wins when Kris Medlen starts.


Unpredictability score -- 1.44: The Uptons aren't the only question. Atlanta's rotation lacks the depth it had last season, especially without Beachy to start the season. But that bullpen! Atlanta's relievers could give the Nats' pen -- not to mention those Cincy Nasty Boys -- a run for its money.
Information courtesy of Crashburn Alley
THE PICK
3rd Place
87 wins if ... Roy Halladay, Cliff Lee and Cole Hamels combine for 63 wins -- 13 more than they had in 2011 -- new 3B Michael Young recovers from a career-low .370 SLG and Ryan Howard returns to 40-homer form.


74 wins if ... Delmon Young's ankle ruins his first half, Michael Young plays like he did last year -- the second-worst 3B, according to ultimate zone rating (UZR) -- and new leadoff man Ben Revere flounders.


Unpredictability score -- 1.47: If a dynasty is a mountain, Philly is descending to base camp. But if Revere can improve on his .675 OPS and 40 steals, and the real Halladay returns and is part of a solid starting trio, the Phils just might find enough oxygen to make another climb.
Information courtesy of Mets Today
THE PICK
4th Place
72 wins if ... Johan Santana regains form after a winter resting his arm, rookie Travis D'Arnaud draws comparisons with Buster Posey and David Wright celebrates his new contract with an even better year than 2007 (.325/.416/.546).


62 wins if ... The outfield, ranked 29th in WAR last year, doesn't produce, and the unchanged bullpen, 29th in MLB with a 4.63 ERA, falls flat yet again.


Unpredictability score -- 0.87: Mets fans should be wishing their team were less predictable. Because while Ike Davis and Santana both have intriguing upside, from top to bottom the team is probably too weak to contend or surprise with a run toward the playoffs.
Information courtesy of David Schoenfield
THE PICK
5th Place
74 wins if ... Giancarlo Stanton smashes a personal-best 55 homers, shortstop Adeiny Hechavarria keeps up the spectacular plays, Logan Morrison tweets hilariously and an under-pressure Jeffrey Loria sells.


60 wins if ... The roster purge has created a team that no one wants to watch and Stanton asks out and is traded in late July, but despite the pressure, Loria refuses to sell.


Unpredictability score -- 1.69: The (once-again) chop-shopped Marlins have more question marks than the Riddler's outfit. While they have enough young talent to start to build the next good Miami tear-down squad, 2013 will be stuck between mediocrity and disaster.
SPONSORED HEADLINES
MORE MLB HEADLINES
MOST SENT STORIES ON ESPN.COM
2013 SEASON PREVIEW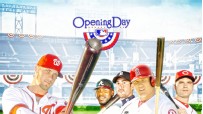 SCHEDULE
Monday, March 25

Bowden: Harper vs. Trout -- who's better?
Schilling: Sizing up Trout and Harper

Tuesday, March 26

Szymborski: Projecting AL standings
Rising Stars profiles: Tyler Skaggs (Crasnick); Jarrod Parker (Kahrl)

Wednesday, March 27

Division capsules: AL Central; NL Central
Szymborski: Projecting NL standings
BBTN: AL Central NL Central
Rising Stars profiles: Salvador Perez and Trevor Rosenthal (Crasnick)
Bowden: Six who impressed this spring

Thursday, March 28

Rising Stars profiles: Andrelton Simmons (Stark); Manny Machado (Kurkjian)
Spratt: Defense could hurt Blue Jays

Friday, March 29

Law: Predicting division winners, awards
Photo gallery: All-MLB preseason team
Szymborski: Best player prop bets

Saturday, March 30

Photo gallery: Milestones to watch in 2013
Bowden: 10 bold predictions for 2013