Previewing the AL Central
Originally Published:
March 27, 2013
By
ESPN.com
and
ESPN The Mag
Editor's note: ESPN.com has teamed with ESPN The Magazine and the SweetSpot Blog Network to produce this year's preview capsules.
Baseball has become so unpredictable that we needed to invent an entirely new way of guessing what will happen next. Below you'll find ESPN Insider Dan Szymborski's projections for the likely range of every team's wins, based on projections for every player on every roster. Why Dan, why now? Because since he started doing this 10 years ago, Dan's median prediction has been accurate within 6.5 wins, on average.
We also asked Szymborski to create a new metric, the unpredictability index, which gauges what version of hope fans of every team should have. The metric is an offshoot of Szymborski's ZiPS projection system -- a sabermetric standard-bearer that factors in age, injury history and statistical highs and lows going back four years, and makes its projections based on database comparisons across MLB history. With it, he sums up the volatility from 0 (what you see is what you get) to 2 (who knows).
Meanwhile, Tim Kurkjian predicts division standings, including wild-card teams, and offers up the breakdowns that show how Szymborski's best- and worst-case scenarios will play out.
Click on the links below to go directly to a capsule for each American League West team:
Detroit Tigers | Cleveland Indians | Chicago White Sox
Kansas City Royals | Minnesota Twins
---
Information courtesy of David Schoenfield
THE PICK
1st Place
95 wins if … Miguel Cabrera becomes the first back-to-back Triple Crown winner, Justin Verlander carries his 0.78 postseason WHIP into 2013, Victor Martinez logs his fifth 100-RBI season, Torii Hunter steps up baseball's second-worst defense and the Tigers find their missing piece: a shutdown closer.


84 wins if … After last season, pressure to win the World Series grows so overwhelming that the Tigers play not to lose. Not good when you're old and slow, lack defense (29th in UZR/150 in 2012) and hit into more double plays (156) than any other team.


Unpredictability score -- 1.00: Surprisingly, the questions are on offense (11th in runs in 2012). How far from the cliff is the 37-year-old Hunter? Will Andy Dirks (.857 OPS) repeat? Can Martinez hit after a year off for ACL rehab?
Information courtesy of It's Pronounced 'Lajaway'
THE PICK
2nd Place
85 wins if … Terry Francona, Nick Swisher and CF Michael Bourn bring energy and electricity, RF Drew Stubbs adds 30 home runs to last season's 30 steals and Mark Reynolds rebounds from a 23-HR down year.


74 wins if … The Indians again post the highest ERA in the AL (4.78), Ubaldo Jimenez's velocity drops for the fourth consecutive year and Stubbs and Reynolds collectively record 400 strikeouts.


Unpredictability score -- 1.10: Bookended by Bourn and LF Michael Brantley, the Cleveland lineup is solid. But the rotation is not. If Jimenez and Masterson deliver, the team could compete for a wild card and make the Tigers sweat. If not, expect high-scoring games.
Information courtesy of David Schoenfield
THE PICK
3rd Place
83 wins if … Chris Sale wins the Cy Young in his second season as a starter, Addison Reed (29 saves as a rookie) emerges as one of the AL's best closers, Adam Dunn hits another 40 home runs and Paul Konerko clubs No. 450.


73 wins if … Last year's 14-22 slide to end the season continues, Tyler Flowers wilts in comparison to A.J. Pierzynski behind the plate and an aging heart of the order wears down well before September.


Unpredictability score -- 0.89: Besides Dunn and Alex Rios, what you see is what you get with the Sox offense. It's caught in the middle, without enough upside to scare the Tigers or enough downside to warrant blowing up the roster to start the next South Side rebuild.
Information courtesy of David Schoenfield.
THE PICK
4th Place
82 wins if … James Shields, Wade Davis, Ervin Santana and Jeremy Guthrie finally give K.C. a rotation, which takes pressure off the bullpen, Alex Gordon again leads MLB in doubles (51), and Eric Hosmer delivers on his first .300 season.


74 wins if … Shields is the only real rotation upgrade, production from the outfield (third-fewest home runs) is still missing and Hosmer's production resembles that of 2012 (.663 OPS), not 2011 (.799).


Unpredictability score -- 0.50: Kansas City seems to have the offense of an 85-win team and the starting rotation of a 70-win team. So even with the addition of Shields and his six years of 200-plus innings, the starting corps remains pretty predictable -- and not in a good way.
Information courtesy of David Schoenfield.
THE PICK
5th Place
70 wins if … Joe Mauer matches 2009's 1.031 OPS and wins his fourth batting title, Justin Morneau plays concussion-free and hits 35 homers, and the Twins find hope in new ace Scott Diamond, who had an AL-best 1.61 BB/9 IP in his first full season.


62 wins if … Vance Worley struggles as a front-of-rotation arm, the rest of the unproven staff bloats last season's puffy 4.77 ERA, Mauer gets hurt and Morneau gets dizzy


Unpredictability score -- 0.32: Minnesota still has Mauer, and Morneau could return to the player he was. But the rotation will probably be a disaster because even though the rebuilding Twins have a terrific stable of prospects, few are likely to make an impact this year.
SPONSORED HEADLINES
MORE MLB HEADLINES
MOST SENT STORIES ON ESPN.COM
2013 SEASON PREVIEW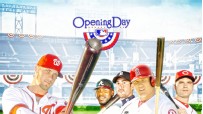 SCHEDULE
Monday, March 25

Bowden: Harper vs. Trout -- who's better?
Schilling: Sizing up Trout and Harper

Tuesday, March 26

Szymborski: Projecting AL standings
Rising Stars profiles: Tyler Skaggs (Crasnick); Jarrod Parker (Kahrl)

Wednesday, March 27

Division capsules: AL Central; NL Central
Szymborski: Projecting NL standings
BBTN: AL Central NL Central
Rising Stars profiles: Salvador Perez and Trevor Rosenthal (Crasnick)
Bowden: Six who impressed this spring

Thursday, March 28

Rising Stars profiles: Andrelton Simmons (Stark); Manny Machado (Kurkjian)
Spratt: Defense could hurt Blue Jays

Friday, March 29

Law: Predicting division winners, awards
Photo gallery: All-MLB preseason team
Szymborski: Best player prop bets

Saturday, March 30

Photo gallery: Milestones to watch in 2013
Bowden: 10 bold predictions for 2013