Final
Series tied 1-1 (as of 4/2)
8:10 PM ET, April 2, 2013
Minute Maid Park, Houston, Texas
HOUSTON -- Yu Darvish saw the ball skip between his shins, dashing his chance at perfection. Immediately, several Texas Rangers came to the mound to console him.
"I think my teammates were more disappointed than I was," he said through a translator.Darvish was one out from a perfect game when
Marwin Gonzalez
grounded a clean single through the pitcher's legs, and Texas beat the
Houston Astros
7-0 on Tuesday night.
More From ESPN.com

Jayson Stark takes a closer look at the brilliance of Yu Darvish's near-perfect game and the Astros' anemic offense. Blog
---

The Yu Darvish of Tuesday night is the guy the Rangers thought they were getting when they paid $51.7 million just to negotiate a contract, Jean-Jacques Taylor writes. Story
---

Yu Darvish came just shy of making history by throwing a perfect game. The outing might be a sign that Darvish will be even better in his second season, writes David Schoenfield. Story
• Yu: Not best outing
• Willis: Rangers' reactions
• Stats: Darvish brilliant
• Rapid Reaction
• Rangers Blog | ESPN Dallas
The celebrated right-hander from Japan struck out a career-high 14 and was in complete control before Gonzalez smacked the first pitch up the middle. Darvish was unable to get his glove down in time, and the ball skittered into center field well beyond a desperate dive by shortstop
Elvis Andrus
.At that moment, one thought went through Darvish's mind."I can now go back to the dugout," he deadpanned. "Even if I got the complete game today, it's not going to translate to three or five wins. It's a win. A win's a win."After the hit, Darvish smiled and put up his hands -- almost like, "Oh well, it happens." Texas' infielders quickly went to the mound, and manager Ron Washington joined them."I didn't want to be the last out," Gonzalez said. "I was trying to look for a good pitch to hit and put it in play. That's all I was thinking."Washington patted Darvish on the chest and then signaled for a reliever. A crowd of 22,673 that included plenty of Rangers fans cheered Darvish as he walked off after 111 pitches. He stopped and tipped his cap before getting high-fives from teammates in the dugout.He sat on the bench to watch the rest of the game, then joined the handshake line after the final out.And if Darvish was upset about coming oh-so-close, he didn't show it."I went that far," he said. "I'm really satisfied."Working from the stretch throughout -- even though he never needed to -- Darvish became the first pitcher to lose a perfect game with two outs in the ninth inning since
Armando Galarraga
on June 2, 2010. Of course, the Detroit pitcher was denied only because of an infamous missed call at first base by umpire Jim Joyce, who later admitted he blew the play.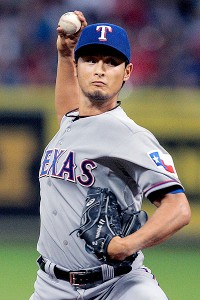 Bob Levey/Getty Images
Yu Darvish came within one out of making history, losing his bid for a perfect game against the Astros with two outs in the 9th inning.
On the second full day of the major league season, Darvish nearly picked up right where baseball left off last year, when there were a record three perfect games, thrown by
Philip Humber
,
Matt Cain
and
Felix Hernandez
.Darvish's 14 strikeouts matched a Minute Maid Park record, and were the most by a Rangers pitcher since Hall of Famer and current team CEO Nolan Ryan had 14 in July 1991 against the Angels.Darvish arrived in the majors last year with much fanfare, having already been a five-time all-star and two-time MVP in Japan. The Rangers paid more than $107 million to get him for five seasons.The 6-foot-5 righty quickly settled in with Texas, becoming an All-Star last year on the way to going 16-9 with 221 strikeouts. He also once flirted with perfection, retiring the first 17 batters at Kansas City on Sept. 3."I think I got lucky today. I felt I pitched better against the Royals last year," Darvish said. "I had better command in that outing."If he had been able to finish the job Tuesday, it would have been the earliest perfecto in history.Darvish didn't really need a dazzling play from his defense as he shut down the Astros and chased the 24th perfect game in big league history -- including the one Don Larsen tossed in the 1956 World Series, and two in 1880.It was almost the second time in 10 months the overmatched Astros failed to put a runner on base. Cain's perfect game for the World Series champion
San Francisco Giants
came against Houston on June 13 last year.Many expect the Astros to be the worst team in the majors this year, after two straight 100-loss seasons and a major league-low payroll of less than $22 million. But they cruised to an 8-2 win over Texas in the major league opener and their American League debut Sunday night.Darvish, 26, carried over a strong showing in spring training this year into near perfection in his first regular-season start. The Astros looked totally lost against him, often taking wild swings at breaking balls that bounced.
Yo Yu!
Yu Darvish became the second pitcher this early in a season to strike out 14 batters in a game. Only Randy Johnson had as many K's sooner.
Date
Team
SO
Randy Johnson
3/31/96
Mariners
14
Yu Darvish
4/2/13
Rangers
14
Curt Schilling
4/5/05
Phillies
15
Randy Johnson
4/6/93
Mariners
14
Curt Schilling
4/7/02
D-backs
17
Source: Baseball-Reference.com
With the crowd on its feet and a mixture of cheers and "Yuuus" filling Minute Maid Park,
Chris Carter
took Darvish to a full count before striking out on the ninth pitch of the at-bat for the first out of the eighth inning.
Rick Ankiel
followed by striking out, and
Justin Maxwell
hit an easy grounder to second baseman
Ian Kinsler
.Darvish looked toward the sky for a couple of seconds before retreating to the dugout.He began the ninth by getting two easy groundouts before Gonzalez ruined his bid for perfection with a sharp grounder."That was impossible to catch," Darvish said.Gonzalez, 24, made his big league debut last year, hitting .234 in 80 games for Houston.Darvish, who played seven professional seasons in Japan before joining the Rangers, set rookie franchise records for wins (16) and strikeouts (221) last season. He finished third in AL rookie of the year voting behind winner
Mike Trout
and Oakland outfielder
Yoenis Cespedes
.The win gives Darvish five straight regular-season victories dating to last season. He took the loss in the Rangers' 5-1 defeat to Baltimore in the AL wild-card game.Using his dizzying array of pitches, including a fastball that topped out at 97 mph, a slider and 95 mph cutters, Darvish bedeviled the mostly inexperienced Houston hitters."When I tell you we threw everything, we threw everything," said Rangers catcher
A.J. Pierzynski
, who caught Humber's perfect game for the White Sox last season. "We threw the kitchen sink tonight, but Yu has the ability to do that and he's special."Darvish (1-0) sailed through the first four innings, striking out nine, including the side in the second and fourth.Carter hit a long fly that looked as though it could be gone before
David Murphy
caught it just in front of the left-center wall for the first out of the fifth. First baseman
Mitch Moreland
made a nice catch on a liner by Ankiel for the second out.
Michael Kirkman
relieved Darvish after Gonzalez's hit.
Jose Altuve
followed with a single before Kirkman fanned pinch hitter
J.D. Martinez
to end it.Darvish has never thrown a complete game in the majors.
Lucas Harrell
(0-1), who was Houston's most successful starter a year ago with 11 wins, allowed six hits and one run with four strikeouts in six innings.
Lance Berkman
had a run-scoring single in the third against his former team. He finished with three hits and two RBIs.Kinsler hit a two-run homer off
Rhiner Cruz
in the seventh to make it 3-0. Texas added two runs in the eighth and two in the ninth.
Game notes
The last no-hitter by a Rangers pitcher was
Kenny Rogers
' perfect game against the Angels on July 28, 1994. ... Berkman extended his hitting streak at Minute Maid Park to 14 games dating to July 26, 2010. That includes his last three home games with the Astros, and 11 appearances as an opposing player with St. Louis and Texas. ... These teams wrap up the series Wednesday when Humber makes his Astros debut against Texas RHP
Alexi Ogando
.
Copyright by STATS LLC and The Associated Press
Photo Wire
HOUSTON, TX - APRIL 02: Yu Darvish #11 of the Texas Rangers throws against the Houston Astros at Minute Maid Park...
(Photo by Bob Levey/Getty Images)
Regular Season Series
Texas leads 17-2 (as of Tue 4/2)
Sun 3/31
@HOU 8, TEX 2
Recap
» Tue 4/2
TEX 7, @HOU 0
Box Score
Wed 4/3
TEX 4, @HOU 0
Recap
Fri 5/10
TEX 4, @HOU 2
Recap
Sat 5/11
TEX 8, @HOU 7
Recap
Sun 5/12
TEX 12, @HOU 7
Recap
Fri 7/5
@TEX 10, HOU 5
Recap
Sat 7/6
HOU 9, @TEX 5
Recap
Sun 7/7
@TEX 5, HOU 4
Recap
Fri 8/9
TEX 9, @HOU 5
Recap
Sat 8/10
TEX 5, @HOU 4
Recap
Sun 8/11
TEX 6, @HOU 1
Recap
Mon 8/12
TEX 2, @HOU 1
Recap
Mon 8/19
@TEX 16, HOU 5
Recap
Tue 8/20
@TEX 4, HOU 2
Recap
Wed 8/21
@TEX 5, HOU 4
Recap
Mon 9/23
@TEX 12, HOU 0
Recap
Tue 9/24
@TEX 3, HOU 2
Recap
Wed 9/25
@TEX 7, HOU 3
Recap
Complete Schedule: Rangers | Astros
Scoring Summary
TEX
HOU
3rd
L Berkman singled to left, C Gentry scored, I Kinsler to third, E Andrus to second.
1
0
7th
I Kinsler homered to left (365 feet), C Gentry scored.
3
0
8th
N Cruz doubled to left center, D Murphy scored.
4
0
8th
M Moreland hit sacrifice fly to left, N Cruz scored.
5
0
9th
E Andrus tripled to deep right, I Kinsler scored.
6
0
9th
L Berkman singled to center, E Andrus scored.
7
0
View complete Play-By-Play
Game Information
| | |
| --- | --- |
| Stadium | Minute Maid Park, Houston, TX |
| Attendance | 22,673 (53.9% full) - % is based on regular season capacity |
| Game Time | 2:54 |
| Weather | indoors |
| Umpires | Home Plate - Paul Nauert, First Base - Andy Fletcher, Second Base - Chris Conroy, Third Base - Sam Holbrook |
Research Notes
Yu Darvish
: 1st Rangers pitcher with 14 K in game since Nolan Ryan, 1991 against the Angels. In fact, the last 7 times that a Rangers pitcher had 14+ K prior to tonight were by Ryan.
-
Yu Darvish
induced 27 swings-and-misses, six more than in any of his starts last season. - The Astros chased 28 pitches out of the strike zone, missing on 16, fouling off eight, and putting four in play. Darvish had only one start last year in which the opponent chased at least 20 pitches out of the zone. - He struck out 14 of the 16 hitters he took to two strikes. - Nine of the 13 balls the Astros put in play were on the ground. Darvish had only one start last season with a higher groundball percentage, and it came in his only start against the Astros.
Yu Darvish
has 27 swings-and-misses vs the Astros, tied for the 2nd-most in any game in the last 5 seasons.
[+]
ESPN Stats & Information