Now
MLB ?
@mlb
D'oh.
Adam Rubin
ESPN Staff Writer

VIDEO: Here's a portion of manager Terry Collins' postgame comments about Matt Harvey and what the future may hold in terms of his rotation spot.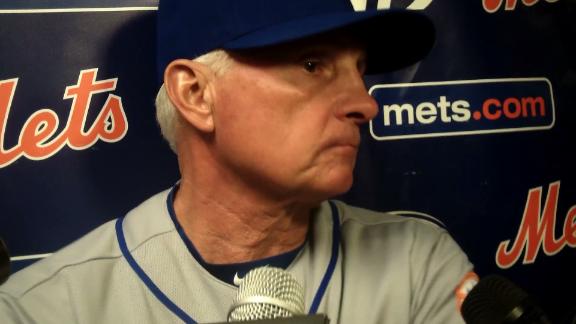 Baseball Tonight
@BBTN
In this edition of Outside Baseball, @Kurkjian_ESPN discusses the player with the largest hat he's ever come across. es.pn/1YXCJeT
Christina Kahrl
MLB Staff Writer

Robin Ventura on Chris Sale: "He had velocity; he probably had too much of it."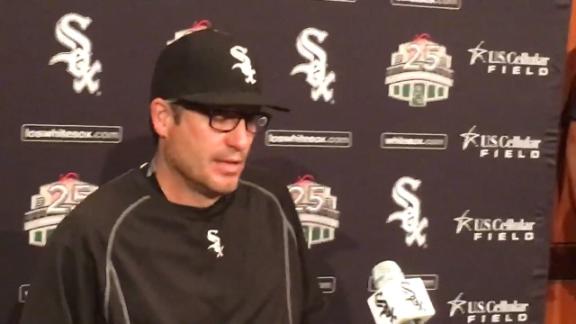 ESPN.com's SweetSpot
@espn_sweet_spot

Raising the strike zone could have other unintended consequences es.pn/1TD63WH
Baseball Tonight
@BBTN
Lorenzo Cain goes 4-5 with 2 RBI as Royals have now won 8 straight vs Twins for first time in franchise history. pic.twitter.com/qn8gUJgXEv
Baseball Tonight
@BBTN
Indians spoil Chris Sale's shot at 10-0 start by scoring 6 runs on the lefty in 3.1 IP. Josh Tomlin: 7-0 this season pic.twitter.com/ENhsKKTyrI
Baseball Tonight
@BBTN
The rookie continues to rake. Nomar Mazara goes 3-3 with a HR and 2 RBI as Rangers beat Angels, 4-1. pic.twitter.com/yltwX9LHOu
Fan falls on field diving for foul ball
Josh Donaldson couldn't reach that foul ball, but an ambitious fan got to it, even if it meant falling between the tarp and the wall.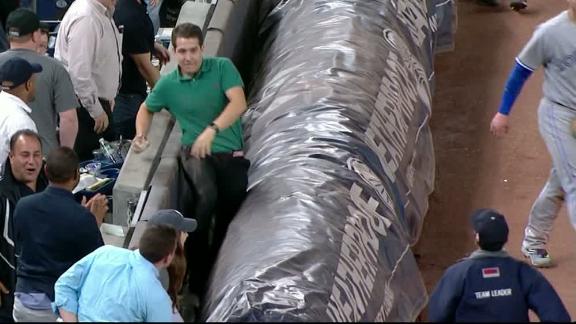 Eddie Matz
ESPN Senior Writer

Nats skipper Dusty Baker on Daniel Murphy: "Murph's been the acquisition of the year in baseball."
Jesse Rogers
ESPN Staff Writer

Video: Jason Hammel loved the fact he got to swing a bat before throwing a pitch on Tuesday night as the Cubs scored 6 in the first against the Cardinals beating them 12-3.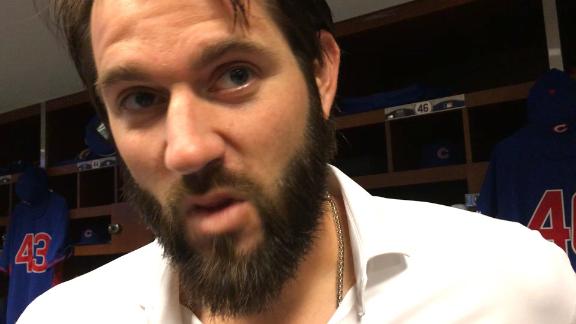 Baseball Tonight
@BBTN
Things that can happen when you face the top of the Giants' rotation: pic.twitter.com/Q7rj8lndsH
Jackie Bradley Jr. halfway to Joltin' Joe
Jackie Bradley Jr. doubles in the second inning to extend his hitting streak to 28 games, which puts him at the halfway mark to equal Joe DiMaggio's 56-game hitting streak.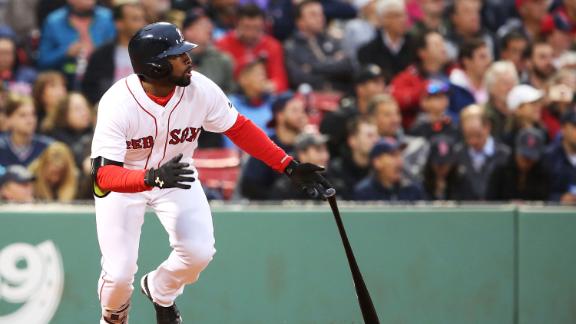 Baseball Tonight
@BBTN
Justin Verlander this season before engagement with Kate Upton announced: 5.46 ERA After: 2.80 ERA #Facts pic.twitter.com/6IGdEAQUnH
Katie Strang
ESPN.com

Tigers closer Francisco Rodriguez with some poignant thoughts on if he ever imagined getting to career save No. 400: "Never. When I came here to the States to the big leagues, I was just a kid with a lot of dreams, but never, not even crossed my mind ... You never expected that... I don't play for numbers. I play this game because I love it. I had it in my veins and that's the only thing that, honestly, I know how to do well. It had nothing to do with records or anything like that."
Baseball Tonight
@BBTN
Jackie Bradley Jr. continues hit streak and David Ortiz drives in 4 as the Red Sox take hold of 1st place. pic.twitter.com/TW9UlzGKmm
Katie Strang
ESPN.com

Tigers Manager Brad Ausmus on contributions from veteran stars Justin Verlander and Miguel Cabrera, and refuting the notion of their aging: "They've certainly been leading by example. Father Time doesn't stop for anyone but I think these guys are far from dinosaurs."
Fan gets hit in face trying to catch ball
That's not how you use a baseball glove.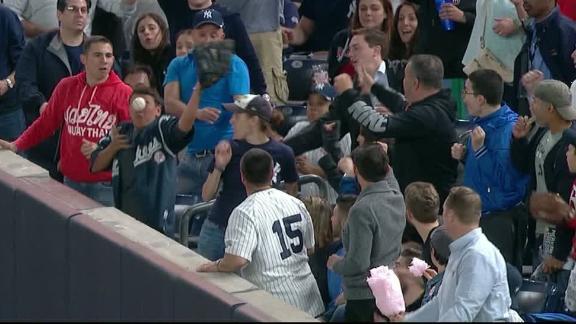 MLB ?
@mlb
Everything's coming up @Cubs.
Baseball Tonight
@BBTN
The Cubs' bats come alive to break their losing streak and top the Cardinals, 12-3. - Jason Hammel: 7.1 IP, 1 R pic.twitter.com/aFPXPwLxEk
Grimm pulls off no-look backward snag
Cubs pitcher Justin Grimm made this look way too easy.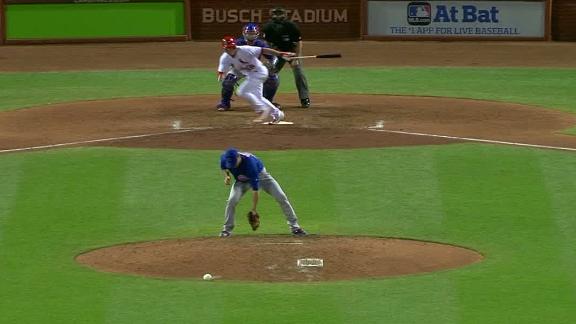 Ian O'Connor
@Ian_OConnor
The 2016 Warriors are 3 halves away from joining the 2007 Patriots and 2001 Mariners in an exclusive club.
Baseball Tonight
@BBTN
More baseball, that's a good thing. Giants look to win 8th straight vs Padres this season on our ESPN night cap. pic.twitter.com/sLwxCR1ZIp
Adam Rubin
ESPN Staff Writer

Matt Harvey will not be speaking after his start tonight, a Mets spokesman announced. Terry Collins certainly sounded inclined to have Harvey not make his next start.