Everth Cabrera 'disappointed'
Updated:
February 20, 2013, 4:46 PM ET
Associated Press
PEORIA, Ariz. -- San Diego Padres shortstop Everth Cabrera says he was "a little surprised" and "disappointed" by a report that his name was listed in the records of a now-closed Florida clinic at the center of a Major League Baseball investigation into banned performance-enhancing drugs.
"

It's something that, for a moment, might be a distraction. There is some disappointment that some of our guys are mentioned in the press, but I think, in the long run, everything will work itself out.

"

-- Padres manager Bud Black
on Everth Cabrera
ESPN reported Tuesday that Cabrera was on a list as having received performance-enhancing drugs, although the network said the documents are not proof he used or received them.
Cabrera declined specific comment on Biogenesis of America, the closed anti-aging clinic in Coral Gables, Fla. He did not say whether he had taken, purchased or received performance-enhancing drugs.
"I'm going to fully cooperate with Major League Baseball," Cabrera said, "but I can't say anything about that right now."
Cabrera, who led the NL with 44 stolen bases last season, said he spoke with Padres manager Bud Black twice Wednesday about the issue, the final time with general manager Josh Byrnes present.
Black, who has a strong relationship with Cabrera, didn't sound overly concerned about the situation.
"We're satisfied by what we heard," Black said. "We believe this will resolve itself in a positive way."
While he wouldn't divulge details, Black said his conversation with Cabrera convinced him all will be well.
"It's something that, for a moment, might be a distraction," Black said. "There is some disappointment that some of our guys are mentioned in the press, but I think, in the long run, everything will work itself out."
Cabrera has not tested positive for performance-enhancing drugs. But he could be subject to a 50-game suspension if MLB finds evidence he possessed banned substances or participated in their sale or distribution. Players also can be suspended for a conviction for use or possession of PEDs.
More from ESPN.com
Tony Bosch's past includes a tangle of ties and titles in which he befriended players while tapping the expertise of hormone-therapy doctors, write Mike Fish and T.J. Quinn. Story
• Radio: Buster Olney | A. Marchand
---

Jayson Stark explains how Tony Bosch's cooperation with MLB's Biogenesis investigation could lead to the biggest drug bust in sports history. Story
---
Even if MLB is able to suspend players for 100 games, it won't deter others from using PEDs, and MLB won't ever get rid of its drug problems until penalties are even harsher, Buster Olney writes. Story

---
Baseball did a masterful job in getting Tony Bosch to agree to cooperate in its pursuit of players linked to Biogenesis, but is Bosch believable? Lester Munson examines. Commentary
---

Alex Rodriguez shouldn't try to spin this story. It's time for him to come clean if he is in fact guilty of taking PEDs again, ESPNNewYork.com's Ian O'Connor writes. Story
---

MLB's efforts to punish players tied to the Biogenesis clinic are important. You have to root just as hard for the game itself as you do for the players, Steve Wulf writes. Story
• Howard: Pay A-Rod to go A-way
ESPN said a document it obtained listed $1,500 next to Cabrera's name with a date of March, which the network said was presumably last year.
Padres relief pitcher Fautino De Los Santos, claimed off waivers from Milwaukee on Feb. 6, was listed for $700 in March, ESPN said.
Black spoke briefly with De Los Santos but did not reveal the content of that discussion.
Padres catcher Yasmani Grandal will miss the first 50 games of the season following a positive test for testosterone in November. Grandal apologized at the time and again last weekend.
"We don't ever want to be associated with PEDs; the rules are easy to follow, and the policies are clear," Byrnes said. "But at this particular time, we don't want to assume anything about Everth. With Yasmani, there was a positive test. This is a different set of circumstances."
Cabrera hit .246 with 49 runs last year, including a .281 average in September.
"I'm sorry about the situation" caused to the Padres, he said.
Notes
Grandal's left middle finger passed important tests this week, when the Padres catcher hit for the first time since fall. The finger was inflamed on Wednesday morning but didn't have residual pain from two batting-practice sessions this week, when he hit from both sides of the plate. ... RHP
Freddy Garcia
is to start Sunday's exhibition against Seattle. Garcia, who signed a minor league deal with the Padres, will pitch two innings. Rotation prospect
Casey Kelly
will pitch after that.
Sean O'Sullivan
will start Friday and
Tyson Ross
will start Saturday. ... The team conducted a rain-shortened workout Wednesday morning.

Copyright 2013 by The Associated Press
SPONSORED HEADLINES
MORE MLB HEADLINES
MOST SENT STORIES ON ESPN.COM
SPRING 2013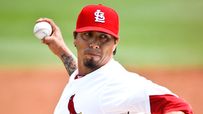 SPRING TRAINING
BBTN 500
WORLD BASEBALL CLASSIC
OTHER LINKS