Chris Tillman on DL with ab strain
Updated:
March 28, 2013, 8:37 PM ET
Associated Press
SARASOTA, Fla. -- The Baltimore Orioles put right-hander Chris Tillman on the 15-day disabled list with a strained left abdominal muscle.
The move announced Thursday is retroactive to March 22, which allows Tillman to pitch in the Orioles' fifth game of the season on April 6 against Minnesota.
Tillman was scratched from his scheduled March 10 start because of abdominal soreness and has pitched only in minor league games.
Baltimore also reassigned outfielder Trayvon Robinson to its minor league camp.

Copyright 2013 by The Associated Press
2013 SEASON PREVIEW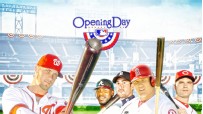 SCHEDULE
Monday, March 25

Bowden: Harper vs. Trout -- who's better?
Schilling: Sizing up Trout and Harper

Tuesday, March 26

Szymborski: Projecting AL standings
Rising Stars profiles: Tyler Skaggs (Crasnick); Jarrod Parker (Kahrl)

Wednesday, March 27

Division capsules: AL Central; NL Central
Szymborski: Projecting NL standings
BBTN: AL Central NL Central
Rising Stars profiles: Salvador Perez and Trevor Rosenthal (Crasnick)
Bowden: Six who impressed this spring

Thursday, March 28

Rising Stars profiles: Andrelton Simmons (Stark); Manny Machado (Kurkjian)
Spratt: Defense could hurt Blue Jays

Friday, March 29

Law: Predicting division winners, awards
Photo gallery: All-MLB preseason team
Szymborski: Best player prop bets

Saturday, March 30

Photo gallery: Milestones to watch in 2013
Bowden: 10 bold predictions for 2013