Yankees hit with $28M luxury tax
Updated:
December 18, 2013, 5:00 AM ET
Associated Press
NEW YORK -- The New York Yankees were hit with a $28 million luxury tax bill, pushing their total past the $250 million mark since the penalty began in 2003.
More Money, More Problems

The Yankees had the highest payroll in baseball for 2013, but it didn't translate to postseason success and it cost them $28.1 million in luxury tax fines.
Team
Final Payroll
Yankees
$237M
Dodgers*
236.9
Red Sox*
176.5
Phillies
166.2
Tigers*
154.7
Angels
143.7
Giants
141.3
Rangers
137.2
Blue Jays
125.9
Nationals
120.9
Cardinals*
119.6
White Sox
116.7
Reds*
116.1
Orioles
103.3
Cubs
100.9
Braves*
95.3
Mets
95.1
Brewers
92.7
Mariners
91.1
Diamondbacks
90.2
Indians*
88.9
Royals
86.6
Rockies
78.8
Twins
76.1
Pirates*
74.6
Padres
74.2
A's*
71.1
Rays*
64.6
Marlins
42.3
Astros
29.3
*Made playoffs
According to Major League Baseball calculations sent to teams Tuesday, the Los Angeles Dodgers were the only other team that exceeded the tax threshold this year and must pay $11.4 million. Boston finished just under for the second straight year, coming in $225,666 shy of the $178 million mark.
Figures include average annual values of contracts for players on 40-man rosters, earned bonuses and escalators, adjustments for cash in trades and $10.8 million per team in benefits.
Because the Yankees have been over the tax threshold at least four consecutive times, they pay at a 50 percent rate on the overage, and their $28,113,945 bill was second only to their $34.1 million payment following the 2005 season. The Yankees are responsible for $252.7 million of the $285.1 million in tax paid by all clubs over the past 11 years.
Yankees owner Hal Steinbrenner said he hopes to get under the threshold next year, when it rises to $189 million. That would reset the team's tax rate to 12.5 percent for 2015 and get the Yankees some revenue-sharing refunds.
But following agreements Tuesday on a $2 million, one-year deal with second baseman Brian Roberts and a $7 million, two-year contract with left-hander Matt Thornton, the Yankees are at $177.7 million for 15 players next year, when benefits are likely to total between $11 million and $12 million. Their only hope to get below the threshold appears to be if an arbitrator upholds most of Alex Rodriguez's 211-game suspension, relieving the team of a large percentage of the third baseman's $25 million salary.
Tax money is used to fund player benefits and MLB's Industry Growth Fund.
The Yankees finished with the highest regular payroll for the 15th consecutive year, winding up at a record $237,018,889. The Dodgers, in their first full season under new ownership, were just $146,647 behind after nearly doubling spending from $129.1 million.
Regular payrolls include salaries, earned bonuses and pro-rated shares of signing bonuses.
Los Angeles had a higher payroll for the tax: $243 million to New York's $234 million. But because the Dodgers didn't exceed the threshold in 2012, they pay at a 17.5 percent rate and owe $11,415,959.
Checks to the commissioner's office are due by Jan. 21.
Houston, which lost more than 100 games for the third straight season, had a payroll less than one-eighth that of the Yankees and Dodgers. The Astros' finished at $29.3 million, the lowest total in the major leagues since the 2008 Florida Marlins and just $1.3 million more than Rodriguez made with the Yankees.
After trading many of their stars following an unsuccessful first season in their new downtown ballpark, the Marlins lowered their payroll to $42.3 million from $89.9 million in 2012. Minnesota dropped from $101 million to $76 million.
Toronto boosted spending from $92 million to nearly $126 million.
The average salary increased 7.1 percent, to $3,326,645 from $3,105,093, according to MLB's calculations, the steepest rise since 2006. The players' association has not yet released its final figures for this year.

Copyright 2013 by The Associated Press
MLB ON ESPN.COM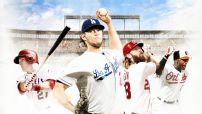 Why the Nationals will end Washington, D.C.'s 90-year title drought.
EDITORS' PICKS
It's Jon Lester vs. James Shields tonight in K.C.
Tim Kurkjian »

Why the Nationals will end Washington, D.C.'s 89-year title drought.
Jayson Stark »

We take a look at some of the numbers that might matter in October.
Story »
MORE FROM ESPN NEW YORK

Check out ESPN New York, your destination for sports coverage in the Big Apple.
MORE FROM ESPN LOS ANGELES

Check out the new ESPN Los Angeles, the place for your local Los Angeles sports coverage.
MORE FROM ESPN BOSTON

Want to submit a question for Mike Reiss' weekly Patriots mailbag? Click here and come back every Tuesday around noon for the 'bag.
Latest headlines on ESPNBoston.com: