As you open your Christmas presents -- good lord, not another Ichiro bobblehead doll! -- remember that it's not the thought that counts but that you at least received your gift before Groundhog Day.
Not everyone is so fortunate, especially if they are related to me.
Some presents are indeed worth waiting for though, and my Christmas wish is that the following baseball gifts are received before next December:
• That the Red Sox receive any and every possible type of razor -- straight, safety, cartridge or electric -- and that they actually use them on at least a weekly basis this season.
• That kids everywhere receive baseball gloves they can break in by sticking them between their mattresses instead of football helmets that will eventually lead them to break in their brains.
• That Jack Morris receives a call in January from the BBWAA's Jack O'Connell, informing him that he has been elected to the Hall of Fame in his final year of eligibility. And I further wish that O'Connell receives a hefty long-distance phone bill at the end of January for having also called Greg Maddux, Tom Glavine, Frank Thomas and Craig Biggio with similar good news. (I would wish that O'Connell place congratulatory calls to several other players as well, but why push my luck with my fellow stubborn baseball writers?)
• That Milwaukee fans receive an apology from Ryan Braun that is sincere and honest for once. And that before they get too self-righteous, Brewers fans and commissioner Bud Selig also acknowledge that they benefited a great deal from Braun's PED use when their favorite team was going to the postseason.
• That Tampa Bay fans receive a national media embargo on David Price trade rumors. Hey, I know the Rays have a tight budget, and I think Andrew Friedman is one of the best, shrewdest general managers in the game. But that doesn't make it any easier to constantly hear that your team, which has averaged 92 wins the past six seasons, needs to trade its best pitcher to a competitor because he'll be eligible for free agency in two years.
• That the rest of us receive an embargo on Alex Rodriguez stories unless they involve his actual performance on the field.
• That Derek Jeter receives clean MRIs and is able to play an injury-free, productive season. And that he doesn't feel as though he's the youngest and healthiest player on the Yankees' roster too often.
• That Yankees fans receive another postseason-less October so they have ample time to slow down and appreciate the vibrant autumn colors, the warmth of an Indian summer afternoon and the exasperating frustration that so many fans in Kansas City, San Diego, Toronto, Seattle and other cities have to endure year after year after year.
• That Mariners fans receive a Jay Z concert appearance at Safeco Field, including a Seattle version of "Empire State of Mind," in addition to an MVP season from Robinson Cano for the team's $240 million investment.
• That Kansas City fans finally receive postseason tickets again -- and that they aren't that much more expensive than they were the previous occasion the Royals were in the playoffs, way back in 1985 (good luck with that).
• That the Athletics receive a deep discount on plumbing repairs at O.co Coliseum.
• That I receive a souvenir piece of Teflon from the Metrodome, where I spent some of the most memorable years of my life, when the stadium's roof is deflated for the final time in January. A multipurpose stadium that cost just $55 million and hosted a World Series, Super Bowl and Final Four -- all within a six-month stretch! -- is being destroyed so it can be replaced by a $1 billion taxpayer-funded facility for a football team that plays just eight regular-season home games a year. And some people complain about the government funding food stamps for the poor?
• That Wrigley Field receives a World Series pennant to raise above its ivy-covered walls when the ballpark celebrates its 100th anniversary season this year. And I'm not talking about a championship pennant that is even older than Wrigley.
Hey, if others can wish for peace on Earth this time of year, why can't I wish for something every bit as elusive?
CSI: Box Score
Each week, I provide a fragment from an old box score and challenge you to determine what game it is from and why it's significant. The challenge for you is to figure out why. I give this one a difficulty rating of 3. Answer below:
Baseball Card of the Week
Merry Christmas from Santa Claus, everyone's favorite cleanup hitter (2007 Topps).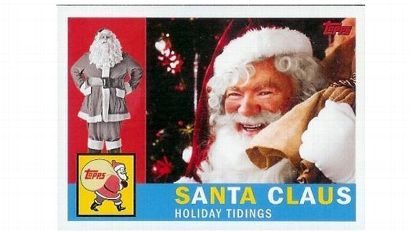 Yeah, Well, That's Like, That's Just Your Opinion, Man
Maury Wills And Tommy Lasorda Might Have Differing Opinions. Although the Giants haven't played at Candlestick Park in 13 years, it was still sad to see the final scheduled competition there this week and know that, like the Metrodome, it is scheduled for demolition. Listening to Giants games on the radio, I long dreamed of going to Candlestick to see my favorite team. When I finally did attend a game there, in 1989, the Loma Prieta earthquake hit just before the first pitch. Candlestick was not a great stadium. It could be a little like Ice Station Zebra, even in the summer -- just ask Stu Miller -- but it was the site of a lot of games and a lot of wonderful memories. It's always sad to see a stadium torn down, and a stadium where Willie Mays, Joe Montana and the Beatles all played warrants a very loud and very long ovation before it goes.
Plus, Signing With Anaheim For 2014 Sets Him Up To Return To Seattle For A Fourth Time In 2015. Best wishes to Raul Ibanez on his contract with the Angels. The extreme stat guys diminish the importance of is what a player can mean in the clubhouse, and they are often right about that. But we all know from our own experience how co-workers can affect our attitude and performance. Ibanez might not be able to duplicate his 29-homer production from last year, but he will be a positive influence in a clubhouse that could use it.
CSI: Box Score Answer
There was only one clue you needed to spot, but you might not have noticed it because it's one rarely listed in a box score: TP. That TP stands for triple play, just as DP stands for double play. And this box score fragment is from July 17, 1990, when the Twins became the only team in major league history to turn two triple plays in one game.
Both triplet-killings were identical -- third baseman Gary Gaetti fielded a grounder, stepped on the bag for the force, threw to second baseman Al Newman, who threw to first baseman Kent Hrbek -- and looked so routine that the main question in the clubhouse after the game is why such a thing had never happened before. And the question now is why it hasn't happened since.