Dan Le Batard barred from Hall vote
Updated:
January 12, 2014, 10:19 AM ET
ESPN.com news services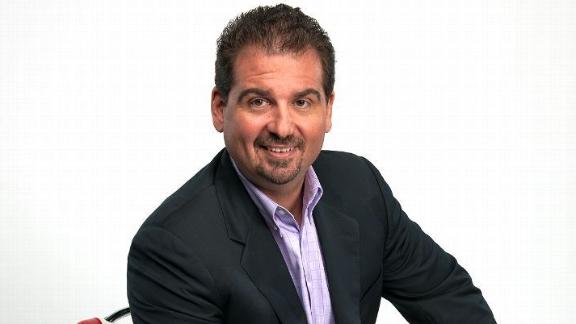 Dan Le Batard Explains Ballot
Dan Le Batard joins "Mike & Mike" to discuss his decision to give his Hall of Fame vote to the website Deadspin.
Dan Le Batard Explains Ballot
NEXT VIDEO
ESPN TV and radio host Dan Le Batard has been kicked out of the Baseball Writers' Association of America for one year and barred from future Hall of Fame votes after he turned over his 2014 ballot to a website that allowed readers to make the selections.
The decision was made Thursday by the BBWAA board of directors, a day after Le Batard said he let Deadspin.com cast his ballot.
More From ESPN.com

The BBWAA should offer to give up the Hall of Fame vote, writes Buster Olney, who also suggests other voting changes he'd like to see. Analysis

---

A closer look at all the gory details of a Hall of Fame election that saw nine players hemorrhage votes, a 3,000-hit man fall just short of enshrinement and another fall off the ballot completely, plus a special tribute to the one-vote wonders, writes Jayson Stark. Analysis
---

The Class of 2014 voting was overshadowed by Craig Biggio's snub, blank ballots and a flawed process, writes Grantland's Jonah Keri. Analysis
• Radio: Jeff Idelson | Colin Cowherd
The BBWAA said in a statement that it "regards Hall of Fame voting as the ultimate privilege, and any abuse of that privilege is unacceptable."
Le Batard said Wednesday that, as a form of protest, he gave his Hall of Fame vote to Deadspin because he had become disenchanted with the direction the voting process had taken in the steroid era. Le Batard, who is a longtime columnist for the Miami Herald, did not accept anything in return for his vote.
Deadspin, which had attempted in vain to buy a Hall of Fame vote, allowed its readers to choose the names to appear on Le Batard's ballot by voting "yes" or "no." The 10 players with the highest voting percentages among Deadspin readers would be picked on the ballot. Le Batard said on his radio show Wednesday that he approved of the selections and submitted the ballot to the Hall.
The names submitted were Greg Maddux, Frank Thomas, Tom Glavine, Mike Piazza, Craig Biggio, Edgar Martinez, Jeff Bagwell, Roger Clemens, Barry Bonds and Curt Schilling. Maddux, Glavine and Thomas were elected Wednesday by the BBWAA.
"We respect and appreciate Dan's opinions and passion about Hall of Fame voting," ESPN spokesman Josh Krulewitz said in a statement Wednesday. "He received his vote while at the Miami Herald. We wouldn't have advocated his voting approach, which we were just made aware of today."
In a piece posted on Deadspin, Le Batard wrote, in part, "I hate all the moralizing we do in sports in general, but I especially hate the hypocrisy in this. I always like a little anarchy inside the cathedral we've made of sports."
Le Batard addressed the matter again Wednesday during his ESPN TV show, "Highly Questionable," and had predicted that he would have his vote taken away.
"I probably won't have [a vote] next year because I gave mine to Deadspin," he said, "because I don't like how they do business over there at the Hall of Fame, where they're sitting there and they're being sanctimonious and they're keeping all the steroid guys out."
The Associated Press contributed to this report.
SPONSORED HEADLINES
MORE MLB HEADLINES
MOST SENT STORIES ON ESPN.COM
MLB ON ESPN.COM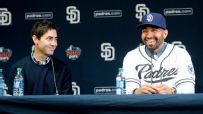 First-year GM A.J. Preller is the focal point of a stunning turn of events in San Diego.