Brandon McCarthy: Cap not ready
Updated:
January 28, 2014, 3:53 PM ET
By
Jayson Stark
| ESPN.com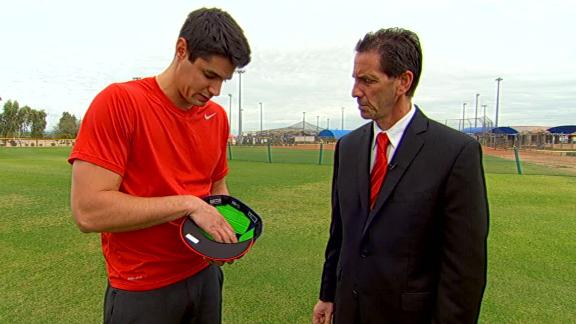 OTL: Capping The Risk
When A's pitcher Brandon McCarthy needed brain surgery in Sept. 2012 after a line drive struck his head, MLB accelerated efforts to offer some protection against the long-standing danger on the mound. (Editor's note: This story from February 2013 and the product involved is not the same as the one approved by MLB).
OTL: Capping The Risk
On the same day Major League Baseball announced it had approved a new protective cap for pitchers, Arizona Diamondbacks right-hander Brandon McCarthy told ESPN.com that even though he was seriously injured when he was hit in the head by a line drive 16 months ago, he won't wear the new gear himself.
McCarthy, who tested the protective cap while throwing off a mound, playing catch and running, said Tuesday: "I won't wear it in its current form."
More from ESPN.com

Three pitchers whose skulls have been fractured by batted balls say they won't wear baseball's new protective cap, writes Jayson Stark. Story
---

It likely will take years for MLB-approved protective caps for pitchers to catch on in the major leagues, writes David Schoenfield. SweetSpot
• SportsNation: Is It Enough?

On Sept. 5, 2012, while pitching for the Oakland Athletics, McCarthy was struck in the head on a comebacker by the Los Angeles Angels' Erick Aybar and needed emergency surgery to relieve pressure on his brain caused by internal bleeding. He suffered a seizure in June 2013 that doctors said was related to his head injury.
He has been active in the months since in helping baseball find ways to protect pitchers from similar injuries. McCarthy said he'd spent the past eight months working with MLB and 4Licensing Corporation subsidiary isoBlox, the company making the caps, but said he informed both parties before Tuesday's announcement that he didn't consider this particular cap to be "a major league-ready product."
"The technology is there," he said. "It helps. It's proven to help. But I don't think it's ready yet as a major league-ready product. And I told them that. I told them that's where it's at."
The first problem, according to McCarthy, is that the cap "doesn't pass the eye test."
"It's just too big," he said.
IsoBlox says the caps are a little more than a half-inch thicker in the front and an inch thicker on the sides -- near the temples -- than regular caps.
McCarthy, however, said it's so wide that pitchers are aware of the cap when wearing it. And for players to feel comfortable using it in a game, he said, "It has to disappear."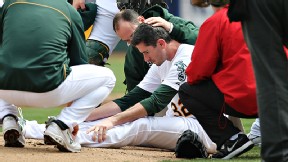 Michael Zagaris/Getty ImagesDespite being struck by a liner in 2012, Brandon McCarthy says the new MLB-approved protective cap is not "major league-ready" and won't wear it.
A second major issue for McCarthy is that the cap is "too hot." The extra padding adds seven ounces to the weight of a cap, which currently weighs three to four ounces, according to isoBlox.
"You can't pitch a day game in St. Louis wearing it, or a day game in Baltimore," he said. "I've thrown in it in optimal conditions, inside where it's cool, and your head gets itchy."
The third problem, he said, is that the cap doesn't feel like other caps feel or fit as snugly as other caps fit.
"[So] if your head moves a tick, you feel it," he said. "You notice it."
And if those issues aren't corrected, McCarthy said, very few players will wear it.
"Nobody wants this to work more than me," he said. "But we tried to take this as far as we could and see if it's something that could work, but it just wasn't there."
McCarthy noted, however, that he is grateful for all the research that's been done and the progress that's been made on protecting pitchers. He said he considers the work to be "a step in the right direction."
"Hopefully, in a couple of years, they can come up with something that everyone wears and that you don't notice it being on your head while you're out there," he said. "I hope it gets there. ... But right now, it's just not there."
Senior Writer, ESPN.com
Senior writer for ESPN.com
21 years at the Philadelphia Inquirer
Author of three baseball books
SPONSORED HEADLINES
MORE MLB HEADLINES
MOST SENT STORIES ON ESPN.COM
MLB ON ESPN.COM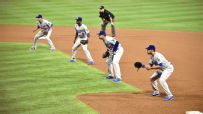 Eliminating defensive shifts is a really bad idea.
EDITORS' PICKS
The idea of eliminating defensive shifts is absurd.
Buster Olney

If A-Rod hits enough home runs to earn his bonuses, the Yanks should be more than happy to pay them.
Wallace Matthews

The Red Sox should wait before trying to upgrade their rotation.
Mike Petriello