News Item: Russell Wilson's agent says the Super Bowl champion quarterback hasn't decided what his plans are for spring training. The Rangers picked Wilson, a former minor league second baseman in the Rockies system, in December's Rule V draft.
A look at how spring training could unfold for the Seattle quarterback ...
Feb. 14: Wilson's agent announces that the quarterback will go to spring training, but only if the Rangers do not hold two-a-days.
Feb. 18: Wilson reports to the Rangers training facility in Arizona, where he is puzzled that the playbook is so thin and that the afternoon weight session consists solely of doing 12-ounce curls at the 19th hole at the Desert Springs golf course.
Feb. 21: Inspired by Wilson, former high school shortstop Peyton Manning decides to go to spring training with the Rockies. His spring starts poorly when Denver Broncos center Manny Ramirez also reports to camp and repeatedly throws batting practice pitches over Manning's head and into the backstop.
Feb. 25: The Rangers raise a 10th Man flag at their spring training complex and start selling 10th Man T-shirts in the Seattle Mariners team store, where they sell out within 10 minutes.
Feb. 28: The Rangers' fundamental drills get a little complicated when the Seahawks send four offensive linemen to protect Wilson against hard takeout slides on double-play grounders.
March 4: Texas manager Ron Washington goes ballistic when football writers in camp ask him once again whether he plans to play Wilson on defense as well as offense.
March 9: Wilson hits a grand slam in the ninth inning to beat Seattle at the Mariners complex in Peoria. Seattle fans give Wilson a standing ovation, then call up radio talk shows to complain that the Mariners should have signed him instead of that bum Robinson Cano.
March 12: Umpires rule that Wilson's line drive is a ground-rule double after it hits the new Rangers cheerleaders along the right field line and bounces into the stands. The bases-clearing double raises Wilson's Cactus League average to .450 with a .965 OPS.
March 15: Wilson has his first bad day when he gets behind Prince Fielder in the line for the postgame spread.
March 19: A 60-mph curveball from Rangers third base coach Gary Pettis grazes Wilson's helmet during batting practice. NFL lawyers immediately file papers absolving the league of any liability when Wilson shows symptoms of brain damage due to concussions. "Clearly," the legal papers declare, "any future health issues will be due to this malicious baseball injury and have absolutely nothing to do with football, which is 100 percent completely safe, as we have repeatedly proven in impartial medical studies funded by the league.''
March 22: After San Francisco's Sergio Romo gives up a game-winning home run to Wilson, the NFL fines Richard Sherman $7,875 for taunting the Giants closer with a choking gesture.
March 26: Wilson raises his spring average to .500 with six home runs and 18 RBIs. Dallas Cowboys fans call into local talk shows to complain that not only should Wilson make the Rangers, he should also replace Tony Romo.
March 30: Washington announces that Wilson has made the 25-man roster and will take over the second base vacancy created by the offseason trade of Ian Kinsler. Seattle immediately sells out its nine home games against the Rangers. The Mariners also announce they are adding a Russell Wilson bobblehead night to the schedule.
March 31: Texas general manager Jon Daniels reconsiders the team's decision when Wilson's agent announces Russell only plays on Sundays.
CSI: Box Score
Each week, I provide a fragment from an old box score and challenge you to determine what game it is from and why it's significant. I give this one a difficulty rating of 9.5. Answer below:
Baseball Card of the Week
Which do you think embarrasses John Lowenstein more? The freshman photo in his high school yearbook, the picture on his driver's license, or this card (1977 Topps, No. 393)?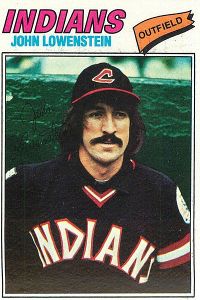 Yeah, Well, That's Like, Just Your Opinion, Man
Bud Would Have Called It Perfect World Series Weather. Could the fuss about the weather at the Super Bowl have been any ridiculous and unnecessary? Good grief. The game-time temperature was 49 degrees. Not only are football games often played in colder temperatures, but so are World Series games. If pitchers can snap off curveballs in those temperatures and lower, I think the largely corporate bigwigs in the stands can handle it as well.
Craig Biggio Isn't In This Hall Of Fame, Either. So the Pro Football Hall of Fame elected another seven players last weekend, which is close to the average size of an induction class. The Hall has never elected fewer than three players in a year, while the baseball writers rarely elect that many. (This year is an exception.) And obviously, there is no debate whatsoever about whether a football player up for election ever cheated by juicing (possibly because most assume they all did). Not that any of that is necessarily a good thing. In fact, it's a pretty good indication of why fans don't care about the football Hall of Fame with anywhere near the same level of passion as they do baseball's. Heck, they can't even argue over which logo a player should wear on his Hall of Fame bust.
CSI: Box Score Answer
This was another fragment with a football connection. With the naming of the Pro Football Hall of Fame's new class, I thought I would go with the box score from the final major league game played by former major leaguer and subsequent NFL coach and Hall of Famer Greasy Neale. By the way, Neale also coached in college and took Washington & Jefferson College to the 1921 Rose Bowl. Yes, Washington & Jefferson. In the Rose Bowl! No wonder he's in the Hall of Fame.
What also is interesting is that Greasy wasn't the oddest nickname in this box score. There was some pretty stiff competition from the following players -- and bear in mind, these are more than nicknames, they also are the names these players are officially listed as on baseball-reference.com: Rube Bressler, Chick Shorten, Boob Fowler, Greasy Neale, Eppa Rixey, Hack Wilson, Heinie Groh, Mule Watson and High Pockets Kelly.