A.J. Burnett officially joins Phillies
Updated:
February 16, 2014, 3:52 PM ET
ESPN.com news services
The Phillies have completed their deal with pitcher A.J. Burnett, who described his decision to sign with Philadelphia as "a no-brainer."
Burnett, who spent the past two seasons with the Pittsburgh Pirates, officially joined the Phillies at their spring training complex Sunday.
More from ESPN.com

A.J. Burnett's decision to turn away from the Pirates and sign with the Phillies this offseason was a life choice, writes Jayson Stark. Analysis
The 37-year-old Burnett said he chose the Phillies because they were closer to his home in Maryland.
"I'll put it very simple. For the first time in my career, I made a decision that wasn't about A.J. Burnett," he said. "It was about my wife. It was about my kids. It was about playing somewhere where I'm at home, and I can still do what I love.
"And that feels good. It was a no-brainer for me."
Burnett and the Phillies agreed to a one-year, $15 million contract that includes a player option for 2015 and performance bonuses. Under the deal finalized Sunday, Burnett would make $33.5 million over two seasons if he makes 30 starts or more in both years.
Burnett revived his career with Pittsburgh the last two seasons, pitching to a 3.31 ERA and winning 26 games.
"If you were to tell us [at the beginning of the offseason] what pitcher was going to be available, or what pitchers were going to be available, and he was part of the original mix, he probably would have been at the top of the ticket," Phillies general manager Ruben Amaro Jr. said.
[+] Enlarge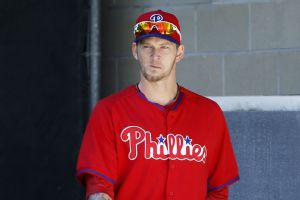 AP Photo/Charlie NeibergallA.J. Burnett said signing with the Phillies, who play close to his Maryland home, was "a no-brainer."
In October, Burnett told a Pittsburgh radio station that he would return to the Pirates as a free agent this year or retire. The right-hander explained his change of heart Sunday.
"At that point, at that time, that's where I was at," Burnett said. "You know, it was a long year, it was a great year, it was a fun year. But when I said that, and at that time, that's where I was, with my family and with my thoughts. I did not stick to that, obviously."
Burnett gets a $7.5 million signing bonus, of which $1 million is payable Dec. 15, $2.75 million next Jan. 15 and $3.75 million on June 30, 2015.
Burnett will make a $7.5 million salary this season, and the contract includes a $15 million option for 2015 with a $1 million buyout. Burnett would receive the buyout only if either party declines and he fails to make 30 starts this year.
If the mutual option isn't exercised, Burnett would have a $7.5 million player option for 2015. The option price would increase to $8.5 million with 24 starts this year, $10 million with 27, $11.75 million with 30 and $12.75 million with 32.
He can earn an additional $1.75 million annually in performance bonuses: $500,000 each for 24 and 27 starts, and $750,000 for 30.
ESPN.com's Jayson Stark and The Associated Press contributed to this report.
EDITORS' PICKS
The Giants' offense provided plenty in their Game 1 win.
Jayson Stark »

The Royals can't just give up after their first October loss.
Jim Caple »

Who will win the 2014 World Series: Royals or Giants?
Hot Button »