Opening-week observations on some of this season's most interesting promotions while I set up my tent on the sidewalk to get in line for Macklemore Bobblehead Night in Seattle (June 12) ...
Still a wildly popular giveaway, this season's many bobbleheads around baseball will include Hank Aaron, Babe Ruth, Nolan Ryan (three teams), Lou Gehrig, Greg Maddux, Ernie Banks, Mike Trout, Bryce Harper, Bobby Cox, Tony La Russa, Lou Piniella, David Ortiz, Clayton Kershaw, R.A. Dickey, Tom Glavine, Felix Hernandez, Tyler Clippard, Adam Jones, Yu Darvish, Robinson Cano, Wil Myers, Denard Span, Billy Hamilton, Jose Oquendo, Kyle Lohse, Michael Wacha, Jack Brickhouse, Duane Kuiper, Joe Tinker, Casey Stengel, Red Grange, Magic Johnson, the Rally Monkey, Macklemore and, of course, Hank the Dog.
Several teams are also giving away gnomes, but the most interesting play on the standard bobblehead is Tampa Bay's Joe Maddon Mr. Potato Head Night. Give the Rays credit: They don't draw fans, but it isn't for lack of effort and ideas. They also have Chris Archer Christmas Stocking Night, David Price and Astro Dog Tags Night and a Yunel Escobar basketball-set giveaway.
This season marks the 100th anniversary of Wrigley Field, and the Cubs are holding some interesting promotions to mark it. On the park's 100th birthday (April 23), they will give out Chicago Federals replica jerseys, commemorating the Federal League team that was the first tenant of Wrigley Field (then called Weegham Park). Among the bobblehead giveaways are Grange and Gale Sayers (who played football at Wrigley), an All-American Girls League player, Babe Ruth calling his shot and Kerry Wood's 20-strikeout game.
But the really creative Wrigley promotions are those hooked to the past, such as the View-Master, Etch-a-Sketch and Rubik's Cube giveaways. (However, they are missing a Daguerreotype giveaway that would actually have photographs from the Cubs last championship season.)
The most innovative promotion, as usual, is courtesy of the independent league St. Paul Saints, who will hold a game with three teams on May 9 at Midway Stadium. Billed as "The Three-Way At Midway: The XXXhibition Game," the Saints say they will "get down and dirty with a little taboo play" with themselves, the Fargo-Moorhead RedHawks and a third partner to be chosen from college ball, town ball and independent league teams sending in the best profile photo. According to the superb news release, that third team will also have to list how many switch-hitters it has and how willing it is to "swing" the bat, plus some other double entendres. I assume the visiting teams will wear 50 shades of gray.
The Giants are holding a "Farewell to the 'Stick Night," when they will give away scarves to commemorate the climate conditions at their old stadium. Considering the frigid temperatures at Candlestick Park, the Giants should also give away the fur bomber hats the Twins will hand out on April 26 (when they still will be useful in Minnesota).
The new, big, skull apparel giveaway is Fedora Night, with Seattle, San Francisco, San Diego, Pittsburgh and Kansas City all hosting one. This is either because hipsters like fedoras and similar hats or because teams want to re-establish scenes like this one -- which is definitely a better look than we'll see at the Mullet Night the White Sox are holding.
Bat Days, unfortunately, have become a rarity. I see just three listed -- Seattle, San Francisco and St. Louis -- though the Mets will have a batting-helmet giveaway (sadly, not filled with ice cream).
Most teams hold regular promotions in which kids are allowed to run around the bases after the game. But the Phillies are holding a Senior Stroll in which fans 55 and older will be allowed to circle the bases as well. I guess this means they plan to re-sign Jamie Moyer.
The Tigers are holding a series of educational class days, including one in journalism. Hopefully, participating students will get a chance to speak with Torii Hunter, who will fill their notebooks and recorders with enough quotes to carry them through graduation in four years.
Sometimes, the best promotions are simply reduced prices. Nolan Ryan no longer is with the Rangers, but Texas fans should not be too bummed because Nolan Ryan $1 Beef Hot Dog Wednesdays still are. The Athletics have Free Parking Tuesdays. The Nationals will hold $5 beer night, which does reflect a lower price but probably will not cause a riot like 10-cent beer night in Cleveland did many years ago.
Speaking of beer, to mark the 50th anniversary of their 1964 world championship, the Cardinals will give away a '64 commemorative Beer Stein, though it would be even better if they rolled beer prices back to 1964 as well.
If walk-up and closer music doesn't cut it for you, you can hear everyone from 50-Cent (Mets) to Robin Thicke (this weekend at Dodger Stadium). Mets fans can also listen to Boyz II Men and Huey Lewis and reminisce about the days when their team was actually good.
For some reason, several teams are holding "Star Wars"-related promotions -- not counting the Yankees, who, of course, are the Evil Empire every night. I love "Star Wars;" but when it comes to cinematic promotions, I prefer the Dodgers' series of postgame film nights, screening "Field of Dreams," "A League of Their Own" and "The Natural." (At least, I think it's "The Natural." They might just show Kirk Gibson's 1988 home run instead.)
The Dodgers also feature the year's single best promotion: Vin Scully 65th Anniversary Microphone Night, when fans will receive a replica of an old mike that includes a voice-chip recording of the beloved broadcaster. Second place goes to the White Sox for their replica-Frank Thomas-Hall of Fame-plaque giveaway. The bronze goes to the Pirates, not for Sock Monkey Night but for just having a winning team. Or at least, I hope they have a winning team.
And the worst promotion of the year? That's easy: Lawyer Appreciation Night, which the Marlins held on Tuesday.
CSI: Box Score
Each week, I provide a fragment from an old box score and challenge you to determine which game it is from and why it's significant. I give this one a difficulty rating of 8.0. Answer below:
Box Score Line of the Week
There were some great lines in this week's openers. Francisco Liriano (6 IP, 4 H, 0 R, 0 ER, 3 BB, 10 K) and Jeff Samardzija (7 IP, 5 H, 0 R, 0 ER, 2 BB 3 K) matched zeroes for much of Monday afternoon, as did Sonny Gray (6 IP, 5 H, 0 R, 0 ER, 3 BB, 7 K) and Justin Masterson (7 IP, 3 H, 0 R, 0 ER, 1 H, 4 K) that evening. Adam Wainwright also had an opening-game gem (7 IP, 3 H, 0 R, 0 ER, 4 BB, 9 K), much to Billy Hamilton's embarrassment (4 AB, 0 R, 0 H, 0 RBI, 4 K). And thanks to the break after the Sydney games, Hyun-Jin Ryu started two consecutive games and didn't allow a run in either.
But this week's award goes to Seattle reliever Joe Beimel, who contributed to a scoreless inning on Tuesday despite not throwing a pitch. His line:
1/3 IP, 0 H, 0 R, 0 ER, 0 BB, 0 K, 0 pitches
How did he do it? Beimel took over in the eighth inning with runners at the corners and two out, then picked David Freese off first base. Just another example of the rare things you see during Opening Week.
Baseball Card of the Week
Here's an exciting action photo of Bart Giamatti (1990 Donruss, No. 716), who took over as commissioner from Peter Ueberroth 25 years ago this week.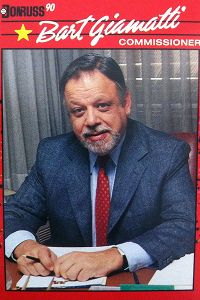 Unlike Ueberroth, Giamatti was a true fan of baseball who wrote so beautifully about it in his essay, "The Green Fields of the Mind."
"The game begins in the spring, when everything else begins again," he wrote, "and it blossoms in the summer, filling the afternoons and evenings ... " I'll leave the rest of that essay about what autumn brings at the end of the 1978 Red Sox season for another time. (But if you can't wait, he recites it here.)
Giamatti died suddenly of a heart attack in September 1989, just five months into the job and only eight days after banning Pete Rose from baseball for betting on the game. His memory lives on mostly due to that ban, but I prefer to remember him through his eloquent writing and whenever I watch a superb performance by his son, actor Paul Giamatti.
Yeah, Well, That's Like, Just Your Opinion, Man
The Upcoming 25 ½ Remaining Weeks Have A Lot To Live Up To. The 2014 season opened 11 days ago and many time zones away when the Diamondbacks hosted the Dodgers at a stadium several decades older than Fenway Park: the Sydney Cricket Ground. Roughly 259 hours later, "Opening Day" finally ended when Derek Jeter started his final season and the Yankees lost to the Astros in Houston. That's one of the beauties of Opening Day. It isn't just one day. It takes place over several days (sometimes weeks) and always delivers.
We had two 1-0 gems (Pirates-Cubs and Cardinals-Reds), another game that was 0-0 entering the ninth (Cleveland-Athletics), two game-ending home runs (Neil Walker and Buster Posey), a game-ending single (Alex Gonzalez), Grady Sizemore's returning to the majors with a home run, a Mike Trout first-at-bat home run, a 14-10 slugfest (Phillies-Rangers), a seventh-inning rally by the Mariners (Seattle-Angels) and an eighth-inning comeback by the Padres (San Diego-Dodgers). We also had a sad and bizarre injury when Angels hitting coach Don Baylor broke his leg while catching the ceremonial first pitch from Vladimir Guerrero. Here's hoping Don is back and healthy well before this season ends.
Maybe He Can Replace Bud As Commissioner. LaTroy Hawkins, the oldest pitcher (with one of the best stories) in baseball this season, suggested some interesting changes in a back-page column of the Sports Illustrated preview issue. One of his good suggestions: the league seeing to it that poor umpires are sent back to the minors, just as players are when they struggle. Another is giving teams two consecutive off days once a month or so. That might pose scheduling difficulties -- lord knows we have enough already -- but the occasional two-day break would be a welcome thing for players, especially those on the West Coast who spend too many off days traveling back east to start another road series.
CSI: Box Score Answer
There are a couple of clues. The first is all the (1)s and the (0-1), a good indication this was a season opener. The names of Horner, Foster, Griffey, Bench, etc., pegged it to a rather wide range of possible seasons, which is where the last clue comes in. The GWRBI.
Yes, this was the first game in which a GWRBI was officially awarded, back when the Reds opened the 1980 season on April 9 of that year and George Foster drove in the game-winning RBI. The GWRBI is what passed for advanced sabermetrics back then. It was awarded to the player whose RBI gave his team a lead it never relinquished, no matter when it came, the circumstances in which it came or what the final score was. It was kind of a silly stat -- and yet another example of the RBI being disproportionately valued over the more important run -- and eventually was dropped after the 1988 season.
"Good. It was an absolutely ridiculous statistic,'' Mike Schmidt told the Associated Press when informed the stat had been dropped. "I believe in the potential of the stat, but not the way it was.''
Bonus points if you can name the all-time leader in GWRBI.
(Keith Hernandez, with 129.)