Kevin Towers: 'Not a pseudo-GM'
Kevin Towers told a Phoenix radio station Wednesday that he doesn't want to be a "pseudo-GM" in Arizona, but he expressed confidence that he can work with Tony La Russa and show that he's the man to run the Diamondbacks' baseball operations moving forward.
Speculation has swirled over Towers' status since the Diamondbacks hired La Russa, a Hall of Famer who ranks third behind Connie Mack and John McGraw with 2,728 career managerial wins, as their new Chief Baseball Officer.
The move came in response to a disappointing start for the Diamondbacks, who entered Wednesday's game against St. Louis with an 18-29 record and were 10½ games behind San Francisco in the National League West.
[+] Enlarge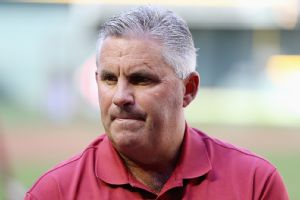 Christian Petersen/Getty ImagesDiamondbacks GM Kevin Towers said he's "taking the high road" and looking at the hiring of Tony La Russa as Chief Baseball Officer "as hopefully a good thing for the organization."
But Towers said he's looking forward to sitting down with La Russa and getting a better handle on his role. Towers is currently on a scouting trip to the Southeastern Conference tournament in preparation for the upcoming first-year player draft, while La Russa is on the road taking a look at Arizona's minor league system.
"Until I really get more time to sit down with Tony to really find out structure, process, reporting and job responsibilities, I'm taking the high road and looking at this as hopefully a good thing for the organization,'' Towers said in an interview with Arizona Sports 98.7 FM.
"I certainly don't want to be a pseudo-GM. The front office role will be new to him and I'm hoping I can help him in ways too, like with the daily calendar and what's important come June and July.''
At his introductory news conference Saturday, La Russa spoke more about the big picture for the Arizona organization rather than speculate on the fate of Towers and Diamondbacks manager Kirk Gibson.
Towers said he doesn't expect his role to change significantly, except that he will now be reporting to La Russa instead of club president and CEO Derrick Hall. He compared the dynamic with La Russa to a previous arrangement in San Diego, where he worked under Sandy Alderson and guided the Padres to back-to-back division titles in 2005 and 2006.
Towers said Hall had recently floated the idea of bringing in someone new atop the organization and asked for his opinion. Towers was considerably more receptive to La Russa than some of the other names that Hall had suggested.
"I have a lot of confidence in my ability to be a GM, and I think that if Tony gets an opportunity to spend some more time around me, he'll see that he's got a very qualified GM that's in the organization with him,'' Towers said. "I'll bet on myself, and if I'm dealing with a baseball lifer here, I think he'll be able to recognize good baseball people.
"I'm hoping that we help one another. And as we get to talk, I'm hoping he'll have the confidence in the very near future to let me run the club as I have been. But everything will go through him and be shared with him. You'd like to think that our vision and everything is on the same page.''
ESPN.com MLB Sr. Writer
ESPN.com senior writer
Author of "License to Deal"
Former Denver Post national baseball writer
SPONSORED HEADLINES
MORE MLB HEADLINES
MOST SENT STORIES ON ESPN.COM
MLB ON ESPN.COM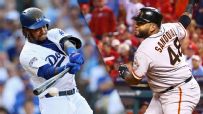 Having agreed to terms with Hanley Ramirez and Pablo Sandoval, what's now on the agenda for the Red Sox?
EDITORS' PICKS
The Red Sox are reportedly close to adding Hanley Ramirez and Pablo Sandoval.
Ramirez »
Sandoval »

Jim Bowden looks at what's next on the agenda for the Red Sox.
Story

Examining 10 key questions facing Hall of Fame voters.
Schoenfield »