Commentary
Memorable encounter with Mr. Padre
Recalling a discussion from nearly 20 years ago with Tony Gwynn about hitting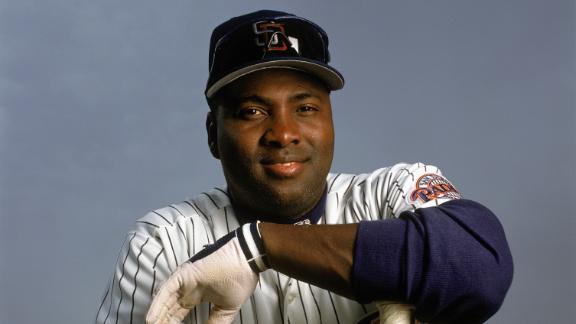 Remembering Hall Of Famer Tony Gwynn
Buster Olney discusses the life and legacy of Padres icon and 15-time All-Star Tony Gwynn, who has died at the age of 54. Gwynn collected 3,141 hits during a Hall of Fame career.
Remembering Hall Of Famer Tony Gwynn
NEXT VIDEO
Remembering Hall Of Famer Tony Gwynn

Remembering Hall Of Famer Tony Gwynn

Buster Olney discusses the life and legacy of Padres icon and 15-time All-Star Tony Gwynn, who has died at the age of 54. Gwynn collected 3,141 hits during a Hall of Fame career.

Tremendous Loss For Baseball

Tremendous Loss For Baseball

1993 World Series hero Joe Carter remembers former Padres teammate Tony Gwynn for his infectious smile, precision with a baseball bat and impact on the game.

Tom Friend Remembers Tony Gwynn

Tom Friend Remembers Tony Gwynn

ESPN writer Tom Friend remembers Hall of Famer Tony Gwynn and discusses the last few months of Gwynn's life.
The reflections on Tony Gwynn's life will inevitably focus on his eight career batting titles, his spirited debates on hitting with Ted Williams and the artistry he summoned to line all those singles between shortstop and third base -- the patch of dirt he lovingly referred to as the "5.5 hole." And that makes perfect sense, because Gwynn's skill with a bat defined him through two decades in the majors and carried him to Cooperstown in 2007 with 97.6 percent of the vote.
But for those of us in the media who were fortunate enough to talk to him, laugh with him and marvel at him for much of his career with the San Diego Padres, there are other, more personal touches that made him distinct, special and, for want of a better word, unforgettable.
You could start with that trademark cackle that rose from the gut and sent a surge of energy and wisdom through a clubhouse. When Barry Bonds made a habit of coming to the All-Star Game each summer and glaring at reporters who approached his locker, it was Gwynn who advised him that life was short and it was in the best interest of everyone for him to be more welcoming and open-minded.
[+] Enlarge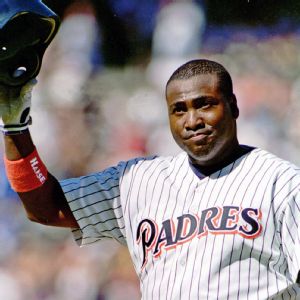 AP Photo/Kent HornerTony Gwynn played 20 years in the majors and finished his career with a .338 batting average.
Even though Gwynn occasionally began interviews with a touch of reticence or good-natured grumpiness, conversations with him inevitably headed in the same direction. "I have nothing to say about that," Gwynn would grouse before filling a notebook and wearing out a microcassette tape recorder with priceless insights over the next half hour.
While lots of players were happy to help us do our jobs, Gwynn ranked among the select few who basically did our jobs for us.
My most memorable encounter with Mr. Padre came in August 1995, when I was assigned to write a profile on him for the Denver Post's Baseball Monday section. Before newspapers put the squeeze on writers and insisted that everything be presented in bite-size chunks, we had the luxury of spending lots of time with subjects and going well beyond the surface insights that are captured in tweets.
I remember arriving midafternoon for a 7 p.m. game and getting a stiff-arm from a security guard, who told me I was too early and would not be allowed to enter the home clubhouse at Jack Murphy Stadium. As I prepared for a lengthy wait, Gwynn suddenly emerged from the clubhouse, beckoned me with his index finger and invited me into his lair in the video room.
I might as well have been privy to a conversation with Stephen Hawking on gravitational singularity theorems. Gwynn had personally invested almost $100,000 in video monitors, an edit board and assorted other gizmos that he gladly shared with his fellow San Diego hitters. For more than an hour, he sat in a chair beneath a backward baseball cap and conducted a tutorial that helped explain how he had earned the dual nickname of "Captain Video."
Gwynn walked me through his thought process on assorted plate appearances and laid out the specifics of his batting practice regimen. He began each batting practice session by laying down a cursory drag bunt, then began spraying line drives all over the field with a routine that he called "carving." In my story for the Post, I described him peppering the Jack Murphy outfield with "cowhide rainbows."
And naturally, we talked about bats. Gwynn swung a Louisville B267, an exceptionally small bat, and he felt blessed beyond description in 1994 when he came across a rare model that he referred to as the "nine grains of pain." After hitting .394 with the rare treasure that season, he broke it during batting practice the following spring. In a fitting memorial, he taped the wood together and gave the bat a place of honor in his trophy room at home.
Gwynn loathed striking out, picked his spots when it came time to turn and burn and mastered his craft in a way that made even the elite pitchers throw up their hands in resignation.
"Just tell the catcher what's coming," Bret Saberhagen said when asked about the best approach to take with Gwynn. "Then throw the ball down the middle of the plate. Let him try to get himself out."
Saberhagen must have been on to something, because Gwynn hit a mere .400 against him, with six hits in 15 career at-bats.
All those batting titles and those 3,141 career hits produced relatively modest earnings for Gwynn, who maxed out with a $6.3 million salary in 2000. He took some grief from the players' association for giving the Padres so many hometown discounts. But he shrugged off the critiques and kept re-signing, because his heart was in San Diego and he understood the synergy that can exist between Joe Fan and the face of the franchise. It meant something to him that the same people who had watched him play point guard for the San Diego State Aztecs were able to celebrate all those Padres' milestones firsthand.
The Gwynn family name lives on in Major League Baseball. Chris Gwynn, a true pro who carried the mantle of "Tony's brother" with grace and good will for so many years, is now the Seattle Mariners' farm director, and Tony Gwynn Jr. is in his eighth big league season as a reserve outfielder with the Philadelphia Phillies. Young Tony doesn't have his father's ability to hit, but he is relentlessly upbeat, nice to everyone who crosses his path and respectful of the game and the people in it. He embodies all the positive attributes that his parents valued, and he can rest assured that he made Tony Sr. proud.
On this, a day when Tony Gwynn Jr. should be in Atlanta for the start of a road trip with the Phillies, funeral plans are now in motion. And when Hall of Famers assemble in Cooperstown for the 2014 induction ceremonies next month, a seat on the podium will be empty. The man known as Mr. Padre has died from cancer at age 54, and the baseball world is poorer for his absence. But we're richer and forever grateful for the memories.
ESPN.com MLB Sr. Writer
ESPN.com senior writer
Author of "License to Deal"
Former Denver Post national baseball writer
SPONSORED HEADLINES
MORE MLB HEADLINES
MOST SENT STORIES ON ESPN.COM
MLB ON ESPN.COM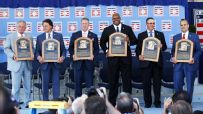 Six new Baseball Hall of Fame inductees were enshrined in Cooperstown on Sunday.
Sparo Women's San Diego Padres Charm Watch Shop »