Hall of Fame cuts election eligibility
Updated:
July 27, 2014, 9:45 AM ET
Associated Press
COOPERSTOWN, N.Y. -- Barry Bonds, Roger Clemens, Sammy Sosa and Mark McGwire will have less time to remain eligible for the Hall of Fame ballot under changes made Saturday.
More from ESPN.com

Responses to the changes in voting procedures drew a mixed response from Hall of Famers, writes Jerry Crasnick. Story
---

Shortening the length of time players are on the ballot while leaving ballots capped at 10 is a big mistake with inevitable bad consequences, writes Christina Kahrl. Story
The Hall of Fame's board cut a player's eligibility from 15 years to 10, which gives McGwire a maximum of two more appearances on the writers' ballot. Bonds, Clemens and Sosa, shunned so far along with other Steroids Era stars, can be considered up to eight more times each by the Baseball Writers' Association of America.
Clemens, a seven-time Cy Young Award winner, dropped from 37.6 percent to 35.4 last year in his second ballot appearance, well short of the 75 percent needed for election. Bonds, a seven-time MVP and baseball's career home runs leader, fell from 36.2 percent to 34.7.
McGwire dropped from 16.9 percent to 11, down from a peak of 25.6 in 2008. Sosa, who hit 609 homers, dropped from 12.5 percent to 7.2 -- close to falling below the 5 percent threshold for remaining on the ballot.
Few and far between
According to Baseball-Reference.com, the 15-year maximum for players to appear on Baseball Hall of Fame ballots was implemented in 1962. Since then, six players have been elected to the Hall in their 11th-15th years of eligibility.
Year
Player
Years on Ballot
2011
Bert Blyleven
14th
2009
Jim Rice
15th
2006
Bruce Sutter
13th
1980
Duke Snider
11th
1976
Bob Lemon
12th
1975
Ralph Kiner
13th
-- ESPN Stats & Information
Three players with 11-15 years will remain eligible: Don Mattingly (15th year in 2015), Alan Trammell (14th) and Lee Smith (13th).
This is just the second change in voting rules since 1985, when the 5 percent threshold for remaining on the ballot was instituted. In 1991, players on baseball's permanent ineligible list were barred from the ballot, a move that prevented career hits leader Pete Rose from being considered. Rose agreed to a lifetime ban in 1989 after an investigation by Major League Baseball concluded he bet on the Cincinnati Reds to win while managing the team.
Members of the BBWAA for 10 consecutive years at any point are eligible to vote. Under another change announced Saturday, eligible voters will be required to complete a registration form and sign a code of conduct, and their names will be made public, but not their individual votes.
Dan Le Batard, an ESPN host and Miami Herald columnist, was kicked out of the BBWAA for one year and barred from future Hall votes in January after he turned over his 2014 ballot to a website that allowed readers to choose the selections.

Copyright 2014 by The Associated Press
MLB ON ESPN.COM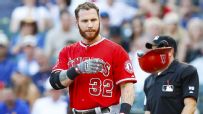 Josh Hamilton suffered a drug and alcohol relapse, according to a report.
EDITORS' PICKS
Will a high contact rate be a problem for Stephen Strasburg going forward?
Tony Belngino

Minnie Minoso on integration, fan appreciation and HOF heartbreak.
Christina Kahrl »

Roy Silver is rooting harder for Josh Hamilton in life than in baseball.
Jayson Stark »

MOST SENT STORIES ON ESPN.COM