Yanks fan returns lost Red Sox ring
Updated:
July 28, 2014, 12:42 PM ET
Associated Press
NEW YORK -- A lost Red Sox World Series ring is back on the finger of its owner, thanks to a nifty pickup by an ardent Yankees fan.
[+] Enlarge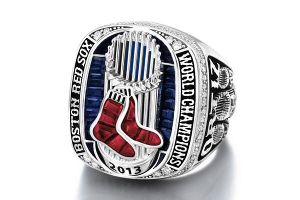 Courtesy of Red SoxDrew Weber had his Red Sox title ring returned by an understanding Yankees fan.
Manhattan restaurant owner Luigi Militello could hardly believe it when he found the shiny 2013 championship ring on a restroom sink at his Luke's Bar and Grill on Thursday night.
It was the real thing, with diamonds and sapphires and rubies, set in 14-carat white gold, with the Red Sox emblem, a Boston Strong logo and an image of the team's bearded ballplayers.
"I was like, geez, it's big. Who would leave this here?" Militello told The Associated Press. "I'm a big Yankee fan. What are the chances of this happening?"
Drew Weber had dined at the restaurant earlier; it's one of his favorite spots. He's a New York businessman and also owns the Lowell Spinners, a thriving Red Sox Class A minor league team in Massachusetts.
Big league teams often reward executives throughout their organization with World Series rings. The Red Sox haven't put a value on these pieces of jewelry -- the rings they presented for winning the 2004 crown were worth about $30,000.
Weber said this was the first time he'd worn the ring outside.
"I went looking around my apartment and started having palpitations. Sweat was pouring off my forehead," he told the AP. "I'm looking at my finger and it's not there."
Hoping against hope, Weber called Luke's after midnight. Militello answered the phone and said, yep, he had the ring.
"But this being Yankees-Red Sox, I started razzing him. I told him he wasn't getting it so easily. I was playing with him, a lot," Militello said.
Said Weber: "I was like, 'Who am I dealing with?'"
They quickly put aside their rooting interests, met the next day at the restaurant, Militello returned the ring and the two spent 25 minutes talking baseball.
Militello was insistent that he wouldn't accept any money. He tried to persuade Weber to call into a local sports radio show and disparage the Red Sox, but that didn't work.
Instead, Weber and the Red Sox have invited Militello to make his first trip to Fenway Park for the regular-season finale on Sept. 28. That's also scheduled to be the final game for retiring Yankees star Derek Jeter.
"Going for his send-off, that's pretty great," Militello said.
"He asked if he could wear his Yankees paraphernalia," Weber said. "I couldn't answer him."
Weber also is making a contribution to a charity Militello chose that helps relief efforts for Superstorm Sandy damage on Fire Island.
Militello is enjoying the benefits from his find -- he posted a picture of himself wearing the ring and enjoyed telling his story, to friends and to Scott Mandel, who runs the website SportsReporters.com that covers sports in New York and beyond.
Weber also liked how things turned out. He met a new pal, and now feels a little wiser, too.
"The ring and Drew Weber have learned their lesson," he said. "That ring is going on no more road trips."

Copyright 2014 by The Associated Press
SPONSORED HEADLINES
MORE MLB HEADLINES
MOST SENT STORIES ON ESPN.COM
MLB ON ESPN.COM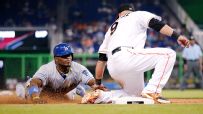 Is Yasiel Puig among the worst baserunners of all time?
EDITORS' PICKS
Corey Kluber and six others should get contract extensions.
Bowden

The Rangers are among those hoping for a 2015 do-over.
Olney

Is Yasiel Puig among the worst baserunners ever?
Schoenfield »
MORE FROM ESPN BOSTON

Want to submit a question for Mike Reiss' weekly Patriots mailbag? Click here and come back every Tuesday around noon for the 'bag.
Latest headlines on ESPNBoston.com:
MORE FROM ESPN NEW YORK

Check out ESPN New York, your destination for sports coverage in the Big Apple.