Source: Jonathan Papelbon to Phillies
Updated:
November 12, 2011, 10:51 AM ET
ESPN.com news services
Jonathan Papelbon is closing the book on his tenure with the Boston Red Sox.
Papelbon, the Red Sox right-hander who has anchored their bullpen for six years, including the 2007 World Series championship season, has agreed to a four-year, $50 million deal with the Philadelphia Phillies pending a physical, a source familiar with the negotiations told ESPN.com senior writer Jayson Stark on Friday.
Jonathan Papelbon in photos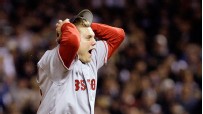 Highs and lows of Pap's six memorable seasons as Red Sox closer. Gallery

The deal includes a vesting option that could take it beyond $60 million for the 30-year-old, the source said. Another source close to the situation said the physical with the Phillies won't occur until early next week, the earliest the contract could be finalized or announced.
If finalized, the contract would be the largest total package ever signed by a relief pitcher. The previous high was the five-year, $47 million deal signed by B.J. Ryan with Toronto in December 2005.
The $12.5 million average annual value of the deal would be tied for the second-highest ever signed by a reliever.
Mariano Rivera's $15 million a year, in each of his last two contracts, ranks No. 1.
Papelbon's annual pay would be tied with former Phillies closer Brad Lidge, who signed a three-year, $37.5 million extension during the 2008 season, covering the 2009-11 seasons.
More on Jonathan Papelbon

Jonathan Papelbon will be missed in Boston, but not as badly as you might think, writes ESPNBoston.com's Gordon Edes. Story

---

It's simply not a smart deal to sign any relief pitcher to a four-year contract, writes ESPN Insider Keith Law. Blog



• SweetSpot: Phillies overpaid
• SportsNation: Biggest free agents
Papelbon takes 219 career saves, with a 2.33 ERA and 1.02 WHIP, with him to Philadelphia, despite pitching his entire career in the AL East.
The deal comes after the Red Sox said they would like to re-sign Papelbon, and the Toronto Blue Jays and Florida Marlins reportedly also had expressed strong interest.
"We knew he was going to be in demand and we knew that teams in position to win would have interest in him," Boston general manager Ben Cherington said.
Papelbon's agents, Sam and Seth Levinson, did not call the Red Sox and offer the opportunity to match or trump the Phillies, according to Cherington.
"We haven't had that conversation," he said. "I don't think he owes us a phone call, but based on the conversations I've had with Sam and Seth we weren't going to be able to bridge that gap at this point in the offseason."
It remains uncertain whether the Phillies will have to surrender their first-round draft pick next June to the Red Sox as compensation for Papelbon, because draft-pick compensation is one of the unresolved issues still on the table during the ongoing labor talks.
Under the current rules, because Papelbon is a Type A free agent, the Red Sox would receive the Phillies' No. 1 pick, the 31st overall pick, in the draft.
However, the players' union has been seeking to reduce the number of premier free agents who would require a team to surrender a draft choice. So until labor negotiations are completed, neither team can be certain of the new definition of players who would still require compensation.
Nevertheless, a source familiar with the labor talks predicted Friday that Papelbon is still likely to be among the elite free agents who would cost their team a No. 1 pick.
Papelbon, a four-time All-Star, will replace Ryan Madson, who also is a free agent.
Madson's agent, Scott Boras, and Phillies general manager Ruben Amaro Jr. were close to a $44 million, four-year deal on Monday. But Amaro told Boras the following day that team president Dave Montgomery wouldn't approve the deal. That offer included a vesting option that would have taken the contract to $57 million over five years.
The Phillies have long been opposed to giving pitchers contracts beyond three years. They made an exception last year when they signed left-hander Cliff Lee to a $120 million, five-year deal.
The five-time NL East champions are seeking their second Series victory since 2008. They lost in the World Series to the New York Yankees in 2009, were eliminated in the NLCS in 2010 and got knocked out in the NL Division Series this year.
Madson was outstanding in his first year as the team's closer, converting 32 of 34 chances. He was Lidge's setup man for the previous three years, and spent his first nine seasons in Philadelphia. Madson was 47-30 with a 3.59 ERA and 52 saves in 491 career games, including 18 starts.
Papelbon, a starter in the minor leagues, has converted 88.3 percent of his save opportunities to go with a 23-19 record in 396 career appearances. He had a career-high 41 saves in 2008.
Signing a closer and re-signing former NL MVP Jimmy Rollins were Philadelphia's top two offseason priorities. Rollins, a three-time All-Star shortstop, wants to return to the Phillies and the team wants to bring him back at the right price.
Information from ESPN.com senior writer Jayson Stark, ESPNBoston.com's Gordon Edes and The Associated Press was used in this report.
EDITORS' PICKS
Out 6-8 weeks

Daniel Norris, the Blue Jays' No. 1 prospect, lives in a van.
Saslow »

The odds are against Masahiro Tanaka overcoming his UCL injury.
Mike Petriello
MORE FROM ESPN BOSTON

Want to submit a question for Mike Reiss' weekly Patriots mailbag? Click here and come back every Tuesday around noon for the 'bag.
Latest headlines on ESPNBoston.com:
MOST SENT STORIES ON ESPN.COM