Missing game pains Ozzie Guillen
Updated:
April 14, 2012, 10:32 PM ET
Associated Press
MIAMI -- The Miami Marlins' first win in their new ballpark lasted 11 innings, took nearly four hours and made Ozzie Guillen's head hurt.
Interim manager Joey Cora said Saturday he talked after the victory to Guillen, who is serving a five-game suspension and wasn't at the ballpark.
"He said he had a headache watching the game -- 11 innings, and nothing he could do about it," Cora said. "He sounded better. It's tough on him not to be here with the guys, especially with a new team and the excitement that has been around this team all winter and spring. He wants to be here badly."
ESPN Radio on Ozzie Guillen

On ESPN Radio's "Mike and Mike in the Morning," ESPN's Pedro Gomez says some in Miami will never forgive Ozzie Guillen for his Fidel Castro comments, despite his apology. Listen


• Scott Van Pelt: Buster Olney
• The Herd: Dan LeBatard


• Mike and Mike: John Kruk

Guillen was suspended by the team five games into his tenure as Marlins manager after his praise of Fidel Castro in a magazine interview angered many Cuban Americans in South Florida. He apologized repeatedly during an emotional news conference this week.
The Marlins' victory on Friday over Houston was their first in three games since Guillen was suspended. He'll return Tuesday for the start of a three-game series against the Chicago Cubs that concludes the team's homestand.
The reception Guillen receives will provide a gauge of any lingering animosity.
"He's looking forward to being here Tuesday, and whatever happens, happens," Cora said. "He hasn't been in the new ballpark that much. He's got a new toy and he can't play with it yet. Starting Tuesday, he's going to get to play three games in a row."
The victory Friday was Cora's first as interim manager. When asked if Guillen agreed with all of his moves, Cora smiled.
"We won the game," he said, "so it doesn't matter."

Copyright 2012 by The Associated Press
OZZIE GUILLEN SUSPENDED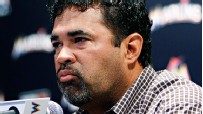 NEWS
ANALYSIS
VIDEO
AUDIO
SPORTSNATION

MOST SENT STORIES ON ESPN.COM