Funk continues for Angels, Pujols
The gap between Los Angeles and Texas seems wider than ever
Updated:
May 12, 2012, 10:04 AM ET
By
Jim Caple
| ESPN.com
ARLINGTON, Texas -- Not to imply the Los Angeles Angels of Last Place are off to the most disappointing start in baseball, but to resuscitate their season they might need an entire troop or barrel or entourage or whatever the heck it is that Rally Monkeys come in.
I'm not sure the Angels have enough money to sign even a game-used chimpanzee, though, after investing $331 million in Albert Pujols and C.J. Wilson over the winter. In the season's first meeting between the two teams who were expected to fight for the AL West title, Pujols went hitless in four at-bats, hit only one ball into fair territory and lowered his batting average to .192.
[+] Enlarge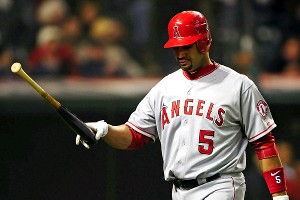 Andrew Weber/US PresswireIt was another hitless night for Albert Pujols on Friday.
Meanwhile, in an eagerly anticipated matchup against the pitcher the Rangers replaced him with, Wilson lasted just one-third of an inning due to a shaky performance and a nearly two-hour rain delay. Yu Darvish, on the other hand, remained in the game for 5 1/3 innings despite sitting almost 2½ hours between pitches during the delay.
The 10-3 loss left the Angels 14-19, in last place, eight games behind the Rangers. This is not exactly the rivalry people expected back in spring training, even if there were words exchanged after several tight pitches and the sellout crowd loudly and mockingly chanted, "We want C.J.!" in the seventh.
They'll get their chance. Wilson will come back to start Saturday's game, giving him a chance to shut up the Rangers fans or become a rare starter to lose on consecutive days. He's the first pitcher to start back-to-back games since Aaron Myete in 2002.
"He didn't throw that much, so the bounce-back won't be that big a deal for him," manager Mike Scioscia said. "He's been good at bouncing back well from his outing and we would rather start him fresh tomorrow."
The Angels probably wouldn't mind a refresh for the entire season.
Let me emphasize there are still 129 games in the season. And that at this same point in the 2002 season, the Angels were merely one game over .500 and 6½ games out of first before going on to win the World Series. So, obviously, there still is a very long way to go.
But it's not looking good, folks. The Pujols-led offense has been shut out a league-high seven times and only two American League teams have scored fewer runs. While the starting rotation has been solid (a league-best 3.34 ERA entering the game), the bullpen has been a disaster (4.32 ERA). Not that the latter mattered Friday, because Anaheim trailed 7-0 by the second inning.
"We're doing more things better than we were a couple weeks ago, but on a scale of 1-to-10, we're probably playing at a 5 level," manager Mike Scioscia said before the game. "We need to get it up there and maintain it for a long time."
They didn't even maintain it for one inning. They were baffled by Darvish at the plate and baffled by fundamentals in the field, throwing balls away, firing relays to the wrong bag, misreading fly balls and giving up multiple home runs to Josh Hamilton. Not that the latter makes them any different from anyone else who has pitched to Hamilton lately. His two home runs Friday gave him eight this week.
Hamilton also has more RBIs this week (14) than Pujols has all season (11) -- and the Rangers have played only four days this week. Pujols was the game's best hitter over the past decade and was supposed to rejuvenate Anaheim's offense. Instead, his OPS is .505 and he has just one home run.
"It was a tough night for him," Scioscia said. "Every time it seems like he's inching closer and feeling comfortable, he's taken a half-step back. He just needs to keep grinding, and I know he's working hard on some stuff and he's frustrated."
"It's part of the game," Pujols said. "There's nothing you can do but make adjustments and then see where you're at when you play 162 games."
Right fielder Torii Hunter attributes the horrible slump to adjusting to a new league, which the Angels certainly hope is the case since they still owe Pujols roughly $251 million of his $254 million contract.
"I say that's about 70 percent of it," Hunter said. "Adjusting to a different league, a different organization, different fans, different stadiums, the different backdrops from what he's used to. I could name so many excuses. You don't want excuses, but they are what they are. But he's starting to get acclimated, getting used to the clubhouse the players, the travel.
"He's having great at-bats. He's staying inside the ball. He went to right-center yesterday. He's not hitting the homers but he's hitting liners and those become homers."
Perhaps, but Pujols didn't hit anything hard Friday and chased a lot of pitches out of the strike zone. The latter is indicative of his entire season. After never striking out as often as he walked in the previous 10 seasons, he's struck out 17 times with just six walks this year. He hasn't walked in the past 14 games, which is just as alarming as his power drought.
"I'm seeing the ball really good," Pujols said in either great confidence or clear denial. "I'm seeing the ball decent and there's nothing you can do. Just try to put a good swing on it. Sometimes you're going to get something and sometimes you're not."
"I don't know if it will take one swing or one at-bat," Scioscia said, "or it's just going to be a momentum that builds into an avalanche."
Assuming, that is, he does get it going.
The bright spot is that it's still May. If Pujols finally hits like he has his entire career, rookie Mike Trout, who had a two-run home run and stolen base against Darvish, continues to develop as expected and the starting pitching remains strong, the Angels can still get back into contention.
"The bottom line is we need to start playing our game and playing at a higher level," Scioscia said before the loss. "That's what we have to concentrate on. Whether it happens tonight, tomorrow or Sunday, that's our goal of getting there."
SPONSORED HEADLINES
MORE MLB HEADLINES
MOST SENT STORIES ON ESPN.COM
MLB on ESPN.com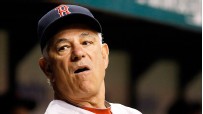 VALENTINE FIRED