Commentary
Best and worst of the ballparks
Updated:
June 19, 2012, 10:51 PM ET
By
Jim Caple
| ESPN.com
I've been to every current major league ballpark, plus 21 former ones. So I have a decent baseline for some of the best and worst features at all of them, particularly when it comes to press box food.

I also have my own biases. For instance, my criteria for best seats isn't so much about proximity to the field -- pay enough money and you can get a great seat in any and every stadium -- but the views the seats give you in addition to the field (such as a city skyline or nearby mountains/water).
But that's just my opinion. I may have visited every stadium, exploring the nooks and crannies, tasting the concessions and sitting in various sections, but fans in each city still have a better knowledge of each particular stadium. So consider the following list a mere starting point for debate. Tell me what I'm missing -- and just plain wrong about -- by nominating your favorite landmarks, concessions, views, beers, seats, etc.
Although, no matter what you say, the Marlins' home run sculpture is the worst landmark in all of baseball.
[+] Enlarge
Stan Grossfeld/Getty ImagesThere are many great seats at friendly Fenway, but this clearly isn't one of them.
Best landmarks
1. Green Monster (Fenway Park)
2. The Warehouse (Camden Yards)
3. Ivy-covered walls (Wrigley Field)
4. Monument Park (Yankee Stadium)
5. Fountains (Kauffman Stadium)
Worst landmarks
1. Home run sculpture, Marlins Park
2. Chick-fil-A Cow, Turner Field
3. A, B, C and D rings, Tropicana Field
Best seats
1. Bleachers, Wrigley Field
2. Upper deck, first-base line, Coors Field
3. Upper deck, first-base line, Fenway Park
4. Upper deck, behind home plate, AT&T Park
5. Upper deck, right-field corner, Safeco Field
Worst seats
1. Behind post, Fenway Park
2. Bleachers during July day games, Rangers Ballpark
3. Bleachers, Yankee Stadium
Best views
1. Pittsburgh skyline, PNC Park
2. San Gabriel Mountains, Dodger Stadium
3. McCovey Cove and S.F. Bay, AT&T Park
4. Minneapolis skyline, Target Field
5. Sun setting over the Rockies, Coors Field
Worst views
[+] Enlarge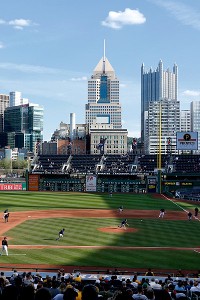 Joe Robbins/Getty ImagesGet yourself a seat with great views and a Primanti Bros. sandwich at PNC Park. The Pirates aren't too bad these days, either.
1. Mount Davis, O.co Coliseum
2. Center-field offices, Rangers Ballpark
3. The Back Wall, Tropicana Field
Best concessions
1. Wild rice soup, Target Field
2. Primanti Bros. sandwich, PNC Park
3. Salmon sandwich, Safeco Field
4. Bratwurst with stadium mustard, Miller Park
5. Fish tacos, Petco Park
Worst concessions
1. Walleye on a stick, Target Field
2. Coney dogs, Comerica Park
3. Dippin' Dots -- No longer the ice cream of future (too many parks)
Best beer
1. Coors Field
2. Safeco Field
3. AT&T Park
4. Angel Stadium
5. Petco Park
Worst beer
1. Wrigley Field
2. Busch Stadium
3. Miller Park
@jimcaple Jim, have you tried "The Boomstick" at Rangers Ballpark? If not you should! #battleoftheballparks twitter.com/dsallerson/sta&

— Daniel Sallerson (@dsallerson) June 19, 2012
Fav. park food- Softshell crab sandwich with jalapeno peppers and Utz crab chips at Camden #battleoftheballparks

— Scott McCann (@hsmccann) June 19, 2012
Iconic scoreboard at #wrigleyfield not too many of these out there #battleoftheballparks twitter.com/WrigleyRamirez&

— Hector Ramirez (@WrigleyRamirez) June 19, 2012
#battleoftheballparks Now this is a great ballpark view! Especially if you like the Target dog... twitter.com/scottdenfeld/s&

— Scott Denfeld (@scottdenfeld) June 19, 2012
#battleoftheballparks there is no better baseball stadium then PNC twitter.com/dylthomas10/st&

— Dylan Thomas (@dylthomas10) June 19, 2012
@jimcaple you forgot the view of the capitol from the 1st base side at Nats' park in your "best views" #battleoftheballparks

— billy scott (@wknightscott) June 19, 2012
how do you leave out the Schmitter sandwich at CBP? clearly there is some bias against Philly #battleoftheballparks twitter.com/irishpun/statu&

— Jim Morrissey (@irishpun) June 19, 2012
What about the CN tower at Rogers Centre in Toronto as one of the best monuments?! #battleoftheballparks #commonman

— Paul Ausman (@paul_ausman) June 19, 2012
Garlic fries at AT&T Park #Giants I'm a fan of Fenway Franks too #RedSox RT @jimcaple Baseball's best concession item? tiny.cc/2k15fw

— Craig MacCormack (@CraigMacCormack) June 19, 2012
#battleoftheballparksProof that Coors Field is a perfect place to watch a ball game ... Is this Heaven? Just might be twitter.com/JErickson23/st&

— Jason Erickson (@JErickson23) June 19, 2012
MLB on ESPN.com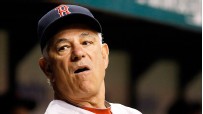 VALENTINE FIRED

MOST SENT STORIES ON ESPN.COM