Justin Upton, B.J. Upton each hit 100
Updated:
August 4, 2012, 12:27 AM ET
Associated Press
PHILADELPHIA -- Justin Upton didn't even get bragging rights for one night.
Brothers Justin Upton and B.J. Upton both hit career homer No. 100 on Friday night, just about an hour apart and in different leagues.
Brotherly Love
B.J. and Justin Upton became the sixth set of brothers to each hit 100 career home runs in the major leagues Friday night. Here's a look at the list:
Brothers
Career HRs
R. Alomar-S. Alomar Jr.
210-112
B. Boone-A. Boone
252-126
K. Boyer-C. Boyer
282-162
J. DiMaggio-V. DiMaggio
361-125
B. Meusel-I. Meusel
156-106
J. Upton-B. Upton
100-100*
* First bros. to hit 100th HRs on same night
-- Elias Sports Bureau
Justin Upton connected for Arizona in the second inning at Philadelphia off Kyle Kendrick.
Then it was his older brother's turn.
B.J. Upton went deep in the fourth inning for Tampa Bay against Baltimore's Tommy Hunter.
"It was cool. I'm happy for him," Justin Upton said after Arizona's 4-2 win. "It's a big night for the family."
B.J. Upton joins Rickey Henderson, Barry Bonds, Bobby Bonds, Cesar Cedeno, Lloyd Moseby, Eric Davis and Hanley Ramirez as the only players to amass 100 homers and 200 steals before age 28.
Upton turns 28 on Aug. 21.
"I was just texting him," B.J. Upton said after the Rays beat Baltimore 2-0. "He said he got his before mine, but it's all good. It was cool to do that on the same day."
The Upton brothers also both hit their 99th homer in games on July 20.
"It was mentioned after the last game," Justin Upton said. "I definitely wanted to beat him to it."

Copyright 2012 by The Associated Press
MLB on ESPN.com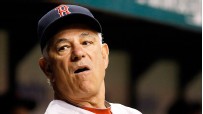 VALENTINE FIRED

MOST SENT STORIES ON ESPN.COM