Melky Cabrera eyed for failed plot?
Updated:
August 21, 2012, 10:11 AM ET
ESPN.com news services
San Francisco Giants star outfielder Melky Cabrera mounted a campaign to avoid his 50-game suspension that included a fake website featuring a fictitious product in an effort that was quickly uncovered by MLB investigators, the New York Daily News has reported.
Citing an anonymous source close to the case and a Cabrera associate who told the newspaper he was "accepting responsibility for what everyone else already knows" concerning the fake site, the Daily News reported famed investigator Jeff Novitzky and agents from MLB's investigative arm have begun looking more closely at Cabrera and the scheme purportedly hatched in July as they seek the source of the synthetic testosterone found in his urine.
"There was a product they said caused this positive," the source told the Daily News of Cabrera and his representatives. "Baseball figured out the ruse pretty quickly."
More From ESPN.com

Melky Cabrera's positive drug test and 50-game suspension proves that baseball's testing works. And so do PEDs, writes Tim Keown. Story
---

In an era of stringent testing, players must take a stronger stand against those who cheat. If shame won't cause change, perhaps money will, writes Buster Olney. Story

• Szymborski: Dodgers the favorites


• Karabell: Fantasy replacements

Juan Nunez, who has been described by Cabrera's agents, Seth and Sam Levinson, as a "paid consultant" of their firm but not an "employee," is alleged to have paid $10,000 to purchase the fake website, according to the report.
The purpose was to fool MLB and the players' union, while presenting them with the website and resulting phony product information, into believing Cabrera had ordered a supplement fraudulently spiked with testosterone, therefore causing the positive drug test, the report says.
Players who test positive are allowed, as part of the collective bargaining agreement that covers MLB's drug program, to try and prove they ingested a banned substance through no fault of their own.
Cabrera's suspension was announced Wednesday.
Cabrera was to miss the final 45 games of the regular season and serve the remainder of the suspension at the start of next season or during the postseason, depending on whether the Giants make the playoffs and how far they advance.
The union initially had filed a grievance, which would have caused the case to go before an arbitrator, but then dropped it, a person familiar with the process told The Associated Press last week.
Cabrera's associates and his entourage, including trainers, handlers and agents, have now drawn the focus of Novitzky, along with agents from MLB's Department of Investigation, according to the report.
Novitzky is the Food and Drug Administration special agent who, in his prior job as an IRS special agent, ran the investigation into the Bay Area Laboratory Co-Operative (BALCO). That probe led to the seizure of the baseball drug list and the indictment of home run king Barry Bonds.
The Levinsons denied to the Daily News of having anthing to do with the scheme, a claim backed by Nunez and a source from the union who also spoke to the newspaper.
SN: Further punishment for Cabrera?

Melky Cabrera tried to avoid his 50-game suspension with a ruse that involved a bogus website and a fictitious product. Does Cabrera's actions deserve further penalty?
Comment and vote!
"Sam and I absolutely had no knowledge or dealings with anyone at anytime associated with the website," Seth Levinson said in an email to the newspaper. "I will state unequivocally and irrefutably that any payment made to the website does not come from ACES (their New York-based sports agency, Athletes' Career Enhanced and Secured Inc.)"
Nunez said he worked alone in getting the site operating for Cabrera.
"I was the only one who had dealings with the website," Nunez told the Daily News. "Neither Seth nor Sam had any dealings with the website, nor did anyone else in the firm."
A source from the union said "the MLBPA has not been presented with any evidence at this time that the Levinsons had any connection to the website."
On Sunday, manager Bruce Bochy would not discuss the allegations against Cabrera before the Giants' game against the Padres in San Diego. He didn't defend his player's actions, either.
"You can be world-class parents and your kids can go south or have some issues," Bochy said, according to The Associated Press. "We can't follow guys 24/7, and it comes down to choices. (Cabrera) is a grown man, he's a veteran.
"These are unfortunate things and we'll continue to work at cleaning out baseball."
Cabrera leads the National League with 159 hits and is second in batting average behind Pittsburgh's Andrew McCutchen. Cabrera's penalty is the first for a high-profile player since last year's NL MVP, Ryan Braun, had his suspension overturned by an arbitrator last winter.
"My positive test was the result of my use of a substance I should not have used," Cabrera said in a statement released Wednesday by the union. "I accept my suspension under the Joint Drug Program and I will try to move on with my life. I am deeply sorry for my mistake and I apologize to my teammates, to the San Francisco Giants organization and to the fans for letting them down."
Cabrera is batting .346 with 11 home runs and 60 RBIs in his first season with San Francisco.
Information from The Associated Press was used in this report.
MLB on ESPN.com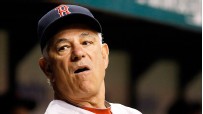 VALENTINE FIRED

MOST SENT STORIES ON ESPN.COM