Commentary
Game of Your Choice: Pick one!
Take your pick from every game ever played. What would you most like to see?
Originally Published:
September 5, 2012
By
Jim Caple
| ESPN.com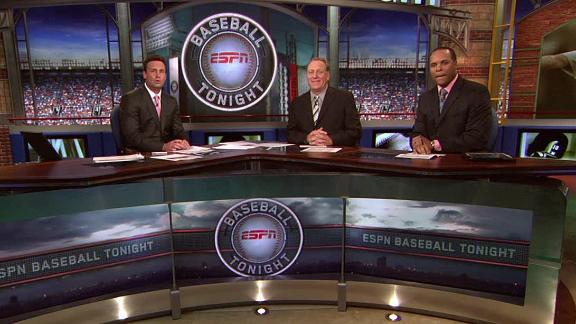 One Game To Watch
Curt Schilling and Barry Larkin talk about which game in MLB history they would like to see.
One Game To Watch
Welcome to Turn Back the Clock Day at ESPN.com. But instead of wearing a replica jersey that we can sell for $125 in the team shop, our Turn Back the Clock Day involves a simple question: If you could go back in time and see any baseball game, what game would you choose and why?
You can pick from any game from baseball history, any game at all. It can even be one you saw in person but would like to see again.
Your Game Of Choice

If YOU could go back in time and see any baseball game, which would it be? Let us know here: #oneMLBgame Your picks »
So what game would you choose? When I asked Don Mattingly this, his immediate response, naturally, was, "Can I change the outcome?"
No. That is the one stipulation of Turn Back the Clock Day. Rule 23.8 (d) clearly states that you cannot alter history in any way whatsoever. Violating this rule creates monstrous havoc with the space-time continuum, as evidenced by every single movie that involves time travel. Worse, it would require constant updates to baseball-reference.com.
While you mull over the possibilities, here are the choices of some major leaguers and other notables, such as actor Jon Hamm of "Mad Men" fame and Pearl Jam guitarist Mike McCready.
The game chosen most often was Jackie Robinson's major league debut in 1947 when he broke the color barrier. Pirates outfielder Andrew McCutchen and Anaheim reliever LaTroy Hawkins singled that one out, while Mets starter R.A. Dickey included it in a list of three games he'd want to see. Several ESPN.com writers picked it as well.
"It was a memorable moment; and as we know now, it was one of the greatest things that ever happened in professional sports," Hawkins said. "And I would have liked to be in the stands just to be a part of history."
[+] Enlarge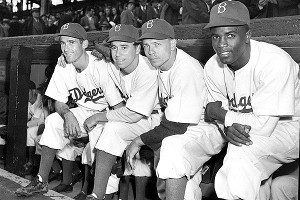 AP PhotoThis is who you'd see in the Dodgers' infield on April 15, 1947. From left: John Jorgernsen at third, Pee Wee Reese at short, Ed Stanky at second and Jackie Robinson at first.
"I would like to be there just to see the good and the bad. To see what he had to overcome and what he had to deal with," McCutchen said. "It's crazy, because we don't know the half of what he had to do. He's definitely a person that I idolize, and that would be a game I'd like to see."
Along similar lines, Colorado outfielder Carlos Gonzalez said he would pick any of Roberto Clemente's games, probably from the 1971 World Series. "He's a guy that I would have loved to see play," Gonzalez said. "He is one of the guys who represents Latin American baseball … I can see from the videos he was pretty amazing."
Of course, not all the games chosen in our survey are so historically or culturally significant.
"I would be interested in that 'record demolish game' where everyone was throwing records on the field," Yankees center fielder Curtis Granderson said. "I've seen highlights, but I would just like to know what happened."
Wait, you don't mean Disco Demolition Night at Comiskey Park, do you?
"Yeah, that would be a cool one to be a part of and I would definitely throw something on the field," Granderson said. "There would be arguments. 'We were up, we were winning. This would have happened, that wouldn't have happened.' I'd like to just see how things were then and how something like that couldn't happen now."
[+] Enlarge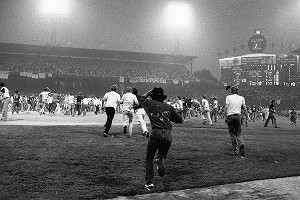 AP Photo/Fred Jewell Look closely, and you'll see a "Disco Sucks" sign in the outfield. Unfortunately, White Sox fans demolished more than bad music on July 12, 1979.
Seriously? From any game in major league history, Granderson chooses Disco Demolition Night? A promotion that resulted in a riot and a forfeit? Well, OK. But I guarantee no one else would ever choose that one.
"I'd probably pick that Disco Night or Night at the Disco whatever thing," Tampa Bay pitcher David Price said. "I'd like to be able to watch that. Not necessarily be on the field for it, but maybe in the upper deck with a pair of binoculars just to see everything going on. A lot of crazy stuff went on that night. They lit the field on fire. It was just nuts."
Sigh.
Fortunately. McCready expressed zero interest in Disco Demolition Night. Instead, he chose the game in which Lou Gehrig formally retired and called himself the luckiest man on the face of the earth.
"I would just like to go back and see baseball in the 1930s. Back when it was in its hey-day," McCready said. "It's still in its hey-day, but back when there was less light around it and just an organ. And no guys coming out with their guitars playing really loud."
Mariners broadcaster and former "Cheers" writer/co-producer Ken Levine opted for a game with a little less music as well.
"Game 7 of the 1960 World Series -- that wild 10-9 Pirates win over the Yankees at Forbes Field on a walk-off home run [before we knew the term 'walk off'] by Bill Mazeroski," Levine answered. "First off, the Yankees lost. And, too, the unlikely Pittsburgh Pirates. Without checking the exact scores, the Pirates won their previous three games 2-1, 3-2 -- scores like that. And the three Yankee victories were something like 18-1, 19-2, 25-1. (I may even be correct, I dunno.)"
Our Own Wish List

Jim Caple asked ESPN's baseball experts the same question he asked of players and celebrities. What one game would you go back in time to see? Their answers are below.
And don't miss the photos of the top games chosen by the players and celebrities we surveyed. Gallery.
Jayson Stark: Babe Ruth's "Called Shot,'' 1932 World Series
Buster Olney: Jackie Robinson's debut, 1947
Jerry Crasnick: Juan Marichal/Warren Spahn 16-inning pitchers duel, 1963
Tim Kurkjian: Game 7, 1924 World Series
David Schoenfield: Game 7, 1926 World Series
Barry Larkin: Pete Rose's 4,192nd hit, 1985
Curt Schilling: Lou Gehrig's first game, 1923
Keith Law: Jackie Robinson's debut, 1947
Eric Karabell: Game 6, 1975 World Series
Steve Berthiaume: Game 2, 1912 World Series
Pedro Gomez: Juan Marichal/Warren Spahn 16-inning pitchers duel, 1963
Chris Singleton: Jackie Robinson's debut, 1947
Mark Simon: Game 7, 1924 World Series
Michael Knisley: Game 6, 1975 World Series
Jim Caple: Ernie Shore perfect game in relief, 1917
Paul Lukas: Jackie Robinson's debut, 1947
Matt Meyers: Bobby Thomson's "Shot Heard 'Round the World," 1951
Marty Bernoski: Bill Mazeroski's home run, Game 7, 1960 World Series.
David Kull: Babe Ruth's "Called Shot," 1932 World Series
As Levine points out, all the Yankees greats of that era were in the game. And, of course, there was that Maz home run. "To me, this game had everything you could ask for -- high drama, a happy ending, and no walk-up music."
Other World Series home runs were popular choices. After being told he can't change the outcome of his game, Mattingly picked Reggie Jackson's three-homer game in the 1977 World Series.
"I was kind of a Reggie fan growing up, so that would be a cool one," Mattingly said. "Where would I sit? I don't know. But it would be nice to sit where one of those home runs landed. Knowing Yankee Stadium, it would be nice to sit in the bleachers. That would have been crazy."
Milwaukee's Ryan Braun chose Kirk Gibson's Roy Hobbs-ian blow from the 1988 World Series.
"I've seen the highlight so many times; and having grown up a Dodgers fan, that was a pretty special moment and extremely dramatic," Braun said. "I would have liked to have caught the ball. That would have been cool. I would be in the right field bleachers, fourth row, fifth row."
Torii Hunter and Matt Kemp both picked Joe Carter's Game 6 walk-off home run that won the 1993 World Series, saying it was more than just a great game. (Phillies fans might disagree.) They said it actually inspired them to become major leaguers.
"Joe Carter was somebody who was basically a hometown hero in Oklahoma," Kemp said. "Actually, my dad is best friends with his brother. He gave me a signed ball and I still have that signed ball to this day. To see him hit that home run made me want to play ball more. That touched me right there."
"He was one of my favorite players at the time, and just to see him hitting the home run and jumping up and down was very special," Hunter said. "I saw that game on TV, and I would have liked to have been there. I probably would have cried, the sensitive side of me."
Great World Series pitching performances were popular, too. Cleveland's Chris Perez picked either Don Larsen's perfect game or the 1991 World Series Game 7 duel between Jack Morris and John Smoltz, while the actor Hamm picked Game 1 of the 1968 World Series when Bob Gibson struck out a record 17 batters to beat the Tigers and 30-game winner Denny McLain.
"Actually, I would just like to see that whole series," Hamm said. "Because I'm a self-loathing, Midwestern, Cardinals fan and I'm still bummed I never got to see Bob Gibson pitch."
What do you mean, a "self-loathing" Cardinals fan? Your team has won the World Series more times than anyone but the Yankees. You guys have won the World Series twice and been to it three times just in the past decade.
[+] Enlarge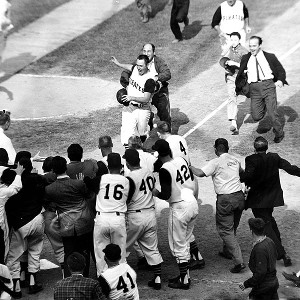 AP Photo/Harry HarrisTheeeeeeeee Yankees lose! Thanks to Bill Mazeroski's walk-off World Series home run in 1960.
"That helps," Hamm said. "But I grew up in the '80s when we won one and lost two."
Yeah, Cubs fans must really feel your agony.
"Hey, I didn't make anyone be a Cubs fan."
Dickey couldn't limit himself to just Robinson's debut, also picking Game 6 of last year's World Series -- "It was one of the most fantastic games, as far as taking the fans to such highs and such lows in the shortest amount of time possible" -- and Kerry Wood's 20-strikeout game against the Astros in 1998.
"It was the most dominant performance I'd ever seen," Dickey said of the Wood game. "That was my second year in pro ball, and it was my introduction to what it takes to be a big leaguer. And I was a little intimidated, to be honest."
If that intimidated him, perhaps he was wise not to choose Sandy Koufax's perfect game, which is the one Anaheim pitcher C.J. Wilson wants to see.
"It was at Dodger Stadium, so the weather was probably OK and I could sit through it in one of those hard plastic seats," Wilson said. "I would like to see Sandy pitch. He was magic. In that five- or six-year run he was on, no one has ever put anything up like that. Ever."
Under our Turn Back the Clock ground rules, not only can you go back to a game you saw in person, you can also go back to a game in which you actually played. And maybe it's no surprise who chose such a game.
"I would like to see myself play," Rickey Henderson said, choosing Game 2 of the 1989 ALCS.
Well, you don't need the ego of Rickey to want to have seen him in action that series. He stole eight bases, scored eight runs, homered twice and had a 1.609 OPS in five games. He stole four of those bases in Game 2 alone when he pretty destroyed much the will of the Blue Jays' pitching staff.
[+] Enlarge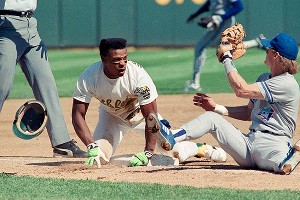 AP Photo/Lenny IgnelziRickey Henderson would watch himself steal four bases, including third in front of the Blue Jays' Kelly Gruber, in Game 2 of the '89 ALCS.
"That was a fantastic series and a fantastic game for me," Rickey said. "And I think that was one of the most important times and one of the most fun times in baseball."
As for me? My choice is the June 23, 1917, game between the Red Sox and the Washington Senators. Here's what I would get to see:
• A game at Fenway Park when the stadium was just five years old.
• A game Babe Ruth played.
• A game Babe Ruth pitched.
• A game Babe Ruth was ejected from when he SLUGGED THE UMPIRE after walking the game's leadoff batter.
• And finally, a game when reliever Ernie Shore took over, the leadoff batter was caught stealing and Shore retired everyone else in order for a perfect game in relief.
"That's a great one. That's pretty cool," Cleveland's Perez said. "Imagine if someone punched an umpire today.''
Can you top that? Let us know your picks by joining the conversation.
MLB on ESPN.com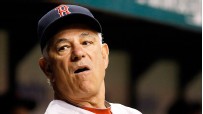 VALENTINE FIRED

MOST SENT STORIES ON ESPN.COM