Commentary
Big payroll teams not holding up
Anybody want to watch an all-underdog playoffs? Certainly not Tigers fans
Updated:
September 19, 2012, 1:59 PM ET
By
LZ Granderson
| ESPN.com
With 17 games left in the 2012 baseball season, and Detroit Tigers fans like me are asking one question: What the hell?
We thought when we signed Prince Fielder to a nine-year, $214 million contract in the offseason -- on the heels of the franchise's first division title since 1987 -- that this year would be the year.
[+] Enlarge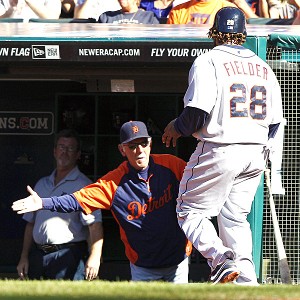 David Maxwell/Getty ImagesSigning Prince Fielder raised expectations in Detroit.
Instead this is turning into just another year, and for Detroit fans, that's not good.
Two runs coughed up in the bottom of the ninth in Sunday's 7-6 loss to the hapless Cleveland Indians have the Tigers two games back of the Chicago White Sox in the division, 4.5 games back of the Oakland A's and Baltimore Orioles for the wild card, and about 15 games back of where fans thought we would be when the team payroll shot up from No. 10 to No. 5 (per USA Today's calculations) after signing Fielder.
I'm not suggesting this uneven season is Fielder's fault. In fact, he's been brilliant at times. But a team with a $132 million payroll should not be desperate for wins in the middle of September. Especially considering said team is playing in the worst division in baseball.
Of course, if Derek Jeter can't drag his bad leg and shaky team across the AL East finish line, there's a good chance the Yankees' almost $200 million playoff machine will be derailed by Baltimore and Oakland, a pair of clubs shelling out less than $140 million in payroll combined.
Life can be so mean sometimes. Just when Detroit officially became a big-time player, baseball has a year of the underdog.
I'm sure casual fans who love rooting for the little guy think this topsy-turvy scenario is great. But it's not, not even for them, and here's why: If you don't have a Goliath, you don't have a David.
Tell me, who's the Goliath in a Nationals-Pirates NLCS?
Better yet, who exactly is the villain in an A's-Rays series -- the team with the sixth-lowest payroll in baseball or the team with the second-lowest?
Everyone loves the little guy until you can't tell them apart from the big ones. Then it's just chaos. And in sports, the little guy is mostly determined by the size of the payroll. If you spend as much as the Angels and Phillies (almost $330 million combined at the start of the season), you're supposed to win. When you don't, people point and laugh. That's just the way it goes.
True, there have always been seasons in every sport when teams spend a lot but get little in return (See NBA, New York or NFL, Washington). But this year is especially crazy in baseball because there's a legitimate chance that none of the teams that began the year with one of the top five payrolls will be playing in the postseason: Yankees, Phillies, Red Sox, Angels and Tigers.
That's like tossing $1 billion into some sort of regular-season abyss and watching it completely disappear into October darkness. So while parity is great in small dosages, a postseason void of a big-spending juggernaut to root against is like going through 162 games worth of foreplay just to cuddle at the end.
[+] Enlarge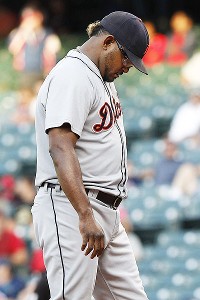 David Maxwell/Getty ImagesTigers fans expected Jose Valverde to be staring down the competition, not looking down at another blown lead.
Two seasons ago, five of the teams with the highest 15 payrolls made the playoffs. Last season, five of the top 15 made the postseason. That's not the best return, but today only one of the top 15 payrolls has a secure hold on the postseason: San Francisco. Everyone else is either in a dogfight like the Yanks or Tigers or a hot mess like the BoSox and Philly.
At the beginning of the year, all the ESPN experts picked Detroit to win the division. I'm quite sure they didn't do so thinking Detroit would need the last two weeks of the season to close to the deal, but that appears to be exactly where we are headed.
In an ideal world, Detroit and New York both make the playoffs and either Baltimore or Oakland gets to play the sub $100-million payroll spoiler. In a cruel world, none of the big guns make it to the big show and the underdog tension that typically drives a postseason gets replaced by a lukewarm fervor.
An all-underdog lineup is a concept that may sound good in theory, but trust me, no one really wants to see it in practice.
Especially those of us in Detroit, who began the year as a big-spending favorite, were recast as an underachievers, and now are dangerously close to being one of those high buildup/no payoff teams fans usually laugh at.
Normally, we can handle being laughed at: As Tigers, fans we know that comes with the territory. But being laughed at for falling short of expectations created by a big payroll? Well, that's going to take some getting used to ... and I'm really hoping we don't.
Senior Writer, ESPN The Magazine
Edited NBA and tennis for ESPN The Magazine
Columnist at The Atlanta Journal Constitution
Fellow at Hechinger Institute, Columbia University
EDITORS' PICKS
With the departure of Nelson Cruz, the Orioles need some familiar names to produce.
Jayson Stark »

Identifying spring training position battles and fantasy implications for each.
Story »

Will pitchers try to challenge Giancarlo Stanton with inside fastball?
Story »

MOST SENT STORIES ON ESPN.COM