Miguel Cabrera wins Triple Crown
Updated:
October 4, 2012, 10:54 AM ET
Associated Press
KANSAS CITY, Mo. -- Only a precious few people will ever know exactly how it looked when Miguel Cabrera, one of baseball's reluctant superstars, finally celebrated history 45 years in the making.
Cabrera had slipped away Wednesday night to the visiting clubhouse at Kauffman Stadium where he waited out the final moments in his bid for the Triple Crown. Once everything transpired, all the other possibilities played out, he could finally revel in the feat.
More On Miguel Cabrera's Triple Crown

Detroit's Miguel Cabrera won the first Triple Crown since 1967, and is just the 10th different player in modern major league history to do so, writes Christina Kahrl. Blog
• Stats & Info: How he compares
• Listen: Mike & Mike | Kurkjian

"It was like, everybody said to me it was unbelievable," said Cabrera, who was joined in the clubhouse by Prince Fielder, Justin Verlander and a few other teammates. "They were excited to see this, enjoy this, be a part of something big, and winning, I feel better."
Yes, the American League Central champs managed to beat the Kansas City Royals 1-0, but the outcome of the game was secondary to the true drama that unfolded on the field.
Cabrera became just the 15th player to win baseball's Triple Crown, joining an elite list that includes Mickey Mantle, Ted Williams and Lou Gehrig. Cabrera topped the AL with a .330 batting average, 44 homers and 139 RBIs, becoming the first Triple Crown winner in the major leagues since Boston's Carl Yastrzemski in 1967.
"It's an unbelievable feeling," he said. "I can't describe the feeling right now."
Cabrera's achievement wasn't assured until the Yankees pinch hit for Curtis Granderson in their 14-2 rout of the Boston Red Sox. Granderson had homered twice to reach 43 for the year, tied with the Rangers' Josh Hamilton and one shy of Cabrera.
Cabrera went 0-for-2 against the Royals before leaving in the fourth inning to a standing ovation. He finished the regular season hitting four points higher than Angels rookie Mike Trout, his toughest competition for AL MVP. Cabrera was the runaway leader in RBIs.
"I am glad that he accomplished this while leading his team to the American League Central title," Yastrzemski said in a statement, pointing out that his Red Sox reached the World Series when he won one of baseball's most coveted titles.
Crown Him
Miguel Cabrera became the first player to win a Triple Crown since Carl Yastrzemski in 1967. Cabrera's Triple Crown is one of just 12 in modern major league history.
Player
Year
HR
RBI
AVG
Cabrera, DET
2012
44
139
.330
Yastrzemski, BOS
1967
44
121
.326
F. Robinson, BAL
1966
49
122
.316
Mantle, NYY
1956
52
130
.353
Williams, BOS
1947
32
114
.343
Williams, BOS
1942
36
137
.356
Medwick, STL
1937
31
154
.374
Gehrig, NYY
1934
49
165
.363
Foxx, PHI
1933
48
163
.356
Klein, PHI
1933
28
120
.368
Hornsby, STL
1925
39
143
.403
Hornsby, STL
1922
42
152
.401
-- The Associated Press
The Tigers will have that chance when they open the postseason Saturday against Oakland.
"It was hard the last two days because everybody talked about it. I just had to focus; I had to go out there and do the job," Cabrera said. "The hardest part was to go out there and focus and win games. I said, 'If we win the division, everything would take care of itself.'"
The crowd at Kauffman Stadium gave Cabrera a standing ovation before he flied out in the first inning. He struck out in the fourth but remained in the game, allowing manager Jim Leyland to remove him with two outs to another standing ovation from thousands of appreciative fans.
Cabrera high-fived his teammates as he entered the Detroit dugout, and then walked back to the top step and waved his helmet, just as if he were celebrating at home.
"I would say without question he's enjoyed it. How could you not enjoy what he's done if you're a baseball player?" Leyland said. "I doubt very much, knowing him, that he necessarily enjoys all the extra attention and all the extra conversations he's had to have. It's kind of out of his realm in personality, to be honest with you."
Cabrera's pursuit of history occurred largely in the dark, though, overshadowed by thrilling playoff races, the sheer enormity of the NFL -- even the presidential election.
An event that in other years might dominate headlines has been mostly cast aside.
"The entire baseball world should be here right now," said Verlander, the reigning AL MVP, who might soon watch that award get handed off to his teammate.
Perhaps part of the void has to do with Cabrera's very nature.
He's not the boisterous sort, never one to crave attention. He would rather hang out with a couple of buddies than stand in front of a pack of television cameras, answering countless questions about what makes him one of the game's most complete hitters.
SportsNation: 2012 MLB Playoffs

Baseball waited 45 years for a Triple Crown winner. Miguel Cabrera ended that drought Wednesday night.
Vote!

"He's not a talkative guy," Tigers catcher Alex Avila said. "One, he doesn't speak English that well, but two, he lets his ability carry through."
It takes a special breed to hit for average, for power and in clutch situations, which is why there have been so few players to achieve the Triple Crown.
Barry Bonds and Alex Rodriguez never accomplished it, failing to win the batting title, and countless other Hall of Fame players have fallen short of one of sport's rarest feats.
Commissioner Bud Selig called it "a remarkable achievement that places him amongst an elite few in all of baseball history. Miguel has long been one of the most accomplished hitters in the game, and this recognition is one that he will be able to cherish for the rest of his career."
To put it in perspective, consider horse racing's Triple Crown.
"

When he's over the plate, he can do anything. He's the best hitter in the game. I think his approach, the way he battles with two strikes -- you leave one pitch over the plate that at-bat and he's going to hit it. He had an unbelievable year.

"

-- Mike Trout on Miguel Cabrera
The last thoroughbred to win the Kentucky Derby, Preakness and Belmont Stakes in the same year was Affirmed in 1978, more than a full decade after Yastrzemski's magical summer in Boston.
Whether it's on par with Johnny Vander Meer's consecutive no-hitters, Jack Nicklaus' 18 major championships in golf, Joe DiMaggio's 56-game hitting streak or Brett Favre's consecutive games streak at quarterback is open to interpretation, and perhaps some bar-room debate.
Those who have witnessed it firsthand certainly have their opinions.
"It's pretty amazing," said the Royals' Alex Gordon, who watched the drama unfold from his spot in left field. "Honestly, his numbers are like that every year. He has a great average, great home runs, great RBIs. He's a guy who can pull this off, and it's great for the game."
Giants infielder Pablo Sandoval said he was particularly proud that the Triple Crown would be accomplished by a fellow Venezuelan. Cabrera is from Maracay, along the Caribbean coast.
"I'm excited for the country and for the fans that support us every single day. It's a big deal in Venezuela right now," Sandoval said. "It's exciting, especially because of all the things that have happened in his career."
Yes, it seems that every fairytale these days carries a troublesome footnote.
In Cabrera's case, it stems from spring training last year, when he was involved in a drunken driving incident. According to authorities in St. Lucie County, Fla., Cabrera refused to cooperate, directed an obscene gesture at police and even dared them to shoot him.
The Tigers have been careful to keep him from having to discuss his personal issues, but by all accounts, Cabrera has been a model player ever since. This year, he is the Tigers' nominee for the Roberto Clemente Award, given to the player "who best represents the game of baseball through positive contributions on and off the field, including sportsmanship and community involvement."
"This clubhouse wouldn't be quite as good without him," Leyland said.
While the Triple Crown has been decided, the MVP has not. Selected members of the Baseball Writers' Association of America vote for that award, with the winner announced in November.
On one hand, Cabrera has dominated the statistical categories favored by traditionalists, the ones that count toward the Triple Crown. On the other hand, Trout is being championed by new-school baseball thought, number crunchers who rely on obscure stats such as wins above replacement, derived from several other measures designed to judge a player's overall contribution to a team.
"He's the best hitter in the game," Trout said of Cabrera. "I think his approach, the way he battles with two strikes -- you leave one pitch over the plate that at-bat, and he's going to hit it. He had an unbelievable year."
Tigers Hall of Famer Al Kaline said it would be "a shame" if Cabrera didn't win the league's most coveted award. Royals manager Ned Yost offered a similar sentiment.
"I think they're both fantastic players, tremendous players, both of them," Yost said, "but if Cabrera wins the Triple Crown, he has to be the MVP, absolutely."

Copyright 2012 by The Associated Press
MLB on ESPN.com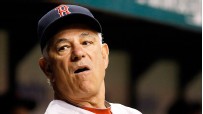 VALENTINE FIRED

MOST SENT STORIES ON ESPN.COM