Finally. After one of the most polarized, negative campaigns in history, we can go back to watching Geico commercials instead of political ads. At least until the next election season, which will begin roughly the day after the inaugural address.
Now that the presidential campaign and election is over, this is the time for all Americans to put aside our anger and differences and come together for the sake of our country. Whether we are Yankees fans or Red Sox fans; whether we are pro-choice for a pitcher's right to not bat if he doesn't want to or want a constitutional amendment abolishing the DH; whether we want more instant replay or less league interference in our games … we must join together over the truly important things that as proud Americans we can all agree upon.
That baseball is our national pastime. That it captures the American spirit, character and history better than any other aspect of our lives. That the game is the greatest gift our country has given the world. (Just ask Ichiro.) And that we therefore hold the following truths to be self-evident:
That what sets us apart from other countries is our long history of democracy, which is best reflected in the All-Star fan vote -- where there is no negative campaigning and voters truly vote FOR a player rather than AGAINST another. True, there have been some occasional improprieties. In addition to the continual problem of hanging chads on All-Star punch-ballots, in 1957 Cincinnati fans stuffed the ballot box and voted eight Reds into the starting lineup. Voting Gus Bell ahead of Willie Mays that year might be worse than voting for Stephen Douglas over Abraham Lincoln in 1860. But the occasional ballot issue just shows how passionate we are.
And besides, Ohio has always been a battleground state.
That, as the Statue of Liberty says, our country opens its doors to the teeming masses yearning to be free agents. Be they from Cuba (Yoenis Cespedes), Venezuela (Miguel Cabrera), the Dominican Republic (Big Papi), Japan (Yu Darvish), China (Wei-Yin Chen), Italy (Alex Liddi), Korea (Shin-Soo Choo), Australia (Grant Balfour), Brazil (Yan Gomes), Panama (Mariano Rivera), Nicaragua (Erasmo Ramirez), Mexico (Jaime Garcia) or, of course, Canada (Brett Lawrie), immigrants are what make our nation and our major leagues great. We are the land of opportunity, where a boy born in Venezuela can one day walk the golden streets of America while wearing a triple crown.
That our majestic national park system, which ranges from sea to shining sea, from the Great Smokey Mountains to Yellowstone and from the Grand Canyon to Yosemite, would be even greater with the addition of such awe-inspiring parks as Fenway, Camden Yards, Wrigley Field and others with corporate names. These sacred, emerald grounds need preservation so they can be enjoyed by future generations. And given how long games last in Boston, it also would be nice if fans could bring in tents and sleeping bags to Fenway like at most national parks, such as Rocky Mountain and Mount Rainier.
That the finest, most practical and quintessentially American item of apparel is the baseball cap. Baseball caps are more American than apple pie, movie violence and negative campaign ads. Everyone wears baseball caps, regardless of gender, race, political leaning (think Rudy Giuliani and Michael Moore) or religion (the Pope has been seen wearing one). Even athletes in other sports wear baseball caps, including NFL quarterbacks (Tom Brady) and their spouses (Gisele Bundchen). They are also more practical than blue jeans or T-shirts because baseball caps can cover up bad hair, bald spots and frighteningly large foreheads.
That the first amendment of our constitution guarantees our right to pray to any deity we choose to please, please, PLEASE have Evan Longoria hit a walk-off home run against the Yankees. The first amendment also guarantees the freedom of speech to express our beliefs, no matter how radical, outlandish or unpopular those ideas may be. "Trust me -- A-Rod is gonna get a hit here!"
That our country, which spans an entire continent and four time zones, is a diverse land of mountains, deserts, rain forests, oceans, Great Lakes, amber fields of grain, and thus is home to four distinct, wonderful seasons: spring training, the Summer Game, the Fall Classic and the winter meetings.
That in the home of Gershwin, Copland, Ellington, jazz, Elvis, Motown and Springsteen, the single most stirring display of patriotism is when thousands of fans stand as one each game and honor America by singing "Take Me Out to the Ballgame." ("Gangnam Style," after all, is Korean.)
That the presidential race we most enjoy is the one the Washington Nationals hold during each game, featuring George Washington, Thomas Jefferson, Abraham Lincoln and Teddy Roosevelt. Teddy finally winning late this season was the greatest upset in presidential history since Truman defeated Dewey. (Not even Nate Silver saw it coming.)
That throwing out the ceremonial first pitch is the greatest privilege a president receives next to not having to remove his shoes before flying on Air Force One. Whether Democratic or Republican, left- or right-handed, every president since William Howard Taft in 1910 has thrown out a ceremonial pitch during his presidency. As George W. Bush demonstrated before Game 3 of the 2001 World Series, this pitch can be far more than ceremonial; it can also be downright inspiring.
And every once in a while, it can also be in the strike zone.
And finally …
That despite all the above glories of our country, stadium beer prices are way too high. Why didn't either Obama or Romney propose doing something about that?
CSI: Box Score
Each week I provide a fragment from an old box score and challenge you to determine what game it is from and why it's significant. I give this one a difficulty rating of 6. Answer below:
Baseball Card of the Week
As the back of this card (2002 Topps American Pie) notes, FDR threw out the ceremonial first pitch a dozen times during his presidency, including 1933, the last time Washington was in the World Series.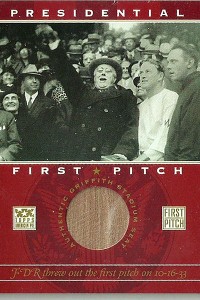 Yeah, well, that's like, just your opinion, man
I definitely would not want to compete against Nate Silver in my fantasy league. The biggest winner in Tuesday's election was 538 blogger Nate Silver. Despite the pundits constantly shouting that the election was a complete tossup, the former Baseball Prospectus writer's careful analysis of state-by-state polls showed for months that, though the final vote would be close, Obama was a clear favorite to take the Electoral College. He raised the odds for Obama's re-election to more than 90 percent the night before the vote; and as of late Tuesday night, was on pace to correctly call 50 of the 50 states. This, after he was 49-for-50 in 2008. I didn't see Silver's preseason predictions, but I assume now that he picked the National League to win the All-Star Game, the Red Sox to finish last in the AL East, the Athletics to win the AL West, the Nationals to win the NL East, R.A. Dickey to win 20 games, Miguel Cabrera to win the Triple Crown, A-Rod to get benched in the postseason and the Giants to fall behind 0-2 in the division series and 1-3 in the NLCS but still win the World Series in a sweep. Meanwhile, Karl Rove probably is maintaining the Tigers can still come back to beat San Francisco.
Spoiler alert: He gets wayyyyy past second base with Helen Hunt. There looks to be a tsunami of good movies approaching theaters this winter, so before it hits be sure and catch the just-released film, "The Sessions." The movie tells the dramatic but also funny true story of Mark O'Brien (played by John Hawkes), a 39-year-old poet/journalist left in an iron lung due to polio, who yearns for romantic and physical love in 1988 Berkeley. Helen Hunt is a sex therapist who teaches him about, well, sex, and William H. Macy is an understanding priest who provides spiritual support. Warning: The movie includes explicit talk about sex, as well as full-frontal nudity, so you will want to be careful seeing it with children/parents. I must say, though: Whatever Helen Hunt is taking, I want. Like Jamie Moyer, she is 49 but her body looks 20 years younger. O'Brien, by the way, was a huge baseball fan who wrote a collection of poems titled, "Love and Baseball." There is a brief scene in the movie where he is listening to a Giants game on the radio when the power goes off. This not only threatens his life (the outage cuts off power to his iron lung) but also prevents him from hearing whether his beloved Giants win.
CSI: Box Score answer
There were several clues in this fragment, beginning with the Baltimore/Los Angeles line score, which should have told you this was a World Series game. But which one? The names Palmer and Koufax, along with the three errors for W Davis, should have answered that. This was Game 2 of the 1966 World Series, which was notable for several things. One, Dodgers center fielder Willie Davis not only committed three errors, he made them all in the same inning. Next, 20-year-old future Hall of Famer Jim Palmer shut out Sandy Koufax in what would be the final game of Sandy's career. Koufax deserved to go out with better support -- six errors by his fielders and no runs by his offense! -- but then, this was one of the worst performances any team ever had in the World Series. The Dodgers not only were swept by the Orioles, they didn't score a run in any of the final three games and scored just two runs the entire series.
In other words, the Tigers shouldn't feel quite so bad.