Once upon a time, back when stirrup socks were still visible, the Super Bowl annually was the most disappointing sporting event of the year. The World Series, meanwhile, was the most exciting.
From the mid-'80s to the mid-'90s, the average spread of the Super Bowl's final score was nearly four touchdowns, with only two games decided by fewer than 13 points (San Francisco over Cincinnati 20-16 in SB XXIII and the Giants over Buffalo 20-19 in SB XXV). Fans often turned away from their TVs by halftime, not only because the game's outcome was settled by then but also because the halftime entertainment was still the likes of Up With People and college marching bands. Seriously. Up With People was the Super Bowl halftime act as late as January 1986. And their replacement in the next Super Bowl was -- get this -- Mickey Rooney!
And Lions fans think they've suffered over the years.
During that same time span, the World Series was a true Autumn Classic, with four series going seven games and three others going six. (Even seven games wasn't always sufficient. In 1991, Game 7 between Minnesota and Atlanta went to extra innings in perhaps the greatest series of all.)
Regardless of the length, baseball seemed to always pack drama into the World Series; it was like squeezing Rich Garces, David Wells and Charlie Kerfeld into one bullpen cart. Among the many highlights were Don Denkinger's blown call (1985), Bill Buckner's error ('86), Kirk Gibson's pinch-hit home run ('88), Jack Morris' 10-inning Game 7 shutout ('91), Joe Carter's series-winning home run ('93) and Atlanta's clinching 1-0 Game 6 one-hitter ('95).
The World Series was so much better than the Super Bowl in those days that even when baseball didn't play the series because of the 1994 strike, the Super Bowl several months later still was inferior entertainment. Not only was Super Bowl XXIX a 49-26 blowout (49ers over the Chargers), but the national anthem singer was Kathie Lee Gifford and the halftime show was an Indiana Jones theme that featured the Miami Sound Machine.
Unfortunately for baseball fans, the excitement balance has almost completely reversed itself in recent years. Now it seems the Super Bowl is repeatedly producing tense, memorable games with dramatic, edge-of-your-seat finishes, while baseball has given its fans an almost steady diet of four-game sweeps and five-game yawners.
The question is why.
Perhaps it's just one of those quirky, cyclical things. But there also might be a connection here: The quality of the World Series began slipping almost as soon as baseball expanded its playoffs. Expanded playoffs certainly haven't hurt the NFL, but they do seem to have affected baseball. After all, baseball is a daily sport for six months of the year, and then it abruptly changes rhythm in October. There are way more travel days during the ever-lengthening postseason.
As I said, it might be just one of those cyclical things. But given the too-brief, disappointing World Series of recent years, it's definitely something baseball should consider before making any further changes to the format.
And while baseball is at it, perhaps it should consider emulating the Super Bowl by turning the World Series into more of a marketing spectacular. Here's how, in a five-step plan:
1. World-Up. The Super Bowl halftime show is almost as big as the game itself. But baseball doesn't have halftime, and even if you could resurrect John Lennon and George Harrison for a Beatles reunion, the seventh-inning stretch would be an inadequate time slot. But the World Series does have something the Super Bowl does not: walk-up and closer music. Instead of just playing recordings of music over the stadium speakers as a batter steps to the plate or a ninth-inning reliever strolls to the mound, baseball could bring in the actual artists to play their songs from a stage in center field! It could even be a reality show competition, the artists receiving points for their performances and the number of times their music is chosen.
But just to be sure, a Katy Perry wardrobe malfunction should be scheduled.
2. World-Daze. One reason the Super Bowl gets big ratings? It's held on a Sunday, when many people have the day off. So what baseball needs to do is get national holidays passed for weekday World Series games. Or if not an official national holiday, then a de facto national holiday with all the usual rituals: no mail service, all government offices closed, public schools out of session and 40-percent-off sales at all the stores.
This should be pretty easy to work out. It already sounds like business as usual in October.
3. World-Rod. Let's face it: Alex Rodriguez received more publicity when Cameron Diaz fed him popcorn in a luxury suite during Super Bowl XLV than he did while playing in the 2009 World Series. Obviously, fans prefer the way the Super Bowl uses him. The World Series should follow that lead by keeping A-Rod out of the lineup and in a suite with a starlet (Brooklyn Decker? Megan Fox? Scarlett Johansson? Betty White?) feeding him certifiably organic pumpkin pie. (Given that Rodriguez has played in only one World Series in his 18 major league seasons, this should not be all that difficult to arrange.)
4. Party-World. The Super Bowl generates great attention and enthusiasm by holding the game in a fabulous neutral city where fans can enjoy a weeklong vacation of late-night carousing and beautiful scenery. (They occasionally play the game in Detroit as well.) Baseball could attract the same sort of corporate excess. Not by playing the World Series in a neutral city -- it's much better to play the game in front of actual fans -- but by hosting thousands of corporate execs at sprawling binges in Vegas, New Orleans and Miami, then giving them ticket stubs so they can tell their spouses they actually were at those games in St. Louis.
5. World-Hog Day. Take another page from the Super Bowl by holding the World Series in February when there is nothing else going on.
Wait, with the expanded playoffs, I think the Games 6 and 7 of the World Series might already be scheduled for February.
CSI: Box Score
Each week, I provide a fragment from an old box score and challenge you to determine which game it is from and why it's significant. This one is a little different because there are two fragments. The challenge for you is to figure out why. I give it a difficulty rating of 4. Answer below:
Baseball Card of the Week
Returning to my memories of the 1988 Topps set, I present this card of Phil and Joe Niekro (1988 Topps No. 5). Nice Photoshop work, huh? And will the Upton brothers still be playing when they have white hair?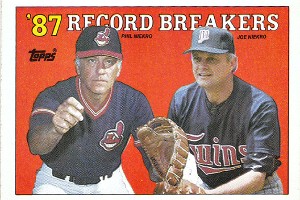 Yeah, Well, That's Like, That's Just Your Opinion, Man
Good Thing Ralph Kiner Won't Broadcast These Games. The World Baseball Classic announced its provisional rosters last week. Can you guess for which country catcher Bruno Hirata will compete? Wrong! Hirata is on the Brazilian team. Hirata plays in the Japanese industrial leagues, but he is one of at least 10 players in Japan with sufficient Brazilian lineage to play for that country. Meanwhile, for the first time, there is no one from our major leagues on the roster of two-time champion Japan. And talk about Linsanity: Taiwan has Che-Hsuan Lin, Chih-Sheng Ling, Han Lin, Hung-Yu Lin, Yi-Chuan Lin and Yi-Hao Lin (plus Chien-Ming Wang, Ching-Ming Wang, I-Cheng Wang and Yao-Lin Wang). Good luck, broadcasters!
Another interesting WBC player is Italy's Dan Serafini, who grew up in the Bay Area and was the Twins' first-round pick in 1992. Serafini, 39, has pitched in three major league games -- and retired just one batter -- in the past decade, playing most of that span in Mexico, Japan and the Atlantic League (and for Italy in the 2009 WBC, too). Gotta applaud that sort of passion for the game.
The Bigger Question Is Why My Wife Had Not Thrown Out My 25-Year-Old Copy. There was a school of thought during this year's Hall of Fame debate that Jack Morris never was viewed as an elite pitcher during his career. So I decided to take a look at what Bill James wrote about him in his 1987 "Abstract." Here's what I found: "Morris may not be the best pitcher in the majors but he's got to be the most consistent. Last year I talked about Morris doing something every year to solidify his credentials as a potential Hall of Famer. Last year he did a couple major things to solidify his credentials, winning 20 games for the second time and striking out 200 batters for the second time. He's probably three or four good years away from the Hall of Fame now." So, yes, Morris was considered a star and a potential Hall of Famer in his prime. And after James wrote that, Morris had two 18-win seasons and a 21-win season, made two All-Star Games (and was the AL starter for the third time) and finished in the top five of Cy Young voting twice (and ninth once). He also had some high ERAs. So was all that sufficient for the Hall? Apparently not, at least not yet. He still isn't in. But let's have no more unfounded talk that Morris was not considered among the pitching elite by his contemporaries.
"42" Definitely Looks Better Than "The Haunting In Connecticut 2." I finally saw "Zero Dark Thirty" this week and came away with three thoughts. 1. The CIA hires some very attractive agents. 2. "Lincoln" is still my pick to win Best Picture. And 3. The best part of the night was watching the trailer for the new Jackie Robinson movie, "42," which comes out in April.
CSI: Box Score Answer
The important clues here were the Dean names listed in each fragment. The first Dean is the legendary Dizzy Dean, who threw a three-hit shutout in the first game of a doubleheader on Sept. 21, 1934. The second Dean is his younger brother Paul (aka Daffy), who threw a no-hitter in the second game of that twin bill, completing one of the greatest days by a pair of brothers in major league history. Paul's no-no prompted Dizzy to say, "Shoot, if I'da knowed Paul was gonna throw a no-hitter, I'da thrown one, too."
Actually, Dizzy came very close -- he didn't allow a hit until the eighth inning of his game.
Here's hoping the Upton brothers have a comparably great day together in Atlanta.