SCOTTSDALE, Ariz. -- My friend Scooter sold his tickets to two Giants games -- four tickets total -- for $480. That's $120 apiece. And no, those were not tickets to the World Series last October. They weren't even tickets to regular-season games at AT&T Park, one of the nicest stadiums in Major League Baseball. They were tickets to spring training games at Scottsdale Stadium for this weekend.
And that's a bargain compared to some of the prices on StubHub. At last glance, someone was selling tickets behind the Giants' dugout to Saturday's split-squad game against the Reds for $249.50 apiece.
Apparently, the recession is over.
Amazing what a couple of World Series championships can do.
"We've got sold-out crowds here all the time, and that's obviously because of the success we've had," Tim Lincecum said of San Francisco's spring training site in Scottsdale. "It's just been fun being able to play here."
The Giants will pay Lincecum $22 million this season, which might be just about what it would take to buy spring season tickets to see the team in Arizona this month. When Scooter bought his season tickets for the Giants' spring schedule, he says the prices ranged from $24 to $40 (depending on the game) for his seats down the left-field line. The prices have gone up since then because the Giants use what major league teams call "dynamic pricing" and what the rest of us call "gouging."
It's standard supply and demand. As demand rises, so does the pain.
At last check, the Giants' website listed lower level box seats for $68.75 for this Sunday's game against the Rockies. Upper level box seats were $63.75. Bleacher seats down the outfield lines were $45. Outfield lawn seating was $25 (and rising to $34 for a game later this spring).
By the way, "lawn seating" is a misnomer. You don't actually get a seat for your money. You just get a patch of grass, though at these prices, it should also include oil drilling rights. (Then again, at least you can sit down on the grass at Scottsdale. In Fort Myers, Fla., the Red Sox sell some standing room tickets for $15 to watch their spring training games.)
Oh, and if you're going to buy tickets online from the Giants' site, be prepared to pay the customary convenience fee, also known as blood money. The convenience fee fluctuates depending on the price of your ticket. Buy a lawn "seat" and the convenience fee is a relatively reasonable $3.75 per ticket. But buy a more expensive box seat? Then the convenience fee jumps to as much as $12.25 per ticket. I guess that covers the cost of the anesthesia for when they remove your kidney.
And wait, we're not done yet. There is an additional $3.50 charge per order. Thus, buying a lower level box seat online would have cost me $84.50. Again, this is for a spring training game in which the starters will be on the golf course by the seventh-inning stretch, replaced by players wearing numbers in the 60s, 70s and 80s.
But apparently, fans aren't deterred. Despite a February start to the schedule and terrible weather (it hailed in Scottsdale last week and snowed the week before), the Giants are averaging more than 9,700 fans this spring. Tuesday night's game against the Padres had lower prices than the weekend games (lawn seats sold for a mere $15), and the place was packed. I talked to a couple in the stands who paid $35 for seats behind the dugout and they seemed happy to be there.
Somehow, my wife bought a lawn ticket from a scalper for $5 after the game started. Scooter couldn't believe it. We hadn't seen a price like that since Will Clark played first base.
At least the Giants aren't charging fans extra to watch batting practice, as the Tigers are in Lakeland, Fla. This spring, Detroit is charging $5 to enter Joker Marchant Stadium an hour earlier than normal so fans can watch batting practice from the outfield berm. (Did Mike Ilitch sell the team to Dan Snyder while we weren't looking?)
Spring training has changed. It has become less about watching baseball and more about splurging on a spring vacation, a way to get out of the snow and into the sun, enjoy some drinks and who cares about the price. Once you've paid for your airfare, hotel and rental car (and don't get me started on the fees and taxes that make up roughly 50 percent of the cost of renting a car in Phoenix), what's another $40 for a ticket to a game? Scooter calls it Mardi Gras for Seniors.
This Friday, box seats behind home plate for a Dodgers game in Glendale are as much as $49. Seats behind the dugout and down the line go for $28 to $43, and the outfield lawn is $16.25. The Angels charge $34 for their best seats. The Cubs $32 for premium games. In Florida, the Red Sox sell home plate dugout boxes for $46.
Don't expect any bargains at the concession stand, either. Beer prices at Scottsdale Stadium range from $8 for a 16-ounce domestic beer to $10.50 for a 20-ounce premium beer. At Oakland's ballpark, a stand charged $9.50 for a souvenir draft and $10.50 for a domestic bomber beer. At the Brewers' stadium in Maryvale, a stand charged $7 for a 20-ounce Miller, $8 for a premium brew and $11 for an 18-ounce beer in a souvenir cup.
Better ticket deals are available if you stick to the West Valley ballparks in Goodyear, Surprise, Maryvale and Peoria. Going to a game at those less-attended stadiums is almost like taking a trip back to a simpler, less expensive time in spring training -- like about six or seven years ago. Go to Goodyear, spring home of the Reds and Indians, and the seats down the line that go for $40 or more in Scottsdale are $18.
Then again, the Reds lost to the Giants in the division series last October and Cleveland hasn't won a World Series in 65 years.
Sigh. If this keeps up, I fear it's only a matter of time before baseball teams steal a page from the NFL book and require season-ticket holders to buy tickets to every exhibition game as well.
CSI: Box Score
Each week, I provide a fragment from an old box score and challenge you to determine what game it is from and why it's significant. The challenge for you is to figure out why. I give this one a difficulty rating of 4. Answer below:
Baseball Card of the Week
We continue our trip into the time capsule that is the 1988 Topps set …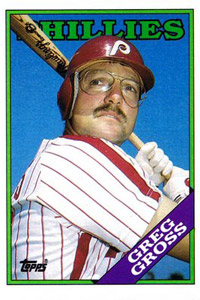 Soft, extended-wear contacts had been around for some time by 1988, but some players still wore the big old aviator-style glasses like Greg Gross did in this card (1988 Topps, No. 518). It was really the last hurrah for that '70s-fashion style, though. Now, about the only current position player who wears glasses is Oakland infielder Eric Sogard, whose spectacles are famous enough they had their own Twitter feed for a while last year.
Perhaps Sogard's look can lead to an eyeglass renaissance.
"I definitely hear from the fans and I get letters with them saying, 'Hey, you've inspired me to wear my glasses.' I get that once in a while, which is kind of neat," Sogard said, adding that major leaguers have so far not followed suit. "I think a lot of them will stick to Oakleys rather than prescription glasses like mine. But growing up, one year in summer ball I was wearing my glasses and hitting really well and by the end of the season I think there were three other players wearing glasses."
Yeah, Well, That's Like, That's Just Your Opinion, Man
Good Thing Crash Davis Wasn't There To Tell Brandon To Buzz Off. R.A. Dickey isn't the only player on the United States WBC team who was part of the 1996 U.S. Olympic baseball team. Second baseman Brandon Phillips was the bat boy. Phillips grew up in the Atlanta area and said he was picked from a tournament of players. "It was the best thing that ever happened to me," Phillips said. "Just being around the clubhouse with those guys, I learned a lot. That's when I started taking baseball seriously, because before that, I was playing football and basketball. It was a great experience." Phillips served as the bat boy for the U.S. and Japan teams, meeting future big leaguers such as Jacque Jones, Kosuke Fukudome and Dickey. "R.A. was throwing hard back then, and now he's throwing knuckleballs," Phillips said. "Every time I see someone from that team, I say, 'Hey I was the bat boy on that team.' It makes them feel old and they hate it."
But We Still Would Never Elect A Pope Who Took Steroids. The College of Cardinals did not elect a pope on the first ballot this week, staying locked in their conclave and continuing to vote until they finally reached an agreement. This policy prompted Scooter to suggest that the Baseball Writers Association of America should have the same policy when it comes to the Hall of Fame vote. We should be locked into a room until we elect a new player to the Hall of Fame. I agree, though to really speed up the vote, the policy must also require us to refrain from eating any free hot dogs until we reach a consensus.
CSI: Box Score Answer
You didn't need many clues beyond the line: "Rivera, S, 1." Yes, this fragment is from the game in which Mariano Rivera earned his first major league save back on May 17, 1996, when he still was a setup man for the Yankees.
What makes this fragment particularly interesting, however, is the name "Smith" for the visiting team. That would be Lee Smith, who was nearing the end of his career with the Angels. (He retired after the 1997 season.) Smith was the all-time leader in saves at the time with 473, and thus pitched in the same game when the current all-time leader earned Save No. 1.
Regular readers are well aware of my disdain for closers, but I join with everyone else in wishing Mo a great final season.