Commentary
Making the WBC even better
Updated:
March 21, 2013, 10:50 AM ET
By
Jim Caple
| ESPN.com
At its best, and with enough years, the World Baseball Classic could grow into what the World Cup is for soccer, though hopefully without vuvuzelas.
At its worst, the WBC still is an enjoyable diversion from the long, tedious weeks of a far too lengthy spring training. The games are often fun (was that a plantain in Fernando Rodney's pants or was he just excited to reach the WBC finals?), usually dramatic, occasionally violent (the Mexico-Canada fight was more vicious than the UFC) and always overflowing with national pride. The players range from some of the game's best and most popular players (Miguel Cabrera, Ryan Braun, Robinson Cano, R.A. Dickey and Yadier Molina) to obscure players with wonderful backstories.
So why do so many American fans (and media) prefer endless weeks of spring training? Are split-squad games between the Pirates and Marlins really that compelling?
Look, I get that fans are more concerned with their favorite teams' preparation for the regular season. But the WBC doesn't interfere with that. As Jayson Stark and others have pointed out many times, playing in the WBC does not lead to increased injuries. Yes, Mark Teixeira injured a tendon in his wrist, but he did so while hitting off a tee after exactly one day of batting practice for the WBC. Given that, it's quite likely he would have injured the tendon anyway. Meanwhile, Zack Greinke didn't play in the WBC, nor did Chase Headley, Yu Darvish and many others, yet they have missed games because of injuries.
[+] Enlarge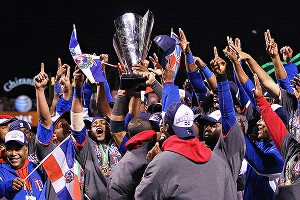 Kelley L Cox/USA TODAY SportsThe Dominican Republic (8-0 in tourney play) capped its perfect run to the WBC title with a 3-0 victory over Puerto Rico.
As Brandon Phillips said, he wanted the U.S. to continue in the WBC because he didn't want to go back to spring training. That was partially because his Reds train in Goodyear, but it was also because he enjoyed playing games that mattered far more than the dull and repetitive weeks of spring training. Many, and likely most, WBC players agree. Spring training lasts too long, and the WBC is a refreshing and welcome break.
True, the WBC has obvious drawbacks. It can be better. Here's how.
Change channels: It's hard to generate interest in a tournament when many fans don't have access to the network that is broadcasting the games. The MLB Network does a great job, but restricting English-language broadcasts to that channel drastically reduced potential fans here.
March Madness: Avoid scheduling the rounds so that a team has to fly across the country the night before an elimination game (Puerto Rico) against a team that has had almost a week off (Japan). Long layoffs hurt teams' rhythm while no layoff wears on a pitching staff. Keep the teams on the same schedule as much as possible.
Additionally, pump and publicize the brackets. Nothing boosts fan interest more than the ability to devote work hours to filling out office pools.
Limit passport tourism: The main goal of the WBC is to grow the sport. So until countries such as Italy or Spain develop fully competitive teams, there is logic to allowing players with ancestors from those countries to compete. This happens in the Olympics all the time. But there must be limits. One player on Italy's team this year was the great, great grandson of a native Italian.
Tighten the requirements so that you must at least be third generation, preferably second. We shouldn't have ancestors so distant they might have actually competed in the Roman Colosseum.
The World Midsummer Classic: Pitch limits and early March games mean WBC players aren't at their best. So just play the first rounds in the spring, then play the championship round in July during the All-Star break when they are in top form. Better yet, play the WBC final instead of the All-Star Game. Interest in the ASG wanes every year -- more fans are interested in who doesn't get picked than the actual game -- so playing the WBC would be a welcome change for fans and the ratings.
And imagine how much more exciting the Home Run Derby would be if it pitted the U.S. against Cuba.
Play to win: In order to get teams to sign off on their participation, U.S. manager Joe Torre had to promise general managers he would use their players in certain ways. That meant making sure pitchers threw sufficient innings, but not too many innings. This is not the best way to manage to win.
This approach must end. I appreciate that teams fear injuries, but these concerns are unfounded. Further, playing in a highly competitive atmosphere is better preparation for the season than meaningless exhibition games followed by late afternoon golf games. More important, the WBC is growing the game in other countries, which will benefit all teams down the line with additional prospects. Look beyond the present and consider the future, people.
And in those profoundly wise words uttered at the end of "The Bad News Bears in Breaking Training": Let them play!
This year's WBC was better than the 2009 Classic, which was better than the 2006 inaugural tournament. The 2017 WBC will be better still. Let's hope Americans embrace it -- and U.S. players reach the finals for once.
I mean, seriously. Would you really rather see exhibition games where guys run wind sprints along the warning track?
CSI: Box Score
Each week, I provide a fragment from an old box score and challenge you to determine what game it is from and why it's significant. The challenge for you is to figure out why. I give this one a difficulty rating of 5. Answer below:

Kurt Snibbe/ESPN
Baseball Card of the Week
We continue our trip into the time capsule that is the 1988 Topps set &
Looking at Bert Blyleven's expression on this card (Topps No. 295), he either was thinking about his next start or planning his next hot foot.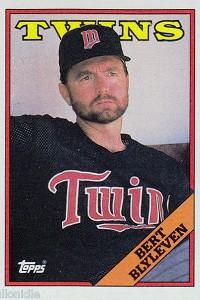 Back in 1988, the concept of European baseball was pretty much limited to Blyleven, who was born the Netherlands before his parents immigrated to the United States when he was 2 years old. We now have the World Baseball Classic, and many European prospects, including Twins minor league outfielder Max Kepler-Rozycki, who was born and raised in Berlin. Back in 1988, the Berlin Wall still stood, but the world has changed greatly since then, as evidenced by Kepler-Rozycki, who signed at age 16 with the Twins for $800,000, the highest bonus ever for a European player. He also has one of the most interesting pedigrees in baseball -- his parents are ballet dancers who met on tour in Berlin.
Meanwhile, Blyleven was the pitching coach for this year's Dutch WBC team. I wonder if he taught the Dutch pitchers how to give a proper hot foot.
Yeah, Well, That's Like, That's Just Your Opinion, Man
Do Not Forget This World Baseball Classic: The most stirring sight of the entire WBC was the row of fans seated behind home plate for the Dutch games in San Francisco. More than a dozen amateur players from the Netherlands wore bright orange sweatshirts with "Halman" written across the back of the shoulders with a big number 56 below. They wore the shirts in memory of Greg Halman, the former Dutch outfielder who wore No. 56 with the Mariners before he was killed in November 2011. They play for one of the teams in Halman's former baseball club, Kinheim, in the Netherlands. "The main idea behind it is to pay him a tribute," Wilfred Jelsma said. "If he was still here he would have been playing in this."
[+] Enlarge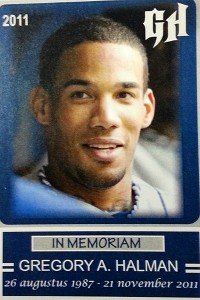 Corendon Kinheim baseball club
Indeed. Halman, who played for the Netherlands in the 2009 WBC, personified the World Baseball Classic. He spoke five languages and competed on fields in Spain, France, Germany, Poland, Taiwan, the United Kingdom, Italy, Holland and, finally, the United States with the Mariners. He played 116 games with Seattle in 2010 and 2011 before his tragic death when he was killed by his brother. The team had baseball cards printed up in his memory, with his date of birth and death. "We don't want to forget him.'' Jelsma said. &
For a Hall of Famer, The Meal Better Have Included Drinks, Appetizers, Entrée And Dessert: The Phillies' trade of minor leaguer Mike Cisco to the Angels for no compensation was not the biggest slight in the history of baseball transactions. My vote goes to the 1994 deal when the Twins traded Dave Winfield to Cleveland during the strike. The trade called for Cleveland to give Minnesota a player to be named if the season resumed. Because the strike ended the season, Cleveland instead agreed to pay for a dinner between general managers Andy MacPhail and John Hart. Even if they ordered lobster and a couple of bottles of vintage wine, we're still talking about trading a future Hall of Famer for a meal. &
Maybe He Should Have Told Them What Disguise To Wear In New York: There was really only one bad thing about the World Baseball Classic this year (other than the U.S. losing early again). And that was the in-game commercials featuring a grinning Bobby Valentine as a WBC ambassador for U.S. tourism that they showed on the stadium scoreboards. Each commercial began with Valentine talking about how baseball has taken him all around the world, but that the U.S. remains the country closest to his heart. Then photos of an unnamed U.S. city would be displayed with Bobby saying something like, "This is the largest city in the United States. You can visit the Empire State Building or see a show on Broadway. Which city is it? A) Nashville, B) Scranton, or C) New York City?'' I can understand why these commercials aired in other countries hosting the WBC, but I'm not sure American fans needed Bobby V telling them you can go to the Empire State Building in New York, golf in Phoenix, enjoy seafood in Seattle or see Hollywood stars in Los Angeles. &
CSI: Box Score Answer
There were two main clues. One was that Cuba was one of the teams, a pretty strong indication this was an international game. But which one? Team USA fans should have figured it out by the pitching line for Sheets. That would be Ben Sheets, who pitched a three-hit shutout in the gold medal game at the 2000 Olympics in Sydney, the only time America won gold in the sport it invented (baseball was a demonstration sport at the 1988 Olympics).
The U.S. hasn't had great success since then. It didn't even qualify for the 2004 Olympics, had to settle for bronze in 2008 (the last time baseball was an Olympic sport), and has failed to reach the final round in two of the three WBCs while never playing for the championship.
Here's hoping performances improve. After all, it is our national pastime.
SPONSORED HEADLINES
MORE MLB HEADLINES
MOST SENT STORIES ON ESPN.COM
SPRING 2013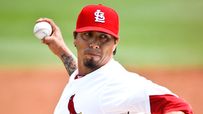 SPRING TRAINING
BBTN 500
WORLD BASEBALL CLASSIC
OTHER LINKS