BBTN 500: Players No. 26-50
Originally Published:
March 26, 2013
ESPN.com
Who are the best players in Major League Baseball heading into the 2013 season? ESPN formed a panel of MLB writers, analysts and contributors to rank the top 500. The countdown from No. 500 to No. 1 begins March 20 and ends March 28 with a special edition of "Baseball Tonight" at 10 p.m. ET.
The results will be announced on ESPN.com, Facebook and Twitter (@BBTN). Fans can use the hashtag #BBTN500 to join the discussion and follow along.
To compile the top 500, 34 ESPN experts, who were polled in the final two weeks of February, started with a list of more than 600 players. Using a 0-to-100 scale, they evaluated the players based only on how well they will perform in 2013. Players expected to miss 2013 with an injury, such as Chris Carpenter and Rafael Furcal, were not included. Ages are listed as of July 1, 2013.
TOP 500 MLB PLAYERS OF 2013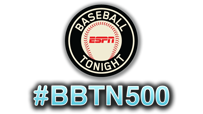 TEAM-BY-TEAM RANKINGS
Check out where players ranked on each team:
LOOKING BACK
ESPN 500: 2012
Albert Pujols left St. Louis for Anaheim and was voted the game's No. 1 player.