Justin Verlander gets record deal
Updated:
March 29, 2013, 3:26 PM ET
ESPN.com news services
Justin Verlander and the Detroit Tigers have reached agreement on a new contract that could exceed $202 million, sources told ESPN's Buster Olney.
Verlander's deal, which would make him the highest-paid pitcher in the game, is for seven years and worth $180 million, sources said. A vesting option for an eighth year could push the deal to $202 million.
Justin Cashes In
Justin Verlander's $180 million deal with the Tigers makes him the highest-paid pitcher in baseball history. By average annual value, Verlander's contract exceeds that of every contract given to a pitcher except for Roger Clemens' prorated $28 million deal in 2007.
Largest Pitcher Contracts by Total Value
In MLB History
Pitcher
Value
Years
Justin Verlander
$180M
2013-19
Felix Hernandez
$175M
2013-19
CC Sabathia
$161M
2009-15*
Zack Greinke
$147M
2013-18
Cole Hamels
$144M
2013-18
Johan Santana
$137.5M
2008-13
Matt Cain
$127.5M
2012-17
Barry Zito
$126M
2007-13
* Opted out in 2011
-- ESPN Stats & Information
"I love this city & the fans -- couldn't be more excited to spend my career here! We're going to bring a World Series to Detroit!!!" Verlander tweeted.
In February, Felix Hernandez of the Seattle Mariners signed a seven-year contract worth $175 million, the top deal for a pitcher at the time.
Verlander, who would have been eligible to become a free agent after the 2014 season, had recently said he wouldn't discuss a new contract if a deal didn't get done by the end of spring training.
The right-hander was set to make $20 million over each of the next two seasons. The new deal keeps those salaries and adds $140 million in guaranteed money: $28 million each season from 2015-19. It includes a $22 million option for 2020 that would become guaranteed if he finishes among the top five in 2019 Cy Young voting.
Verlander, 30, has been baseball's most dominant pitcher over the last four seasons, leading the league in innings and strikeouts three times, wins twice and ERA once.
Verlander went 24-5 with a 2.40 ERA and 250 strikeouts in 2011, when he won both the Cy Young Award and MVP, becoming the first starting pitcher to sweep those awards since Boston's Roger Clemens in 1986.
"Justin is one of the premier pitchers in baseball and we are thrilled to keep him in a Tigers uniform for many years to come," Tigers general manager Dave Dombrowski said. "Justin has been a Tiger for his entire career and he is on pace to be one of the greatest pitchers in this illustrious franchise's history."
SportsNation: Verlander's Extension

Justin Verlander just became the highest-paid pitcher in baseball. Is he worth it?
• Cast your votes!
Last season, Verlander went 17-8 with a 2.64 ERA, finishing second in Cy Young voting to David Price of the Tampa Bay Rays. With Verlander as their anchor, the Tigers reached the World Series last season for the second time since 2006.
The Rookie of the Year in 2006 and a five-time All-Star, Verlander is 124-65 with a 3.40 ERA in eight major league seasons with two no-hitters.
With Verlander off the market, the Dodgers' Clayton Kershaw becomes the most attractive pitcher eligible for free agency after the 2014 season. Price is eligible after the 2015 season.
Buster Olney covers Major League Baseball for ESPN The Magazine. Information from The Associated Press was used in this report.
2013 SEASON PREVIEW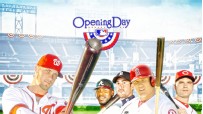 SCHEDULE
Monday, March 25

Bowden: Harper vs. Trout -- who's better?
Schilling: Sizing up Trout and Harper

Tuesday, March 26

Szymborski: Projecting AL standings
Rising Stars profiles: Tyler Skaggs (Crasnick); Jarrod Parker (Kahrl)

Wednesday, March 27

Division capsules: AL Central; NL Central
Szymborski: Projecting NL standings
BBTN: AL Central NL Central
Rising Stars profiles: Salvador Perez and Trevor Rosenthal (Crasnick)
Bowden: Six who impressed this spring

Thursday, March 28

Rising Stars profiles: Andrelton Simmons (Stark); Manny Machado (Kurkjian)
Spratt: Defense could hurt Blue Jays

Friday, March 29

Law: Predicting division winners, awards
Photo gallery: All-MLB preseason team
Szymborski: Best player prop bets

Saturday, March 30

Photo gallery: Milestones to watch in 2013
Bowden: 10 bold predictions for 2013