Predicting Chris Davis' 2013 HR total
Originally Published:
July 19, 2013
ESPN.com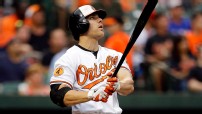 AP Photo/Patrick SemanskyChris Davis has seven more homers than the next closest competitor (Miguel Cabrera with 30).
With 37 home runs at the All-Star break,
Chris Davis
is on pace to finish the 2013 season with 62 home runs, one more than Roger Maris' American League record of 61, set in 1961.
But will the Orioles first baseman continue hitting the ball out of the park at the same torrid rate in the second half? We asked several ESPN analysts and contributors to predict Davis' HR total at the end of the regular season.
ESPN
HRs
WHY?
Aaron Boone
@AaronBoone_ESPN
Baseball Tonight

55

He will continue to homer regularly, just at a little slower pace.
Jim Bowden
@JimBowdenESPNxm
ESPN Insider

54

Teams will start pitching around him and more carefully in the second half, especially in the heat of the pennant race come September.
Jim Caple
@jimcaple
ESPN.com

51

He'll finish with 51; I just don't think he can continue his first-half pace.
Jerry Crasnick
@jcrasnick
ESPN.com

56

He'll give Maris a run, but the heat, fatigue and nonstop attention will eventually take their toll.
Pedro Gomez
@pedrogomezESPN
ESPN

51

His pace will slow as pitchers stop pitching to him.
Doug Glanville
@dougglanville
Baseball Tonight

55

Divisional foes will use first-half experience to have a better plan at keeping the ball in the park.
Eric Karabell
@karabellespn
ESPN Fantasy

54

With his ability to hit for power to all fields, this amazing power display ends up at 54.
Tim Kurkjian
@Kurkjian_ESPN
ESPN

60

Unbelievably strong, and able to crush pitches out of the strike zone.
Barry Larkin
@BLarkin_ESPN
Baseball Tonight

55

He will be pitched carefully down the pennant stretch.
Buster Olney
@Buster_ESPN
ESPN Insider

55

At some point, the relatively diminished production in the spots behind Davis, in the midst of a pennant race, is going to mean he'll get fewer strikes to swing at, and his HR rate will slow.
David Schoenfield
@dschoenfield
ESPN.com

57

That's how many he has hit over his past 162 games, and 20 more seems like a reasonable total as his HR rate on fly balls drops a bit from the first half.
Mark Simon
@msimonespn
ESPN Stats & Info

57

He'll have a good second half, but one lull or minor injury (like blisters on his hands) will keep him from hitting 60.
Jayson Stark
@jaysonst
ESPN.com

53

Hard to say how much his history applies anymore, but over Davis' career, he has had a much lower home run rate in the second half, and we need to keep in mind that no team in baseball has fewer games remaining (66) than the Orioles.
Rick Sutcliffe
@Sut_ESPN
Baseball Tonight

58

I don't think he will see as many good pitches to hit.
EDITORS' PICKS
The BBTN 100 looks at the top 10 catchers.
Rankings »

Bryce Harper will reach his 40-home run power ceiling, Jim Bowden says.
Blog

Questions remind about Jason Heyward's ability with the bat.
Jerry Crasnick »

MOST SENT STORIES ON ESPN.COM