Say this about this weekend's Hall of Fame induction ceremonies: The acceptance speeches should be short.
In a year when the Hall of Fame could have been inducting the all-time home run king and a seven-time Cy Young winner, it will instead welcome former Yankees owner Jacob Ruppert, former umpire/pitcher Hank O'Day and former barehanded catcher Deacon White, all of whom have been deceased since at least 1939.
This is the first year since 1965 that the Hall of Fame won't induct a living person, which is a result of my BBWAA brethren declining to vote for Barry Bonds, Roger Clemens and a number of other players suspected of using performance enhancing drugs. But who won't be inducted is only part of the problem with this year's induction ceremony. The other part of the problem is who will be.
Yes, Ruppert brought Babe Ruth to New York and started the Yankees' dynasty. But he also was an owner, and owners and other executives simply should not be inducted into the Hall of Fame. They come with so much baggage, you couldn't fit it into Mr. Met's batting helmet. The Hall's highest honor should be reserved strictly for the people who go on the field and wear a uniform -- in other words, players and managers. Worse, Ruppert was among that group of major league owners who refused to sign minorities and continued the game's color barrier. Enshrining owners who crushed fans' hearts by uprooting teams (Walter O'Malley) or who financially abused players (Charles Comiskey) is bad enough. But it is indefensible to honor executives who went along with banning players from the league because of their skin color.
I'm not actually opposed to the inductions of O'Day or White, but I don't find them compelling cases, either. White was probably a good player, but we can't really know how good because there is no one alive who saw him play. (White's career ended 123 years ago, in 1890.) The statistics are difficult to gauge as well because the game was played under fundamentally different rules in those days.
For instance, during much of White's career, pitchers had to deliver the ball from below their waist (essentially, they had to throw underhanded) and batters could demand that a pitch be thrown high or low. It was a little like the Home Run Derby, only with less velocity and fewer commercial breaks. I mean, White is remembered for catching bare-handed! How tough could the pitching have been?
Furthermore, O'Day was a mediocre pitcher (73-110 with a 3.74 ERA) who is getting into the Hall largely on his reputation as one of the game's first great umpires. He was the umpire who made the Merkle's Boner call that cost the Giants the 1908 pennant. He also was on the crew of the first World Series and nine others.
That's worth noting somewhere in the Hall, but I don't think umpires should be inducted like the great players are. If umpires supposedly get the call correct 99 percent of the time, that doesn't leave a lot of room for one ump to be so drastically better than the others that he belongs in the Hall of Fame.
Furthermore, fans go to the ballpark to see the players, not the umpire or the executive sitting in the owner's box. The same should hold true for the Hall of Fame. Recognize the work and achievements of these umpires and executives in the Hall's museum, but do not give them a plaque on the wall alongside Ruth, Mays, Aaron and Seaver.
Most importantly, let's put an end to inducting players from eras that had ended before Babe Ruth broke wind for the first time. As colleague Dave Schoenfield pointed out last winter, the pre-1900 era is already disproportionately well represented. Does anyone seriously believe players from the 1800s were as good as players from the modern age? So why do we keep electing more of them when deserving players from the 1970s, '80s and '90s are being kept out?
Enough already. The Hall of Fame has been inducting players for almost 80 years. If a player from the 1800s hasn't made it in by now, he doesn't belong.
Sigh. I just hope my BBWAA brethren vote in Greg Maddux and Tom Glavine next year.
CSI: Box Score
Each week, I provide a fragment from an old box score and challenge you to determine what game it is from and why it's significant. I give this one a difficulty rating of 6. Answer below:
Baseball Card of the Week
There are two things you might notice about this Frank Robinson card (1966 Topps, No. 310). One, Robinson is identified as an Oriole. Two, he is shown wearing the sleeve-less jersey and red under-sleeves of a Cincinnati Reds uniform. That's because this card was printed just after the Reds traded Robinson to the Orioles for Milt Pappas, a deal Annie Savoy references in her opening monologue of "Bull Durham" when she says, "Bad trades are part of baseball."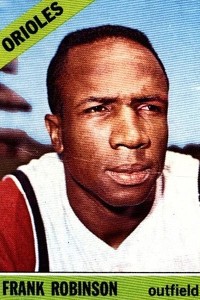 How bad a trade was it? Robinson won the Triple Crown and the MVP that 1966 season while leading the Orioles to their first world championship. He hit .300 over six seasons for Baltimore, averaging 30 home runs, 92 runs, 91 RBIs and a .944 OPS while making the All-Star team five times. Pappas, who was coming off a 13-9, 2.60 season in 1965, went 12-11 with a 4.24 ERA in 1966 and went 30-29 with a 4.04 ERA in two and half seasons for Cincinnati before the Reds traded him.
Let that be a lesson for you general managers and GM-wannabes as we near the trade deadline. Don't make me remind you of Heathcliff Slocumb for Jason Varitek and Derek Lowe.
Box Score Line of the Week
It was a rough week to be an Astros fan. Well, it's often tough being an Astros fan, but last week was especially so.
First, catcher Jason Castro was Houston's lone representative to the All-Star Game and the franchise's first player on an American League team. He spent the entire All-Star Game on the bench last Tuesday. Then, when the season resumed on Friday, center fielder Brandon Barnes hit for the cycle (5 AB, 3 R, 5 H, 2 RBI, 1 2B, 1 3B, 1 HR), yet the Astros still lost to the Mariners.
The next night, Astros pitcher Erik (Iron Man) Bedard started the game, struck out 10 batters and didn't allow a hit, yet still lost. Thanks to five walks and two passed balls, Bedard allowed three runs in a 4-2 defeat for this line, which just might hold up as the line of the season:
6 1/3 IP, 0 H, 3 R, 1 ER, 5 BB, 10 K
The Mariners somehow won the game 4-2 despite striking out 15 times with only one hit, producing this bizarre final Runs/Hits/Errors total at the end of their linescore: 4 R, 1 H, 0 E.
Oh, and the Astros also lost six games in a row to take over the dubious distinction of having the worst record in the majors.
Yeah, Well, That's Like, That's Just Your Opinion, Man
Then Again, He Has A Better Chance Of Being Interviewed On Oprah Now. The two lessons in the Ryan Braun affair are simple. When you're caught breaking a rule, just admit it and ask for forgiveness. And for goodness sake, don't do it again. Instead, Braun lied and lied some more, and then continued doping. He got what he deserved.
An Ump To Cheer. Congratulations to Tripp Gibson, who recently umpired at the major league level for the first time. I first met Gibson two years ago when I attended the Harry Wendelstedt Umpire School and he was the instructor who patiently showed me the fundamentals and also demonstrated just how hard the job is. While I wrote above that I don't believe umpires should be in the Hall of Fame, I hope he goes on to have a long, Hall of Fame-caliber career.
CSI: Box Score Answer
Did you spot the two significant clues in this fragment? Those were the name Piazza and his appearance as a pinch-hitter in the Florida lineup. This was the first game Mike Piazza played for the Marlins after they followed up their 1997 World Series championship with the infamous May 1998 salary dump, trading Gary Sheffield, Bobby Bonilla, Charles Johnson and Jim Eisenreich to the Dodgers for Piazza and Todd Zeile. Not that Piazza lasted long with the Marlins. He played all of five games for Florida before the Marlins traded him to the Mets for Geoff Goetz, Ed Yarnall and Preston Wilson.