You enjoy your job. You're well paid. You like your co-workers, some of whom you've known since your college years. You really like the city you're living in -- beautiful scenery, lots to do, comfortable home, good schools. Bad traffic, of course, but that's true just about everywhere. Overall, you're happy where you are.
Then the boss calls you into the office. Closes the door behind you. Tells you to sit down. There is some news, the boss tells you. The company has decided you no longer fit into its plans. We're bringing in a new employee to replace you. You still have a job, though. It's just with a different company. In another city. Cleveland.
And you need to be there ASAP. Tonight, if possible. Certainly by tomorrow. And don't worry. The custodian has already cleaned out your desk.
This is the side of the trade deadline we rarely consider. The human side. This isn't rotisserie baseball. This is real life. When players are traded, they change more than their uniforms.
"It's tough to move on and know you're not going to be rubbing elbows with those guys you've created friendships with," said Mariners shortstop Brendan Ryan, who was traded from St. Louis to Seattle three winters ago. "That's one part of it. Another part of it is you might have a family, kids. The kids might be in school. Stuff like that. It's not anything profound, but to be traded in season is far more difficult than something like where I was traded in December. Man, some of those trades, you have to be there the next day, playing. Staying in a hotel, trying to find a place to live. The world is probably upside down for a minute.
"It's a crazy thing. I don't think it's ever easy or seamless. There are small to huge hurdles to get over."
Because of firings and layoffs, many of us might be able to appreciate what it's like for a player who gets released. ("Son, this is the hardest thing a manager has to do.") But few of us can fully understand what it's like to be working for an employer and living in a city one day and then suddenly be told to move across the country and work for another company the next day.
"There are a lot of things that go on quickly," said Steve Delabar, who was traded from the Mariners to the Blue Jays last July. "You've got to pack up your place, and it's on the drop of the hat. You've got to move. You've got to arrange for all your stuff to be shipped back home or go with you. You've got to move your family. You've got all kinds of stuff as far as off the field. On the field, it's easy. You just move from one clubhouse to another. It's all the off-the-field stuff that's harder."
It can be difficult, but Delabar said it also can be exciting.
"Growing up and watching baseball, I was always a fan of the trade deadline," he said. "You see guys go from one place to another and change uniforms, and now one team improves. I loved every bit of it. When it happened to me, I was excited. Hey, I'm one of those chips that get moved. And it's pretty cool to be a part of it. I might not have been part of the Mariners' plans, but I've moved on and now I'm part of the plans for a new team."
Making it easier in some cases is that players often don't live year-round in the city that is home to the team for which they play. Count spring training and road trips and they might spend less than three months out of the year there. And, of course, the money helps a lot, too.
But when they have made a home in a city, when they own property there that they will now have to sell, it is more challenging, even with the money.
"If it's a one-year deal you signed in the offseason and you're traded, it's a little easier to move on. But if you've been with a team eight or nine years, I think that's when it gets really difficult," Ryan said. "That's when you see guys get emotional. ... [They've had] a chance to relate to fans, to have a relationship with however many people.
"It's kind of like a breakup."
Except in the case of a deadline trade, you're almost always the one getting dumped.
"You try to focus more on the new place and the team that's welcoming you with open arms," Ryan said. "I think you can use that other half-empty side as motivation. 'OK, I will show you what you missed. I'll show you what you let go.'"
Just make sure they cover the moving expenses.
CSI: Box Score
Each week, I provide a fragment from an old box score and challenge you to determine what game it is from and why it's significant. I give this one a difficulty rating of 5. Answer below:
Baseball Card of the Week
Returning to our trip through the time machine that is the 1988 Topps baseball card set, here's a card (1988 Topps, No. 492) sure to provoke mixed feelings among Tigers fans. Acquired in an August 1987 deal, 37-year-old Doyle Alexander went 9-0 with a 1.53 ERA down the stretch and led Detroit to the American League East title. But the Tigers lost to the Twins in the AL Championship Series and didn't return to the postseason for two decades. And after the 1988 season, they let Alexander go.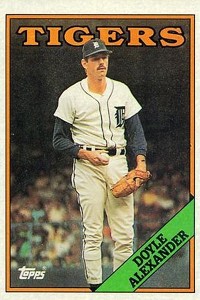 Meanwhile, the player Detroit gave up in that trade, 20-year-old Michigan native John Smoltz, went on to win 213 games, save 154 and anchor the great staff that led Atlanta to five World Series and 14 postseasons before the Tigers made it back to the playoffs.
Just another reminder of the hazards of deadline/August trades.
Box Score Line of the Week
Thanks to a three-error inning Sunday in Detroit, Philadelphia pitchers Jacob Diekman (1/3 IP, 1 H, 4 R, 0 ER, 1 BB, 0 K) and Luis Garcia (0 IP, 1 H, 4 R, 0 ER, 2 BB, 0 K) each put up some head-shaking lines. Arizona's Randall Delgado had a better line Friday when he threw a three-hit shutout (9 IP, 3 H, 0 R, 0 ER, 1 BB, 3 K) and went 2-for-3 (3 AB, 1 R, 2 H, 0 RBIs) to lift his batting average to .308.
But this week's award goes to San Francisco cleanup hitter Hunter Pence, who went 5-for-5 last Wednesday but, as is so often the case with a Giants player this season, did not score a run. His line:
5 AB, 0 R, 5 H, 1 RBI
As ESPN research whiz Doug Kern pointed out, of the 13 players with five-hit games this season, Pence is the only one to not score a run. (Chipper Jones was the only player to pull it off last year.) Which isn't that surprising given that San Francisco is 25th in scoring. After winning the World Series twice in the past three years, San Francisco is in last place, 12 games under .500 and 10 games back. Baseball can be a cruel mistress.
Yeah, Well, That's Like, That's Just Your Opinion, Man
Then Again, Maybe A Pennant Race Would Make Life Even More Stressful. While the East Coast media was focused (as usual) on A-Rod and the Yankees, Seattle manager Eric Wedge suffered what was diagnosed as a mild stroke last week. He isn't expected to return to the dugout until next week's homestand. Whether the stroke was related to stress is unclear, but managing is definitely a stressful job, particularly when the team is losing. Asked how he's learned to deal with the stress, Minnesota manager Ron Gardenhire joked, "Drink more beer.
"You try to do the best you can with it," Gardenhire said. "The job is what it is. It has some tense moments, and you're going to have deal with a lot of stuff. It's never easy, just like any other job. There are a lot more stressful jobs. You try to put it into perspective. It's a baseball game. You try to help the guys out there and do the best you can, but you don't want to make yourself sick doing this. You don't sleep well at night. That's just part of the job. ... You try to get away from it and clear your mind, but you never really do. Win, lose or draw, you're always thinking of the next day, the next game and how you will play it out. It's just the way it is. It's part of life. You play it out during the summer, and during the winter, you try to relax as much as you can."
Best wishes to Wedge for a speedy recovery, and may the Mariners give him good reason to relax and feel good the rest of the season.
"I'm Asking You Nicely. Pretty Please, If It's Not Too Much Trouble, Don't Strike Out Here With The Bases Loaded Again." I must be missing something from the Tino Martinez story, because I'm not sure what he did that was so wrong it warranted his resignation as the Marlins' batting coach. Yelling and swearing at your players? Grabbing a jersey? Since when is that grounds for termination? Are millennial players so sensitive that you can't raise your voice to them or holler a profanity? Or perhaps the Marlins were simply fed up with having the worst offense in the majors and were looking for an excuse to hire a new hitting coach.
Sigh. I Guess There's Always A Possible Book To Write On Tim Lincecum's Junior Season At Washington. When I got a copy of Daniel James Brown's "The Boys in the Boat," about the University of Washington crew team that won the gold medal at the 1936 Berlin Olympics, my reaction was, "Why didn't I write this book?!" I'm a UW alumnus, I cover the Olympics, I've long been intrigued by the Berlin Games, and I have had an interest in that crew team ever since my father pointed them out the day he took me to a Huskies homecoming game when I was in high school. But after devouring the book, I must say that I'm glad Brown wrote it because he did such a superb job. If you want some relief from the unending scandals, obscene money and constant hype in modern-day athletics, step into the pages of this highly recommended time machine. Whether you're interested in crew, the Olympics, history, the Depression era or just want a respite from all things A-Rod, this is the book for your summer reading list. (I've already given it as a gift, twice.)
CSI: Box Score Answer
It's been a disappointing season for Giants fans, but here was a little fragment they might have enjoyed. The only clue they (or you) really needed was the line: Mays cf-ss-cf 10 1 1 1.
Yes, that was Willie Mays playing shortstop! He did so for three innings (without a ball hit to him) because the Giants were desperate while playing a 23-inning game that was the nightcap of a May 31, 1964, doubleheader. That second game took 7 hours, 31 minutes to complete, while the entire doubleheader took just shy of 10 hours (9:52). It remains the longest doubleheader played by innings. (There have been longer twin bills when you add in rain delays.)
And Mays played all 32 innings.