A-Rod & HOF: How ESPN would vote
Originally Published:
August 7, 2013
ESPN.com
Will Alex Rodriguez get enough votes to get elected into the Hall of Fame? Some of ESPN's Hall of Fame voters weigh in with their votes.
ESPN
VOTE
REASON
Jim Caple
@jimcaple
ESPN.com
YES
Although I would want his plaque to say he took PEDs.
Jerry Crasnick
@jcrasnick
ESPN.com
NO
There's just too much stuff swirling around him and too many nagging questions to be answered.
Pedro Gomez
@pedrogomezESPN
ESPN
NO
I am on record as not voting for anyone I believe is connected to PEDs.
Dan Graziano
@DanGrazianoESPN
ESPN.com
NO
I am a definite "no." I have chosen to err on the side of caution on the steroids issue -- i.e., I'd rather keep innocent guys out or make them wait for it than risk putting a guilty guy in. So for me, Rodriguez is already well above where I've set my suspicion bar. Heck, he's admitted to cheating, right?
Michael Knisley
@michaelknisley
ESPN.com
NO
It's sad, and I don't do it lightly. But I'd stay consistent with my earlier ballots, withholding votes for players (Mark McGwire, Barry Bonds, Roger Clemens, etc.) when evidence or admissions indicates their Hall of Fame-worthy careers weren't fashioned fairly.
Wally Matthews
@ESPNNYYankees
ESPNNewYork.com
NO
He will not get my vote for the same reason Bonds, Clemens, McGwire and Sammy Sosa didn't -- to me, steroids use violates the "character, integrity and sportsmanship" section of the stipulated Hall of Fame election criteria.
Ian O'Connor
@Ian_OConnor
ESPNNewYork.com
NO
Although I was once leaning heavily toward voting for A-Rod despite his earlier admissions, Biogenesis changed everything, as I now believe his entire career was chemically enhanced.
Peter Pascarelli
@BIG_PP
ESPN
YES
This holier-than-thou attitude from some writers who think they're keepers of the game is getting old; we'll never know for sure who took what and when or how much it helped or hurt.
Brendan Roberts
ESPN Fantasy
YES
I won't condemn players for alleged (or admitted) steroids use, and I feel A-Rod was clearly a HOF-caliber player with or without the PEDs.
Adam Rubin
@AdamRubinESPN
ESPNNewYork.com
NO
Not anytime early in his eligibility, anyway. Cannot reward suspected frauds.
Mark Saxon
@markasaxon
ESPNLosAngeles.com
YES
I voted for Bonds, and their cases -- clear-cut HOF trajectories before most people suspect they started using -- are essentially the same.
Claire Smith
@MzCSmith
ESPN
NO
Although I voted for Bonds and Clemens, I differentiate here because I don't think Rodriguez was a Hall of Famer before he started cheating.
Barry Stanton
@espnnewsguy
ESPN
NO
I have not voted for McGwire, Bonds, Clemens, Sosa, Rafael Palmeiro and other recognized PED users, and A-Rod has admitted his PED use.
Jayson Stark
@jaysonst
ESPN.com
YES
A very tentative "yes," but just because I think the only solution to our Hall of Fame PED dilemma is some form of honesty on the plaques, where we vote for the best players but spell out exactly what we know about what they did. But he could lose so many character-and-integrity points between now and when we vote, so please don't hold me to that.
BIOGENESIS SUSPENSIONS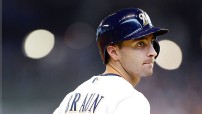 Ryan Braun released his statement apologizing for and admitting to using PEDs.