Now that Labor Day has come and gone, students are back in school studying their textbooks while baseball fans are back in DEFCON 1 anxiety mode studying the coolstandings.com percentages to determine whether their favorite team will make the postseason.
If your team faces astronomical odds, don't lose all hope. Clubs routinely surmount Coolstandings' insurmountable odds to reach the postseason -- the Rockies in 2007, the Twins in 2009, the Cardinals and Rays in 2011, etc. Your team could be the one that does so this September. Unless, of course, you root for the Mariners.
But as compulsively fun (and occasionally exaggerated) as the Coolstandings odds can be, their crystal ball still fails to address some of the most intriguing possibilities for the season's final month. Fortunately, offbasestandings.com provides those odds below:
97.6 percent: Odds that Stephen Strasburg will throw the exact same number of pitches this October as he did last October.
84.3 percent: Odds that those two clowns who were arrested for trying to steal ivy from Wrigley Field will plead not guilty and say they were just trying to rescue Andre Dawson.
37.5 percent: Odds that Tampa Bay manager Joe Maddon will release a Tasmanian devil into the Rays' clubhouse to motivate his team before its Sept. 24 game against the Yankees and that the animal will escape, race into the New York clubhouse and attach itself to the throat of Alex Rodriguez.
97.4 percent: Odds that when it comes to attacking A-Rod, the animal still will not be nearly as rabid, ferocious and bloodthirsty as the national media.
55.2 percent: Odds that the majority of Pittsburgh residents driving past PNC Park in October will wonder why the stadium's lights are on.
82.3 percent: Odds that the majority of Bronx residents driving past Yankee Stadium in October will wonder why the ballpark's lights are not on.
82.7 percent: Odds that the payment that fans sent in for Orioles postseason tickets will wind up being applied to next year's season tickets.
88.3 percent: Odds that even if Max Scherzer finishes with a 22-2 record, a top-five ERA, 220-plus innings and a league-leading WHIP, stats-crazed bloggers will complain about BBWAA writers voting for him for the Cy Young. (The same percentage holds if Miguel Cabrera wins the Triple Crown again.)
25 percent: Odds that Yasiel Puig will show up on time for the national anthem before Game 1 of the World Series.
18.5 percent: Odds that manager Don Mattingly will bench Puig before "God Bless America."
63.6 percent: Odds that Puig will nonetheless make the key difference in the Dodgers' winning the game.
23.1 percent: Odds that Billy Beane will need to use Kickstarter to pay the Athletics' postseason shares.
71.3 percent: Odds that Atlanta fans will kick in their TV screens in October and then go to their bedrooms, close the door, lie on their beds and cry themselves to sleep.
92.5 percent: Odds that those Atlanta fans won't be able to get their TV screens repaired until after America's supply of repairmen have finished fixing Boston's kicked-in televisions.
91.4 percent: Odds that Tampa Bay will draw a Tropicana Field capacity crowd of 34,078 fans sometime during the playoffs. Unfortunately, that will be the combined attendance for all Rays home postseason games (even if they reach the World Series).
99.9 percent: Odds that the Astros will receive the first pick in the draft for the third consecutive year.
85 percent: Odds that their third consecutive first pick in the draft won't make any difference, either.
11.8 percent: Odds that the Mariners will actually score a run for Felix Hernandez when he is on the mound this month.
50 percent: Odds that St. Louis fans, after watching their team blow a 3-1 lead in last year's NLCS, will all bring squirrels to this year's postseason games.
100 percent: Odds that, once again, ratings for "Hockey Night in Canada" will be higher than for the World Series among Toronto viewers.
CSI: Box Score
Each week, I provide a fragment from an old box score and challenge you to determine what game it is from and why it's significant. I give this one a difficulty rating of 5. Answer below:
Baseball Card of the Week
If he used bats like the one he's holding in this card (1983 Fleer, No. 263), it's no wonder Duane Kuiper only hit one home run in 3,379 career at-bats.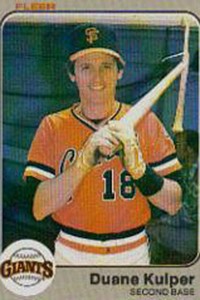 Box Score Line of the Week
Danny "Lord" Farquhar balked home the winning run on Tuesday (it was the first balk this year by a Seattle pitcher), while King Felix probably knocked himself out of the Cy Young race by allowing nine runs in three innings Aug. 28 (3 IP, 11 H, 9 R, 8 ER, 1 BB, 2 K). But Seattle fans did have something to cheer last week when much-hyped Mariners rookie Taijuan Walker made his major league debut on Friday and didn't allow an earned run. Prince Taijuan's award-winning line:
5 IP, 2 H, 1 R, 0 ER, 1 BB, 2 K
What really makes that debut interesting is that Walker is 21 and Seattle catcher Henry Blanco is 42, a difference of 21 years. According to the Elias Sports Bureau, the last catcher in major league history who was that much older than his pitcher was Carlton Fisk, who was almost 22 years older than Alex Fernandez when he caught him from 1990 to 1993.
It's not quite so rare to have a pitcher that much older than a catcher. Jamie Moyer was 27 years older than Wilin Rosario last season.
Yeah, Well, That's Like, That's Just Your Opinion, Man
Not Even Gaylord Perry Could Grease The IOC Palms Adequately Enough To Rescue Baseball On This Vote. The International Olympic Committee votes this coming week on whether baseball (in a joint bid with softball) will return as an Olympic sport. The two other sports under consideration are wrestling and squash. (Yes, squash!) Now, there is no question baseball belongs in the Olympics. The sport is played around the world; in addition to North America, there are major leaguers from Brazil, Venezuela, Cuba, the Dominican Republic, Australia, Japan, Taiwan, Korea, Italy, Germany and the Netherlands this season. Baseball isn't able to guarantee major leaguers in the Olympics, but soccer doesn't send its best players to the Games, either -- there is an age limit of 23 for Olympic soccer players -- so that should not be a strike against it. Still, sadly, baseball's chances of being reinstated probably were dashed when the IOC shockingly dropped wrestling this past February and therefore made that sport a competitive rival with baseball for reinstatement. Wrestling is so old a sport that it is mentioned in the Bible and was part of the ancient Olympic Games. And it is more universal a sport than baseball. As much as I love and support baseball, wrestling MUST be in the Olympics.
Of Course, This Will Not Happen Until Prince Fielder Flies. After I blogged last week over a scoring decision that changed three unearned runs into earned runs for Felix Hernandez, colleague David Schoenfield commented that baseball should no longer keep track of earned run average, just run average. He makes a good argument. When ERA started, teams made several errors per game and hundreds per season. Thus, whether runs were the result of errors or not made a big difference. With vastly improved field surfaces and gloves, improved players and a growing reluctance for scorers to charge anyone with an error, many teams are averaging less than one error every two games. The difference between ERA and RA just wouldn't be that significant.
CSI: Box Score Answer
Only two clues were needed to figure out this fragment. The first is the name Hershiser sprinkled throughout (a complete-game win, an error, a double and a sacrifice bunt). The second are the four zeroes at the end of Montreal's inning-by-inning line score. Put them together and you should have guessed this was the game in which Orel Hershiser began his record 59-inning scoreless streak 25 years ago this past weekend (Aug. 30).
Hershiser would go on to throw five consecutive shutouts in September before heading into his final start nine innings short of Don Drysdale's record. He needed to throw a shutout to tie the record. To break it, he needed to throw nine scoreless innings and have the Dodgers also fail to score so that he could pitch a scoreless 10th inning. The chances of such a thing happening were astronomical; yet, because this is baseball, that's exactly what happened. The game was tied 0-0 after nine innings, and Hershiser threw his 59th consecutive scoreless inning in the 10th to break the record before taking a well-deserved seat in a game the NL West champion Dodgers eventually lost 2-1 in 16 innings. Here's our Mark Simon's fascinating breakdown of the streak.