NFC teams play AFC teams in December. The NBA's Eastern Conference teams play Western Conference teams in April. So it's no big deal for American League teams to play National League teams in September, right?
Wrong. It is a big deal.
AFC teams do not play without a tight end in NFC stadiums. NFC teams do not play with an extra running back at AFC stadiums. Eastern teams do not play without a 3-point line in Western arenas. Western teams do not play with a sixth man in Eastern arenas.
And yet, this September, with their season on the line, some American League contenders are playing games without a designated hitter. Likewise, some National League contenders are playing games with a DH.
Thanks to this season's new 15-team leagues, interleague games are virtually required every night of every month. So the Pirates played three games in Texas this week, the Cardinals host the Mariners this weekend and the Reds travel to Houston next week. The Yankees host the Giants next weekend, the Red Sox play in Colorado right after that and the Tigers play in Miami on the final weekend of the season.
Yes, I know. Ever since baseball went to interleague play in 1997, all teams have played a percentage of games under differing rules regarding the DH. And yes, games played in May, June or July (when all interleague games were previously played) count just as much in the standings as games played in September.
But I also know that as the season and magic numbers wind down, there is more riding on each game. Every victory and every loss feels more important down the stretch. With a dwindling number of games and your season on the line, you shouldn't have the additional challenge of playing a series under different rules.
"It's just an uncomfortable game when you're an American League team playing under National League rules," said Tampa Bay manager Joe Maddon, whose Rays do not play an interleague game this month. "When you're used to your nine hitters, it's awkward. That said, I still really like the National League game as an American League team and manager. But I always believe the National League teams have an advantage when they play an American League team in a National League ballpark, just because of the rules and the way it sets up and the pitchers have to hit.
"The game is so different and there is so much more to think about in a National League game than an American League game. I believe that it is slightly uncomfortable when you're not used to it."
Maddon is right that AL teams are at more of a disadvantage because they lose a regular player from their lineup. But National League teams have their own challenges under American League rules. Their teams are built for playing without a DH, not with one.
It could be much worse this month. The two AL teams traveling to NL parks -- Boston and Detroit -- already pretty much have their playoff spots wrapped up, though it's not out of the question that the Tigers could play a division-deciding final series under NL rules in Miami. But it's different in the NL Central, where three teams are still battling for the division title and two of them must play in AL ballparks (though one of them is home to the woeful Astros). And that's this year. What about next?
Is there a way to quantify how much difference the interleague schedule makes late in a pennant race? Probably not. But we shouldn't even have to ponder the question.
There are really only three solutions, and none of them is likely to be put in place. One, you could get rid of the DH in the American League or add it to the National League, but there would be plenty of resistance to that. The second is to put 14 teams back in one league and 16 in the other so daily interleague play isn't necessary, but that would involve a return to the undesirable problem of having one division with six teams and one division with just four.
The third and best solution is to expand to 32 teams, with 16 in each league. As I've suggested before, Montreal richly deserves an expansion team, and a team in Brooklyn would reduce the financial advantage the Yankees enjoy. (The Mets don't really enjoy their financial advantage; they just repeatedly squander it.)
Of course, the New York teams will never allow that to happen. So all we can really do is cross our fingers, hope for the best and brace ourselves for the inevitable (and justified) volume of complaining. Especially if a key AL pitcher on a likely postseason team gets hurt while batting in the next two and a half weeks.
Actually, there is one other possibility: Baseball could make sure all the September interleague games are between teams without playoff hopes. Unfortunately, it looks like the Pirates and Royals are going to make that more difficult in years to come by reducing the number of certain noncontenders. After all, you can't schedule the Mariners against the Cubs and the Marlins versus the Astros for the entire month of September.
CSI: Box Score
Each week, I provide a fragment from an old box score and challenge you to determine what game it is from and why it's significant. I give this one a difficulty rating of 8. Answer below:
Baseball Card of the Week
Returning to the time capsule that is the 1988 Topps baseball card set …
Yes, younger Pirates fans. Sid Bream (1988 Topps No. 478) once helped the Pirates win games. For a good article on the Pirates' first winning season since Bream crushed their dreams in 1992 -- as well as why Pittsburgh fans should not hold that against Sid -- check out Lee Jenkins' wonderful piece in last week's issue of Sports Illustrated.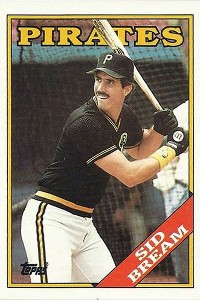 BTW: The last time the Pirates had a winning season, George Herbert Walker Bush was president, the Dow Jones industrial average was around 3,400, Lou Gehrig held the record for most consecutive games played, Roger Maris held the record for most home runs in a season, the Twins were the defending world champs, the Yankees and Red Sox both had losing records (ahhh, the good old days), Barry Bonds wore a Pirates cap (and it was smaller than Mr. Met's cap), A-Rod was in high school and clean (well, maybe he was clean) and Billy Ray Cyrus – rather than his daughter -- had the year's big hit. Now, keep winning, Pittsburgh, and go Stargell-deep into October.
Box Score Line of the Week
San Francisco's Yusmeiro Petit came within one out of a perfect game on Friday (9 IP, 1 H, 0 R, 0 ER, 0 BB, 7 K) while James "Big box score line" Shields came many outs short of perfection when he allowed 14 hits and 10 runs (3 2/3 IP, 14 H, 10 R, 10 ER, 2 BB, 6 K).
Miami rookie sensation Jose Fernandez had more hits at the plate (2) than he allowed on the mound (1) in his start on Friday (7 IP, 1 H, 0 R, 0 ER, 2 BB, 9 K), and that game wasn't an aberration. Fernandez has a higher batting average this year (.191) than opponents have against him (.181). He pitches – and hits -- in what likely will be his final game of the season Wednesday night against the Braves.
But this week's award goes to Cleveland for this line in its box score from Monday night's victory over the Royals:
A: 9,794
Cleveland is enjoying what likely will be its first winning season in six years. It is in the thick of the wild card race. And yet the team has drawn fewer than 10,000 fans twice this homestand while averaging less than 14,000 fans per game.
By no means am I criticizing Cleveland fans who regularly filled the ballpark from 1994-2001 before ownership gutted the club. But this is just another bit of evidence that adding the second wild card has failed to deliver either of its intended results: more exciting September races and increased attendance.
Get rid of the second wild card, Bud!
Yeah, Well, That's Like, That's Just Your Opinion, Man
Well, At Least We Won't Have To Watch Squash. As expected, the IOC voted wrestling back into the Summer Olympics over the weekend, while baseball and softball's joint bid fell a distant second and squash finished third in the three-sport battle. "I'm devastated," softball star Jennie Finch said. "I'm broken-hearted. But at the same time, we need to keep moving forward and supporting it and growing our game and fighting the fight. … I'm happy for wrestling to be back, and huge congratulations for them being back where they belong. And I'm hoping we'll be back where we belong as well. I think there is room for both." Finch is right. There is plenty of room for both -- especially if the IOC gets rid of some elite sports that very few care, about such as sailing, the modern pentathlon and others. And granting the 2020 Olympics to Tokyo gives Finch some reason to hope. There are some rumblings that because the IOC did not really add a sport with this vote (wrestling was only dropped seven months ago), it might review its sports roster again in February. Baseball and softball are both popular in Japan -- baseball is Japan's favorite sport and softball has a professional league there -- so Tokyo wouldn't need to build any new facilities for either. "We'll keep our hopes up and keep working hard," Finch said. Cross fingers, everybody.
Maybe Baseball Ratings Would Improve If More Pitchers Drilled A-Rod. After watching the opening week of the NFL season, I've decided the key to baseball improving its national TV ratings -- local ratings are fine as long as the local team is decent -- is to (A) shamelessly show scandalously-dressed young women waving pom-poms, (B) let the ballplayers bash each other in the head until their brains are rattled for life, (C) show a Transformer-like mascot on the screen between plays to give the impression that the athletes are not really human and therefore are not actually being injured and (D) take frequent commercial breaks that extend the game to three hours and longer. Maybe baseball has already done that last bit. Oh well. The big keys are sex and violence. Or violence and sex.
CSI: Box Score Answer
There were a couple clues as well as a slight misdirection in this one. The St. Louis-Detroit matchup might have suggested this was a World Series game. It was not. This was a game between the Tigers and the St. Louis Browns, not the Cardinals. And the line "HR-Greenberg (13)," plus Detroit's four-run ninth inning, might have given you enough information to determine this was the Sept. 30, 1945, season-ending game in which Hank Greenberg hit a grand slam to clinch the American League pennant for the Tigers.
Why so few home runs for Greenberg that season? (He hit 331 over his 13-year career.) Well, he didn't play until July that year (homering in his first game back) after missing the previous three-plus seasons while serving in the military. Drafted into the Army in the spring of 1941, he was among the first major leaguers called into service as the country prepared for World War II.
By the way, the "Gray" in the Browns' lineup was Pete Gray, the one-armed outfielder who played 77 games that final year of the war when baseball needed whomever it could get to fill out its rosters. He batted .218.