For just the second time in two decades, the Yankees won't be in the postseason. This poses a considerable challenge. Who will fans root against this October?
The bigger question for fans without a local team in the postseason mix, however, is who they should root for this month. That's where the Off Base Rootability Index comes in. To pick the team most deserving of your support, the Rootability Index accounts for such criteria as length of championship drought, recent frustration, budget challenges, injuries and other obstacles overcome, player talent and overall likeability.
Don't worry, it isn't quite as involved as WAR, and it's at least as accurate.
ST. LOUIS
Pros: The Cardinals are like the Yankees when it comes to winning, like the Athletics when it comes to shrewd personnel/budget moves and like, well, the Cardinals when it comes to fan loyalty. Despite playing in one of baseball's smallest markets, the Cardinals are as regular an October television feature as Charlie Brown getting a rock in his trick or treat bag. You can't even dislike these guys for buying up expensive free agents -- good grief, they drafted rookie Michael Wacha with the compensatory pick they got for letting Albert Pujols sign with the Angels for $250 million. (Cubs fans, however, may disagree about all of this.)
Cons: Whether the Cardinals go about it the right way or not, they're a little spoiled in the October department. It would be nice if the NLCS and World Series wealth was distributed more equally, like rally squirrel roadkill on a highway shoulder.
Rootability Quotient: 45.8
BOSTON
Pros: Talk about Boston Strong. Despite their infamous 2011 collapse and their 93-loss, last-place finish in 2012, the Red Sox had the league's best record this year and are poised to go so deep into October that some of their players could trip over their beards, which by then should be challenging Rip Van Winkle for sheer length. Manager John Farrell has produced such a beautiful worst-to-first turnaround that fans have forgotten about Bobby V (well, almost). And with Clay Buchholz healthy again, you can already feel the goose bumps swelling in anticipation of Big Papi coming to bat with the game on the line.
Cons: Red Sox fans, who went from long-suffering to just insufferable after the 2004 and 2007 World Series, will become even more intolerable if a great postseason prompts them to emulate their players in facial hair.
Rootability Quotient: 47
ATLANTA
Pros: Sure, Atlanta fans got spoiled during the '90s when their team was so regularly reaching the postseason and advancing to the World Series that they needed Tommy John surgery from doing the Tomahawk Chop so often. But since the turn of the century, they've watched their team fall in late September and early October as predictably as autumn leaves, only much faster. Despite injuries to Tim Hudson, Brandon Beachy and Jason Heyward (who, at least, was able to come back), Atlanta spent every day but one atop the NL East. The Braves have one of the most exciting young players in the game (Andrelton Simmons), an MVP candidate (Freddie Freeman) and at least one Upton brother who occasionally contributes. Let's just hope there are no "infield" flies this October.
Cons: Please, don't make us sit through the Tomahawk Chop anymore.
Rootability Quotient: 58.3
LOS ANGELES
Pros: The Dodgers haven't reached the World Series in a quarter-century, when Kirk Gibson hobbled to the plate and slammed his dramatic home run after having been shot in his hotel room by a mysterious woman dressed in black. And this year's team, which was in last place, 12 games under .500 and 9 ½ games back in late June, might have an even more amazing cast and storyline. Clayton Kershaw, Zack Greinke and rookie Hyun-Jin Ryu represent the most talent on the Dodger Stadium mound since Orel Hershiser stood there by his lonesome during the stretch in 1988. Dynamic rookie Yasiel Puig could bring the Dodgers another victory with a Gibson-like shot over the fences -- or cost them a game by getting doubled up on a fly out.
Cons: Despite all that, the Dodgers are still overpriced with a $220 million payroll.
Rootability Quotient: 65
CLEVELAND
Pros: The last time a manager turned around a Cleveland team like Terry Francona did this season, he was selling white walls in the offseason. Scott Kazmir's season might mark pitching's biggest reclamation project since Rick Vaughn. Cleveland had such a fantastic September finish (21-6), that there can't be any stickers left covering up that nude poster of owner Rachel Phelps. And I promise, those are the last tired references I'll make to "Major League" because Cleveland's story this season was much more entertaining than the movie. Heck, any director would have cut Jason Giambi's game-winning home run last week as too over-the-top unbelievable.
Cons: Would the team even be here were it not for such an easy schedule down the stretch that the opposing teams must have been bussed in from Williamsport? Plus, there is always Chief Wahoo.
Rootability Quotient: 73.6
Update: They lost in the wild card game. Like a rubber ball, you'll have to go bouncing now to one of these other teams still playing.
TAMPA BAY
Pros: The cash-strapped Rays keep winning even though general manager Andrew Friedman is forced to cover payroll by holding up a cardboard sign outside the stadium that reads: "Please give! Anything will help." Even so, the Rays keep producing amazing talent, from 2012 Cy Young and Game 163 winner David Price to Evan Longoria, who is so clutch in possible season-enders that he should have 'Savoy Special' burned into the barrel of his bat. And if the Rays don't develop the players, they trade for them (rookie of the year candidate Wil Myers). But forget the games: I can't wait to see what creative trip themes manager Joe Maddon comes up with. If the Rays play Oakland in the ALCS, will he have the players dress like Roto-Rooter workers? Hey, a World Series appearance might even sell out the stadium. Well, as long as the Rays cover up enough sections of seats with tarp.
Cons: If the Rays win the World Series, that 20-foot python Maddon once brought to the clubhouse could get loose during the celebration and wrap itself around the commissioner. (Not that Montreal fans would necessarily view that as a bad thing.)
Rootability Quotient: 75.9
DETROIT
Pros: The Tigers are such a good story that not even Torii Hunter, the best quote in baseball, could adequately describe it. They have a deep rotation that includes this year's probable Cy Young winner (Max Scherzer) and 2011's Cy Young winner (Justin Verlander). They have a powerful lineup that includes a king (last year's Triple Crown winner Miguel Cabrera) and a Prince (Fielder). They also represent a city that has endured absolute hell the past quarter-century -- and I'm not even counting Jim Joyce's blown call.
Cons: If Jhonny Peralta is on the Tigers roster after his 50-game PED suspension, it could create an even thicker, uglier haze of postseason pollution than Jim Leyland could produce with a carton of cigarettes.
Rootability Quotient: 80.2
OAKLAND
Pros: Oakland's payroll is so low the plumbers who repaired the Coliseum's backed-up toilets might have earned more money for that job than third baseman and MVP candidate Josh Donaldson, who made just $2,500 more than the big league minimum this season. And yet the Athletics won the AL West for the second consecutive year, with the league's second-lowest ERA, its third-highest run total and the best coaching staff money can't buy. (If money could, Billy Beane couldn't have afforded it.) The Athletics' success is so unbelievable that if Michael Lewis wrote a sequel to "Moneyball," his publisher would probably consider it a work of fiction. How can you not embrace this team? The A's even have an infielder who wears eyeglasses (Eric Sogard)!
Cons: A deep postseason run would produce lots of sewage jokes floating around the Internet. Even worse, lots of sewage floating around the clubhouse.
Rootability Quotient: 88
PITTSBURGH
Pros: Pirates fans know intense pain -- Sid Bream slid across home plate and then directly into their gut. They know frustration -- the front office chose to keep Andy Van Slyke but let Barry Bonds go. And they know long, long, long stretches of misery -- 20 consecutive losing seasons -- and failed prospects. But those fans finally have been rewarded with a winning team, MVP candidate Andrew McCutchen and a roster that has made them feel as exhilarated as Emma Watson when she stood up with her arms outstretched in a convertible speeding out of the Fort Pitt tunnel in "The Perks of Being a Wallflower." So grab a Primanti Bros. sandwich, raise a pint of Iron City beer high and wave your cap like Bill Mazeroski rounding the bases in 1960. The Pirates are in the postseason, and let's hope it ends with McCutchen slamming a game-winning home run into the river.
Cons: Absolutely none. If you aren't rooting for the Pirates this October, you also probably rooted for Darth and the stormtroopers.
Rootability Quotient: 98.2
CSI: Box Score
Each week, I provide a fragment from an old box score and challenge you to determine what game it is from and why it's significant. I give this one a difficulty rating of 8. Answer below:
Baseball Card of the Week
Managing the Mariners has never been easy. Take away Lou Piniella's decade as a winning skipper there and Seattle managers, on average, have been fired or quit every other season. Eric Wedge, looking a little out of sorts in this card (1993 Upper Deck No. 653), became the latest when he announced he was resigning last weekend. Thus ended a season in which Wedge's team lost 91 games and he suffered a stroke that kept him out of the dugout for a month.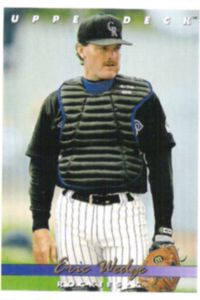 Like I said, managing the Mariners is never easy. Good luck to the next guy in the position.
Box Score Line of the Week
In an odd coincidence, when Andy Pettitte pitched his final game until he comes out of retirement again, his opponent was Houston's Paul Clemens, giving us a box score matchup of Pettitte and Clemens. This Clemens and Pettitte pair, though, did not throw footballs to each other last Saturday.
This week's award, however, must go to Miami's Henderson Alvarez, who became the first pitcher since Mike Witt in 1984 to throw a no-hitter on the final day of the season. His line:
9 IP, 0 H, 0 R, 0 ER, 1 BB, 4 K
And if you want a nice souvenir from the no-hitter, you can buy one -- those wonderful Marlins are selling unsold tickets to the game for just $15. True, you won't have seen the game but you won't have had to pay for parking, either. Then again, since they printed the wrong date on some of the tickets, you still might have trouble proving you were there.
Yeah, Well, That's Like, That's Just Your Opinion, Man.
Bud Definitely Was More Successful As Commissioner Than As Brewers Owner. Has Bud Selig, who announced again that he is retiring after next season, been a good commissioner? Well, he's had his pluses and his minuses -- and often on the very same issues. He greatly increased baseball revenue, though this probably doesn't matter much to people who don't own a team or play for one, but have to pay increased ticket prices. He ushered in beautiful and lavish new stadiums throughout the league, but he did so by effectively forcing communities to pay billions of their cost. He cancelled the 1994 World Series, though that really wasn't his fault because the players were on strike.
He presided over the steroid era, though the bulk of that blame goes to former players union chief Donald Fehr for resisting changes. He expanded the playoff pool, though adding the second wild card has not been a good thing for either attendance or the September races -- which haven't been particularly more interesting than had there been only one wild card. He brought baseball back to Washington, D.C., but only by removing it from Montreal (after threatening to exterminate the Expos and the Twins). He tried to use replacement players during the 1994-95 strike, but he later helped foster significantly improved relations with the players union. Those improved relations might be his greatest legacy.
So what's the verdict? It's kind of like Bud's infamous hands-up image during the 2002 All-Star Game tie -- it's hard to say. There's been some good and some bad, and your view probably depends on how you were affected by all of it. But I'll say this: Selig always has been more human, approachable and a genuine fan of the game than his counterparts in the other leagues. And he definitely was a better commissioner than many of his predecessors.
The Envelope, Please. As always, there are a lot of great candidates for this year's major awards. Here are my picks: NL MVP, Andrew McCutchen. NL Cy Young, Clayton Kershaw. NL Manager of the Year, Clint Hurdle. NL Rookie of the Year, Jose Fernandez. AL MVP, Miguel Cabrera. AL Cy Young, Max Scherzer. AL Rookie of the Year, Wil Myers. AL Manager of the Year, Joe Girardi.
His Kayak Costs A Little Less As Well. Larry Ellison's Oracle team might have won the America's Cup, but when it comes to Larry Ellisons on Bay Area waters, I go with the one who has regularly patrolled McCovey Cove in his kayak. That Larry Ellison retrieved Barry Bonds' 660th and 661st home run balls, and he also rescued a fellow Cove regular, as Jay Austin told me several years ago during a visit. "I didn't have a wetsuit at first so to keep my feet from getting cold, I'd drink a fifth of Chivas Regal with some Vicodin," Austin said then. "One day I just passed out and floated into the Bay. I was just out of it. Larry Ellison paddled out and rescued me. If it hadn't been for him, I'd have ended up in Oakland. I was dressed up as Tom Hanks in 'Cast Away,' with the loin cloth and volleyball and everything. The last thing I remember is shouting, 'You just hold on, Wilson!'"
CSI: Box Score Answer
The most important clues were the Baltimore-Minnesota matchup, the line score and the very few pitchers in the box score. This fragment was from an almost forgotten postseason pitching classic when Dave McNally threw an 11-inning shutout to beat Dave Boswell (who went 10 ⅔ scoreless innings) in Game 2 of the 1969 ALCS.