Who's the AL Rookie of the Year?
Originally Published:
November 11, 2013
ESPN.com
SportsNation: 2013 Top Rookies

Who do you think will take home this year's NL and AL Rookie of the Year award?
Cast your votes!

Below are the finalists for the American League Rookie of the Year award, which will be announced Monday at 6:18 p.m. ET.
ESPN.com asked a panel of contributors to choose which player should take home the award, and the results are listed below:
• Past Rookies of the Year »
• AL rookie stats: Hitting » Pitching »
RANK

PLAYER

VOTES

1

Wil Myers, OF, Tampa Bay Rays

30

OBP: .354 | SLG: .478 | BA: .293 | WAR: 2.0

Myers finished tops among all American League rookies in RBIs, on-base percentage and OPS.

2

Jose Iglesias, SS, Detroit Tigers

1

OBP: .349 | SLG: .386 | BA: .303 | WAR: 0.4

Igleasias, who began the season with the Red Sox and finished it with the Tigers, led AL shortstops with a .303 batting average.

2

Cody Allen, RHP, Cleveland Indians

1

ERA: 2.43 | WHIP: 1.25 | BAA: .233 | WAR: 1.4

Allen had four holds and a win in September to help the Indians secure the No. 1 wild-card spot in the AL.
NOTE: Chris Archer was announced as a finalist for the AL Rookie of the Year award, but he received zero votes from the ESPN panel.
PANEL OF VOTERS: Manny Acta, Aaron Boone, Jim Bowden, Dave Cameron, Jim Caple, Tristan Cockcroft, Jerry Crasnick, Richard Durrett, Pedro Gomez, Doug Glanville, Justin Havens, Eric Karabell, Molly Knight, Michael Knisley, David Kull, Tim Kurkjian, Andrew Marchand, Buster Olney, Peter Pascarelli, Mike Petriello, Karl Ravech, Enrique Rojas, Adam Rubin, Mark Saxon, Curt Schilling, David Schoenfield, Mark Simon, Scott Spratt, Jayson Stark, Paul Swydan, Matt Szefc, Dan Szymborski.
MLB ON ESPN.COM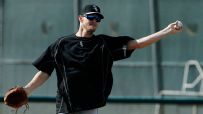 A fractured foot will likely force Chris Sale to miss the Opening Day start for the White Sox.
EDITORS' PICKS
A broken foot will likely keep Chris Sale from being the White Sox's Opening Day starter.
Story »

Seven prospects to keep an eye on in the Cactus League.
Jim Bowden

Minnie Minoso, who was baseball's first black Latin star, died Sunday at 90.
Story »

MOST SENT STORIES ON ESPN.COM