Who's the NL MVP?
Originally Published:
November 14, 2013
ESPN.com
SportsNation: 2013 MVPs

Who do you think will take home this year's NL and AL MVP awards?
Cast your votes!

Below are the finalists for the National League MVP award, which will be announced at 6:48 p.m. ET Thursday. (To view our AL MVP predictions, click here.)
ESPN.com asked a panel of contributors to choose which player should take home the award, and the results are listed below:
• Stats & Info: About the NL MVP candidates »
• Past MVP winners »
• NL hitter stats: OBP » WAR »
RANK

PLAYER

VOTES

1

Andrew McCutchen, CF, Pittsburgh Pirates

22

OBP: .404 | SLG: .508 | BA: .317 | WAR: 8.2

McCutchen, who finished third in the majors in WAR, led the Pirates to a playoff berth for the first time since 1992. He was also one of only seven players to have a better than .400 on-base percentage.

2

Paul Goldschmidt, 1B, Arizona Diamondbacks

6

OBP: .401 | SLG: .551 | BA: .302 | WAR: 7.0

Goldschmidt topped the National League in home runs (36), RBIs (125) and OPS (.952). He also scored 103 runs, third-best in the NL.

3

Yadier Molina, C, St. Louis Cardinals

4

OBP: .359 | SLG: .477 | BA: .319 | WAR: 5.7

Molina led all big-league catchers in WAR as well as doubles (44). He also established career highs in RBIs (80), runs (68) and hits (161).
PANEL OF VOTERS: Manny Acta, Aaron Boone, Jim Bowden, Dave Cameron, Jim Caple, Tristan Cockcroft, Jerry Crasnick, Richard Durrett, Doug Glanville, Pedro Gomez, Justin Havens, Eric Karabell, Molly Knight, Michael Knisley, David Kull, Tim Kurkjian, Andrew Marchand, Buster Olney, Peter Pascarelli, Mike Petriello, Karl Ravech, Enrique Rojas, Adam Rubin, Mark Saxon, Curt Schilling, David Schoenfield, Mark Simon, Scott Spratt, Jayson Stark, Paul Swydan, Matt Szefc, Dan Szymborski.
MLB ON ESPN.COM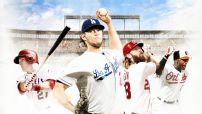 Why the Nationals will end Washington, D.C.'s 90-year title drought.
EDITORS' PICKS
The rallying Royals outlasted the A's in 12 innings.
Doug Padilla

Which team has the edge in the NL wild-card game?
Five questions »

Why the Nationals will end Washington, D.C.'s 89-year title drought.
Jayson Stark »