A quick read on the Rangers
Yu Darvish, Elvis Andrus, bullpen among topics on AL West-leading Texas
Originally Published:
June 7, 2012
ESPN.com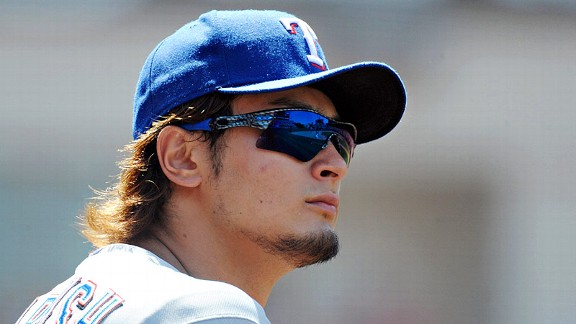 Kirby Lee/US PresswireYu Darvish (7-3, 3.34 ERA) has lost two of his past three starts.
Texas Rangers right-hander Yu Darvish makes his 13th major league start Thursday in Oakland. How has the Japanese pitcher performed? Our experts discuss Darvish among other Rangers topics in Thursday's Triple Play.
Let us know what you want our experts to discuss by tweeting @ESPN_MLB with suggestions. You also can use the #espntripleplay hashtag.
---
1. Has Yu Darvish been what you've expected, and how do you think he'll do now that one-third of the season is over?
Chad Dotson (@dotsonc), Redleg Nation
He has struggled with command more than expected, and he's been somewhat inconsistent, but Darvish has been as fun to watch as any pitcher in the AL. At times, he has been dazzlingly brilliant. I expect that we'll see him get better as he gets more accustomed to the league. After all, Darvish is striking out nearly 10 batters a game with a video game-like variety of pitches. The kid is good.
Eric Karabell (@karabellespn), ESPN.com
Darvish has electric stuff and should thrive for years, but I certainly didn't expect he'd be among the league leaders in walks. In Japan, Darvish issued 83 free passes the past two years combined; he's on pace to zoom past 100 this season. He can overpower most hitters, so for him to still have control issues and a 1.45 WHIP is odd. I expect him to get stronger as the year progresses.
Joey Matschulat (@BBTiA), Baseball Time in Arlington
I was hoping for something slightly more palatable than an early-season 5.0 walks per nine innings from Darvish, but notwithstanding the walks, he's been the pitcher I expected him to be: an ace-in-training with monstrous swing-and-miss stuff who is showing signs of incremental progress. That doesn't mean he won't continue to struggle here and there (I'm fully expecting that), but those who have watched him regularly know he's not far away from being very special.
---
2. What has been the most underreported aspect of the Rangers' season: Elvis Andrus' breakthrough as a premium top-of-the-order threat, or how good this bullpen has been since Joe Nathan overcame his early struggles?
Dotson: The Texas offense has been unstoppable, and Andrus deserves as much credit as anyone not named Josh Hamilton. Hitting primarily second in the lineup, Andrus has bumped up his OBP by more than 40 points, presenting plenty of RBI opportunities for the big boppers behind him in the lineup (Hamilton and Adrian Beltre). The key has been patience, as Andrus has improved his walk rate by nearly one-third. That's impressive for anyone, much less a 23-year-old.
Karabell: Most people expected Andrus would continue improving, and he has. When it comes to older players, especially those returning from injury, there's always skepticism. Nathan lost two of his first four appearances, and at 37, was being written off. Instead, he's allowed one earned run in his past 19 2/3 innings. This is a deep, terrific bullpen, and Neftali Feliz will only strengthen it. Watch out in October.
Matschulat: The stellar work of the Rangers' bullpen has gotten quite a bit of play in the Dallas-Fort Worth market, but I don't think there have been nearly enough plaudits thrown in Elvis' direction. Aside from his baffling league lead in sac bunts, Andrus has upped his walks while introducing more of a power element to his offensive game, and there's a legit argument that he's been the best shortstop in baseball this year … at age 23. He deserves more love.
---
3. When Roy Oswalt is ready to join the rotation, whom should he replace, and why?
Dotson: With Oswalt's arrival imminent, Scott Feldman (0-4, 7.01 ERA) is the first pitcher who should be casting nervous glances at the white courtesy phone. The real question is this: What happens when Neftali Feliz returns from the disabled list? Feliz was good -- and getting better -- in his first go-round as a starter. Texas is going to be sorely tempted to solve this dilemma by returning Feliz to the bullpen when he's healthy.
Karabell: The obvious pitcher to get bumped for Oswalt is underwhelming Scott Feldman, who in five starts still has yet to go as many as five innings in any outing. He doesn't need to be on the roster at all. A healthy Neftali Feliz would head to middle relief, but the Rangers have no choice. Really, the Rangers need to not overwork Oswalt the final three-plus months, as he was signed simply for October.
Matschulat: There's concern mounting over Derek Holland's physical well-being, but the odd man out here at this point is clearly Scott Feldman. The Rangers hoped Feldman (their only immediately viable backup starter) could deliver some passable back-of-the-rotation innings in Neftali Feliz's place, but he's ranged from vaguely passable to dreadful in four starts, and, ideally, he'll reassume a low-leverage, long-relief role once Oswalt is ready.
SPONSORED HEADLINES
MORE MLB HEADLINES
MOST SENT STORIES ON ESPN.COM
MLB on ESPN.com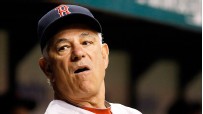 VALENTINE FIRED