Cabrera for the Triple Crown?
The Tigers' slugger is making a late-season push for an extremely rare feat
Originally Published:
August 16, 2012
ESPN.com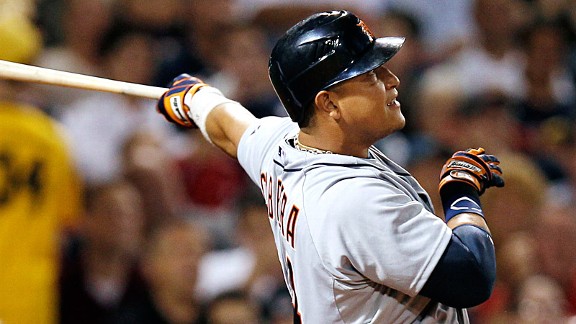 AP Photo/Winslow TownsonDon't look now, but Miguel Cabrera is making a run at the Triple Crown.
No batter has won the Triple Crown since Carl Yastrzemski in 1967, and very few have even come close. But it's now Aug. 16, and Miguel Cabrera is second the the AL in hitting (.327), third in homers (30) and first in RBIs (103). Can he do it? We asked our experts to handicap his odds.
1. Cabrera has a ________ percent chance of winning the Triple Crown.
Eric Karabell (@karabellespn), ESPN.com: About a 10 percent chance. Cabrera is awesome, of course, but I'm a believer in Mike Trout being able to sustain his batting average, and I don't see Adam Dunn losing his home run lead, either. Cabrera is on pace for his best power season, which is a feat, but he's had better overall years offensively, and there's a reason nobody has won the Triple Crown since Lyndon Johnson was president.
Diane Firstman (@dianagram), Value Over Replacement Grit: I'd say 15 percent. He trails Trout by .013, and Trout's 80 speed (on the 20-80 scouting scale) guarantees plenty of infield hits. Miggy is slugging .684 at home, and with 25 more games there he has a good chance of catching Dunn in homers and holding off [Josh] Hamilton in RBIs.
Hudson Belinsky (@hudsonbelinsky), Halos Daily: Let's say 25 percent. Cabrera's a special hitter, but it's really, really hard to win the Triple Crown. He's a freak, but I wouldn't bet on him to out-hit Mike Trout, outslug Josh Hamilton and Adam Dunn, and knock in more runners than Hamilton. Is he among the best hitters and sluggers in baseball? Yes. Will he win the Triple Crown? No.
---
2. True or false: Cabrera is now the best pure hitter in baseball.
Karabell: False. How does one define the term pure hitter? When I think of pure hitters I think of Wade Boggs and Tony Gwynn, and they weren't power guys. Nothing against Cabrera and other right-handed power hitters, but I think Joey Votto, Robinson Cano and Joe Mauer fit the description pretty well, though they aren't likely to win home run titles. To me the lefties have the more pure swings. I'd vote for Votto.
Firstman: True. He's on pace to lower his strikeout rate for the fifth consecutive season (now at 12.6 percent) while compiling an OPS+ of 157 during his time in Motown. He is hitting .273/.273/.513 with the pitcher ahead in the count! (League average is .206/.215/310.) If he had some foot speed, he'd hit .370 every year.
Belisnky: False. I'll take Mike Trout, but only by a hair. When players get as hot as Cabrera is it can be easy to buy into the small sample of awesomeness. Bottom line, if you told me I could have one hitter right now and I had to DH them, I'd take the 21-year-old.
---
3. What do you think his legacy will be?
Karabell: Cabrera has had a terrific career, and there's plenty more left, but he's been in the shadows of Albert Pujols for nearly all of it. Perhaps that's changing now, but Pujols has Cabrera 3-0 in MVP awards and 2-1 in World Series titles. Plus, Cabrera has never been a strong defender, and Pujols has been. Cabrera has big years ahead of him and Hall of Fame entry pending, but his legacy will still be as the second-best right-handed hitter of this generation.
Firstman: He's not had a spotless career, with some off-the-field drinking issues taking a little luster away from his generational hitting talent on the field. He's not stellar with the glove, but give him credit for moving (back) to third for the sake of the team this year. I think of him the same way as I do Frank Thomas, as a "professional hitter."
Belinsky: Cabrera may go down as the greatest hitter of his generation; his career 150 OPS+ is incredible and he may retire as a member of the 500 club. The 29-year-old contributed to a World Series championship as a youngster and has a chance to win again for the next several seasons. It's hard to keep guys like him out of the Hall of Fame.
SPONSORED HEADLINES
MORE MLB HEADLINES
MOST SENT STORIES ON ESPN.COM
MLB on ESPN.com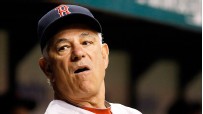 VALENTINE FIRED