No-Hitter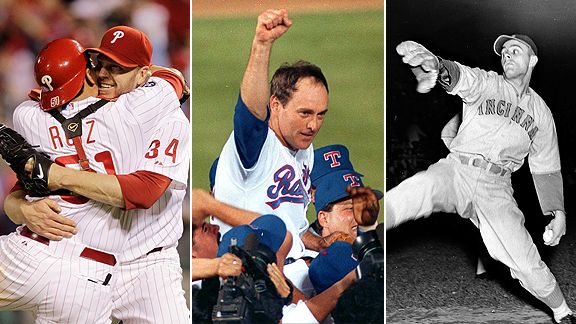 A no-hitter is a baseball game in which one team prevents the other from recording a hit during the entire game. In Major League Baseball, rules dictate what constitutes an official no-hitter, the most basic of which is that the team pitching the no-hitter must pitch at least nine innings. According to the Elias Sports Bureau, there have been 276 official major league no-hitters, including two in the postseason.
A no-hitter, or no-hit game, is a complete game in which a team does not record a hit, although the team's runners can reach base via other methods (most frequently a walk, hit-by-pitch or error). A no-hitter in which no batter reaches base safely is referred to as a perfect game. Only 23 of the no-hitters in baseball history have been perfect games. Because a team can throw a no-hitter and still allow baserunners, it is possible for a team to lose a game in which it throws a no-hitter, but this is rare.
The most recent no-hitter in Major League Baseball was thrown by Tim Lincecum of the San Francisco Giants, who threw one against the San Diego Padres on July 13, 2013.
Although any game in which a team fails to record a hit can generally be defined as a no-hitter, Major League Baseball has a specific definition to set certain parameters on a no-hitter. The current rule, established by the Committee for Statistical Accuracy in 1991, is:
"An official perfect game occurs when a pitcher (or pitchers) retires each batter on the opposing team during the entire course of a game, which consists of at least nine innings. In a perfect game, no batter reaches any base during the course of the game.
An official no-hit game occurs when a pitcher (or pitchers) allows no hits during the entire course of a game, which consists of at least nine innings. In a no-hit game, a batter may reach base via a walk, an error, a hit by pitch, a passed ball or wild pitch on strike three, or catcher's interference."
The language in this rule caused some previously recognized no-hitters to be removed from the record books, usually in cases where a visiting pitcher had given up a run in a no-hitter and lost without pitching the ninth inning, or when a pitcher had thrown a no-hitter through nine innings but gave up a hit in extra innings.
Pre-1900
The first official no-hitter recognized by Major League Baseball was thrown by George Bradley of the defunct St. Louis Brown Stockings against the also-defunct Hartford Dark Blues on July 15, 1876. It was nearly four years before another no-hitter was thrown, but in the 1880s, they started to become common. In 1880, one of four no-hitters thrown was the first perfect game in MLB history, by Lee Richmond of the Worcester Ruby Legs. In 1884, there were eight no-hitters thrown, including no-hitters in the American Association and the Union Association, both of which were considered major leagues at the time.
In 1882, Larry Corcoran became the first pitcher to throw multiple no-hitters in his career (he'd also thrown one in 1880). He added a third no-hitter in 1884, a record that would not be topped until Sandy Koufax threw his fourth no-hitter (a perfect game) in 1965. On Oct. 15, 1892, Bumpus Jones threw a no-hitter in his first major league game.
On April 22, 1898, two different Major League Baseball pitchers threw no-hitters on the same day. Ted Breitenstein of the Cincinnati Reds no-hit the Pittsburgh Pirates, and later that day Jay Hughes of the defunct Baltimore Orioles no-hit the Boston Beaneaters (now known as the Atlanta Braves).
Dead-ball era
Nixey Callahan of the Chicago White Sox threw the first no-hitter in the American League against the Detroit Tigers on Sept. 20, 1902. (The league was founded in 1901.) In 1908, there were six no-hitters thrown, including the third by Hall of Famer Cy Young, but the next season was played without a no-hitter for the first time since 1896.
The 1917 season saw three no-hitter firsts in MLB. On May 2, the Chicago Cubs and Cincinnati Reds became the first teams to each fail to record a hit through nine innings of the same game. Hippo Vaughn of the Cubs lost his no-hitter in the 10th, but Fred Toney of the Reds finished his extra-inning no-hitter. On May 5 and 6, the St. Louis Browns (now the Baltimore Orioles) became the first team to throw no-hitters on back-to-back days. Ernie Koob no-hit the Chicago White Sox on the fifth, and a day later, Bob Groom no-hit the White Sox in the second game of a doubleheader. No team has thrown no-hitters in consecutive games.
On June 23, 1917, MLB saw its first combined no-hitter, under interesting circumstances. Boston Red Sox starting pitcher Babe Ruth was ejected for arguing balls and strikes after walking the first batter. Ernie Shore came in to replace Ruth. The baserunner, Ray Morgan of the Washington Senators (now the Minnesota Twins), was caught stealing and Shore retired the next 26 batters in order for an official no-hitter and an unofficial "imperfect game."
1920s
As baseball moved into an era of increased offense, no-hitter frequency declined. Before 1920, there had been 91 official no-hitters, including 29 in the decade between 1910 and 1919. In the 1920s, there were nine no-hitters, and three seasons (1921, 1927, 1928) went by without a no-hitter.
Charlie Robertson of the Chicago White Sox did end a perfect game drought of more than 12 seasons when he threw one against the Detroit Tigers on April 30, 1922. To this day, it's the only perfect game ever thrown in April, and it would be the last perfect game thrown in a major league game for more than 30 years.
1930s
In 1931 there were two no-hitters thrown, including Wes Ferrell's no-hitter for the Cleveland Indians in which he also hit a home run, the first time that feat had been achieved. After Bobby Burke's no-hitter for the Senators, there wouldn't be another no-hitter for 1,140 days, the longest drought in baseball history in terms of days. Paul "Daffy" Dean ended the drought when he threw a no-hitter for the St. Louis Cardinals against the Brooklyn Dodgers on Sept. 21, 1934. That came in the second game of a doubleheader in which Paul's brother, Dizzy Dean, had taken a no-hitter into the ninth inning in the opening game.
In 1938, Johnny Vander Meer made no-hit history throwing no-hitters in back-to-back starts for the Cincinnati Reds. The first came on June 11 against the Boston Braves and the second was on June 15 against the Brooklyn Dodgers in the first night game in Ebbets Field history.
1940s
Indians pitcher Bob Feller got the 1940s off to a strong start, throwing the first of his three career no-hitters on opening day of the 1940 season against the Chicago White Sox. Although pitchers have since thrown no-hitters earlier by calendar date (Feller's came on April 16, 1940), no other pitcher has thrown an Opening Day no-hitter.
In 1947, Ewell Blackwell of the Reds no-hit the Boston Braves on June 18, then four days later took a no-hitter into the ninth inning against the Brooklyn Dodgers but had it broken up by Eddie Stanky.
1950s
The 1950s were a strong decade for no-hitters. Three different pitchers -- Allie Reynolds, Virgil Trucks and Carl Erskine -- each threw multiple no-hitters, while Feller threw the last of his three and Jim Bunning threw the first of his two.
Eight years after Jackie Robinson broke baseball's color barrier, Sam Jones of the Chicago Cubs became the first African-American pitcher to throw a no-hitter when he no-hit the Pittsburgh Pirates on May 12, 1955.
On Oct. 8, 1956, Don Larsen of the New York Yankees made history, throwing the first no-hitter in postseason history. Larsen's no-hitter, a perfect game, came against the Brooklyn Dodgers in Game 5 of the 1956 World Series. There would not be another postseason no-hitter until 54 years later, and Larsen's performance remains the only perfect game in postseason history.
Although not a no-hitter, Harvey Haddix's performance on May 26, 1959 has become synonymous with the term. Haddix, then with the Pirates, carried a perfect game through 12 innings of a game against the Milwaukee Braves. In the 13th inning, a batter reached on an error, then Haddix gave up what would have been a home run, but ended up a double because Joe Adcock passed Hank Aaron on the basepaths. Haddix's game was listed as a perfect game until the revision of MLB's no-hitter and perfect game rules in 1991.
1960s
The 1960s were a dominant era for pitching, and no-hitters were no exception. More than 30 no-hitters were thrown in the decade, including the only two official no-hitters in losing efforts. On April 23, 1964, Ken Johnson of the Houston Colt .45s (now the Houston Astros) became the first pitcher to lose a nine-inning complete game no-hitter when he was beaten 1-0 by the Cincinnati Reds. On April 30, 1967, Steve Barber and Stu Miller of the Orioles combined to no-hit the Detroit Tigers but lost 2-1.
On June 21, 1964, Jim Bunning threw the first regular-season perfect game since 1964, holding the New York Mets without a baserunner. It was the first no-hitter of any kind by a Philadelphia Phillies pitcher since 1906.
Sandy Koufax broke the major league record for no-hitters thrown by a pitcher when he threw four in four seasons between 1962 and 1965. Koufax's record-breaking fourth no-hitter was a perfect game on Sept. 9, 1965. Koufax held the Cubs without a baserunner, while opposing starter Bob Hendley allowed just one hit and one walk, with the only run coming on a throwing error by the catcher. The one combined hit and two combined baserunners are both records for an MLB game.
On Sept. 17-18, 1968, the San Francisco Giants and St. Louis Cardinals went back-to-back with no-hitters. First, Gaylord Perry of the Giants no-hit the Cardinals, then the next day, Ray Washburn of the Cardinals no-hit the Giants. A year later, the Reds and Astros matched the feat, with Jim Maloney of the Reds no-hitting the Astros on April 30, 1969, and Don Wilson of the Astros no-hitting the Reds on May 1.
1970s
Dock Ellis threw one of baseball's most notable no-hitters on June 12, 1970, as the Pirates defeated the San Diego Padres 2-0. In 1984, Ellis said he had been under the influence of LSD throughout the course of the game and was not able to clearly see the batter or catcher.
On June 23, 1971, Rick Wise of the Phillies no-hit the Reds while also hitting two home runs. He remains the only pitcher to achieve that feat.
Although Nolan Ryan had won a World Series in 1969 with the Mets, he emerged in the 1970s as a no-hitter record setter. On May 15, 1973, Ryan threw his first no-hitter as the California Angels defeated the Kansas City Royals, 3-0. Exactly two months later, Ryan threw his second career no-hitter, beating the Tigers 6-0. Ryan remains the most recent pitcher to throw two regular-season no-hitters in the same season (though in 2010, Roy Halladay threw one in the regular season and one in the postseason). Ryan threw two more no-hitters that decade, one in 1974 and one in 1975, matching the career mark set by Koufax a decade earlier.
On the final day of the 1975 season (Sept. 28, 1975), the Oakland Athletics set an American League record for most pitchers used in a no-hitter, when Vida Blue (5 IP), Glenn Abbott (1 IP), Paul Lindblad (1 IP) and Rollie Fingers (2 IP) combined to no-hit the Angels.
On June 16, 1978, Tom Seaver of the Reds pitched his only career no-hitter after having had three previous bids broken up in the ninth inning as a member of the Mets.
1980s
On Sept. 26, 1981, Nolan Ryan broke the career record for no-hitters, throwing his fifth -- and his first for the Houston Astros -- against the Los Angeles Dodgers, Koufax's old team. A month later, the Dodgers went on to win the World Series.
On July 4, 1983, Dave Righetti of the New York Yankees threw the first of three no-hitters in baseball that season. It was the first no-hitter by a Yankees pitcher since Don Larsen's perfect game and the first in the regular season since 1951.
Pitchers threw three perfect games in the 1980s after there were none in the '70s. The first was thrown by Len Barker of the Indians against the Toronto Blue Jays on May 15, 1981. Mike Witt of the Angels threw one against the Texas Rangers on the final day of the 1984 season (Sept. 30, 1984), and Tom Browning threw one of the Cincinnati Reds on Sept. 16, 1988, against the Los Angeles Dodgers, who won the World Series a month later.
1990s
After there were only 13 no-hitters in MLB in the 1980s, there were 14 combined in 1990 and 1991 alone -- seven in each season.
In 1990, Randy Johnson, Nolan Ryan, Dave Stewart, Fernando Valenzuela, Terry Mulholland and Dave Stieb all threw complete game no-hitters, and Mark Langston and Mike Witt (who'd previously thrown a perfect game) combined on a no-hitter for the California Angels. The no-hitters thrown by Stewart and Valenzuela both came on June 29 as part of an ESPN doubleheader.
In 1991, Nolan Ryan, Tommy Greene, Dennis Martinez, Wilson Alvarez and Bret Saberhagen all threw complete game no-hitters. Bob Milacki, Mike Flanagan, Mark Williamson and Gregg Olson combined on a no-hitter for the Orioles and Kent Mercker, Mark Wohlers and Alejandro Pena combined on one for the Braves. Ryan's no-hitter was the seventh and final of his career, and at 44 he remains the oldest pitcher to throw a no-hitter. Martinez's no-hitter was a perfect game.
There was at least one no-hitter thrown in every year in the 1990s, with 1992, 1995 and 1998 being the only years that saw a single no-hitter. In addition to Martinez's performance, there were three other perfect games thrown in the 1990s. Kenny Rogers threw one for the Texas Rangers on July 28, 1994. David Wells threw one for the Yankees on May 17, 1998, and his teammate David Cone joined him a year later, throwing a perfect game against the Montreal Expos on July 18, 1999. Cone's perfect game was the first in interleague play and the first between an American League and National League team since Don Larsen's perfect game in the 1956 World Series.
2000s
There were no no-hitters thrown in 2000, the first season without a no-hitter since 1989. The next year, there were three no-hitters, including Hideo Nomo's for the Boston Red Sox on April 4, 2001 against the Orioles, the earliest on the calendar a no-hitter has ever been thrown.
On June 11, 2003, the Houston Astros established an MLB record, using six pitchers to no-hit the New York Yankees. Starting pitcher Roy Oswalt left the game with an injury after throwing one pitch in the second inning, and Houston used five relievers to finish the game, with Brad Lidge earning the win.
Randy Johnson, who'd thrown a no-hitter 14 years earlier, threw a perfect game for the Arizona Diamondbacks against the Atlanta Braves on May 18, 2004. It was the only no-hitter of that season, and there wouldn't be another no-hitter in the majors until Sept. 6, 2006, a stretch of 6,364 games played, the longest drought in terms of games in MLB history.
Sanchez's no-hitter, the fourth in the brief history of the Florida Marlins, kicked off a run on no-hitters not seen since the early 1990s. There were three no-hitters in the 2007 season, two in the 2008 season, two in 2008 and six in 2010 (including one in the postseason). On July 26, 2010, Matt Garza threw the first no-hitter in Tampa Bay Rays history against the Detroit Tigers. The Rays had been no-hit three times in the previous 12 months prior to Garza's no-hitter.
2010s
Between 2009 and 2010, three pitchers threw perfect games: Mark Buehrle of the White Sox (who also threw a no-hitter in 2007 in which he faced the minimum 27 batters), Dallas Braden of the Oakland Athletics and Roy Halladay of the Phillies. There would have been a fourth, but Armando Galarraga's "imperfect" game on June 2, 2010 was broken up after 26 outs when first-base umpire Jim Joyce incorrectly called Jason Donald safe at first on what would have been the 27th out. Galarraga lost the perfect game and the no-hitter, but retired the next batter.
Halladay threw his perfect game on May 29, 2010, just 20 days after Braden's, easily the shortest amount of time between perfect games in baseball history. Halladay added to the record books on Oct. 6, 2010, when he became just the second pitcher in baseball history to throw a no-hitter in the postseason, holding the Cincinnati Reds without a hit in Game 1 of the 2010 National League Division Series. Halladay also had an RBI single in the game, which was the first of his postseason career. The run of no-hitters continued early in the 2011 season, when Francisco Liriano and Justin Verlander both threw no-hitters in a five-day span in the first week of May.
In 2012, Philip Humber became the latest pitcher to throw a perfect game, pitching one against the Seattle Mariners on April 21. It marked the fourth perfect game in four seasons, after there had been just one from 2000 to 2008. Two weeks later, Jered Weaver -- who'd combined for an 8-inning non-official no-hitter earlier in his career -- threw a complete-game no-hitter for the Angels against the Twins. Then, a month later, Johan Santana finally ended the Mets' long no-hitter drought, throwing the first one in franchise history in the 8,020th game the Mets played. Santana's no-hitter left the Padres as the only franchise without one. On August 15, 2012, Felix Hernandez of the Mariners -- who'd thrown a combined no-hitter earlier in the season -- completed a perfect game, making 2012 the first MLB season with three perfect games. Homer Bailey added the season's seventh no-hitter with a 1-0 win over the Pittsburgh Pirates on September 28, 2012, making the 2012 season just the third with seven no-hitters.
As of Homer Bailey's no-hitter on September 28, 2012, there have been 276 official no-hitters in the history of the American and National Leagues, including the postseason. 23 of them have been perfect games and two have come in the postseason (including one perfect game).
Twenty-nine of the 30 active MLB franchises have thrown at least one no-hitter, with only the San Diego Padres without one. The most recent franchise to throw its first no-hitter was the New York Mets, who ended their 51-year drought of futility when Johan Santana threw a no-hitter against the St. Louis Cardinals on June 1, 2012.
In the modern era, the record for most no-hitters in a season is seven, done in 1990, 1991 and 2012. There were six no-hitters in 1969, 1917 and 1908, as well as 2010 (including postseason).
Four pitchers -- Johnny Vander Meer (1938 Reds), Allie Reynolds (1951 Yankees), Virgil Trucks (1952 Tigers) and Nolan Ryan (1973 Angels) -- have thrown two no-hitters during the same regular season. Roy Halladay (2010 Phillies) is the only pitcher to throw two no-hitters in the same season, with one coming in the regular season and one in the postseason.
Pitchers to Throw Multiple No-Hitters
In MLB history, there have been 28 pitchers to throw multiple career no-hitters, most recently Justin Verlander, who threw one in 2007 and another in 2011.
| Pitcher | No-Hitters | Notes |
| --- | --- | --- |
| Nolan Ryan | 7 | |
| Sandy Koufax | 4 | |
| Bob Feller | 3 | |
| Cy Young | 3 | (1st in 19th century) |
| Larry Corcoran | 3 | (19th century) |
| Justin Verlander | 2 | |
| Roy Halladay | 2 | (including 2010 postseason) |
| Mark Buehrle | 2 | |
| Jim Bunning | 2 | |
| Steve Busby | 2 | |
| Carl Erskine | 2 | |
| Bob Forsch | 2 | |
| Pud Galvin | 2 | (19th century) |
| Ken Holtzman | 2 | |
| Addie Joss | 2 | |
| Dutch Leonard | 2 | |
| Jim Maloney | 2 | |
| Christy Mathewson | 2 | |
| Allie Reynolds | 2 | |
| Warren Spahn | 2 | |
| Bill Stoneman | 2 | |
| Virgil Trucks | 2 | |
| Johnny Vander Meer | 2 | |
| Don Wilson | 2 | |
| Hideo Nomo | 2 | |
| Randy Johnson | 2 | |
| Frank Smith | 2 | |
| Al Atkinson | 2 | (American Association) |
| Ted Breitenstein | 2 | (American Association) |
| Adonis Terry | 2 | (American Association) |
Pitchers to Throw Perfect Game And Additional No-Hitter in MLB History
Perfect Game
Other No-Hitters
Roy Halladay
2010
1 (postseason)
Mark Buehrle
2009
1
Randy Johnson
2004
1
>>Sandy Koufax
1965
3
>>Jim Bunning
1964
1
>>Addie Joss
1908
1
>>Cy Young
1904
2
>>Hall-of-Famer
Combined No-Hitters, MLB History
National League
1997: Francisco Cordova (9 inn) and Ricardo Rincon (1 inn), Pirates (July 12 vs. Astros)
1991: Kent Mercker (6 inn), Mark Wohlers (2 inn) and Alejandro Pena (1 inn), Braves (Sept 11 vs. Padres)
American League
1991: Bob Milacki (6 inn), Mike Flanagan (1 inn), Mark Williamson (1 inn) and Gregg Olson (1 inn), Orioles (July 13 at Athletics)
1990: Mark Langston (7 inn) and Mike Witt (2 inn), Angels (Apr. 11 vs Mariners)
1976: Blue Moon Odom (5 inn) and Francisco Barrios (4 inn), White Sox (July 28 at Athletics)
1975: Vida Blue (5 inn), Paul Lindblad (1 inn), and Rollie Fingers (2 inn), Athletics (Sept. 28 vs Angels)
1967: Steve Barber (8 2/3 inn) and Stu Miller (1/3 inn), Orioles (Apr. 30 vs. Tigers - lost 2-1)
1917: Babe Ruth (0 inn) and Ernie Shore (9 inn), Red Sox (June 23 vs Senators)
Interleague
2012: Kevin Millwood (6 inn), Charlie Furbush (2/3 inn), Stephen Pryor (1/3 inn), Lucas Luetge (1/3 inn), Brandon League (2/3 inn), Tom Wilhelmsen (1 inn), Mariners (June 8 vs Dodgers)
2003: Roy Oswalt (1 inn), Peter Munro (2 2/3 inn), Kirk Saarloos (1 1/3 inn), Brad Lidge (2 inn), Octavio Dotel (1 inn), Billy Wagner (1 inn), Astros (June 11 at Yankees)
Did You Know?
• The Mets streak of 8,019 consecutive games played before throwing their first no-hitter was the longest in MLB history.
• Ervin Santana's no-hitter on July 27, 2011 was just the fourth in the divisional era in which a team threw a no-hitter but did not record a shutout. The previous such no-hitter came in 1993.
• Justin Verlander is the 2nd player in MLB history to win a Rookie of the Year Award (1st awarded in 1947) and throw 2 no-hitters. The other is Hideo Nomo. Verlander is the 2nd Tigers pitcher two throw 2 no-hitters for the franchise; the other to do so was Virgil Trucks who did it twice during the 1952 season.
• Since earned runs became an official statistic in 1913, only two pitchers have entered a game with an ERA above 9.00 (minimum 3 games) and thrown a no-hitter: Bill Dietrich (10.13) in 1937 and Francisco Liriano (9.13) in 2011.
• Francisco Liriano is the fifth different pitcher from the Dominican Republic to throw a no-hitter, the most for any country outside the United States.
• Francisco Liriano's two strikeouts were the fewest in a no-hitter since Jerry Reuss in 1980.
• Miguel Olivo and Jeff Kellogg, the catcher and home plate ump for Ubaldo Jimenez's no-hitter (2010), were both behind the plate for Anibal Sanchez's no-hitter in 2006.
• Ubaldo Jimenez, who threw a no-hitter vs. the Braves on April 17, 2010, also gave up Barry Bonds' last career HR, No. 762. Bonds hit the HR on Sept. 5, 2007.
• Jason Varitek set a major league record when he caught his fourth no-hitter by Jon Lester (Nomo, Lowe, Buchholz). 12 catchers have caught 3 no-hitters: Charles Johnson, Alan Ashby, Jeff Torborg, Bill Carrigan, Del Crandall, Ed McFarland, Jim Hegan, Luke Sewell, Ray Schalk, Roy Campanella, Val Picinich, and Yogi Berra.
• Jason Varitek hit a HR and caught a no-hitter on May 19, 2008. The last player to catch a no-hitter and hit a HR before Varitek was Charles Johnson on Kevin Brown's no-hitter on June 10, 1997 at SF.
• The most walks in a complete game no-hitter is 10 by Jim Maloney (in 10 IP). Maloney fanned 12 in the Reds 1-0, 10 inning win vs. the Cubs on August, 19, 1965. A.J. Burnett's 9 walks are the most ever in a 9-inning complete game no hitter in modern major league history.
• Joe Girardi (on Sept. 6, 2006) became the 1st manager since Jeff Torborg (1991) to manage a no-hitter after catching one.
• The only pitcher to throw a no-hitter on opening day is Bob Feller in 1940 vs the White Sox. It was one of three career no-hitters for Feller.
• Hideo Nomo's second no-hitter on April 4, 2001 was the earliest thrown by date in Major League history.
• The last pitcher to throw a no-hitter in the first season at a new ballpark was Kenny Rogers of the Rangers (July 28, 1994 vs. the Angels at the Ballpark in Arlington, perfect game).
• In the last 30 years, the only pitcher to hurl a no-hitter the year after switching leagues is Al Leiter in 1996 for the Marlins. Dwight Gooden threw one the same year in his first season as a Yankee but didn't pitch the previous season. The only other pitcher to turn the feat in the divisional era since 1969 was Jim Bibby for the 1973 Rangers after starting the year for the Cardinals.
• The only pitcher since 1900 to throw a no-hitter in his 1st major-league start was Bobo Holloman for the 1953 St. Louis Browns. Holloman pitched only one season in the majors as he was demoted later that same season.
• The last team to be no-hit during the regular season and go on to win the World Series was the 1988 Dodgers.
TOP STORY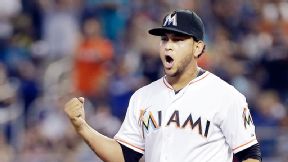 Fabulous Finish
Marlin Henderson Alvarez closed his year with a no-hitter, winning on a walk-off WP in the bottom of the ninth. Recap » BBTN Spotlight


Schoenfield: Tigers limp to October »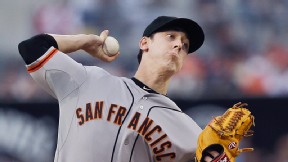 A Freak-y First
Tim Lincecum threw the first no-hitter of his illustrious career against the Padres amidst his toughest season. Recap »Kurkjian


Kahrl: Unique feat for unique hurler »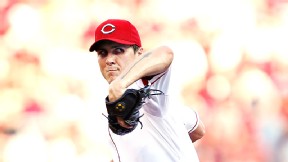 Homer Goes From Last To First!
After throwing the last no-hitter of 2012, Homer Bailey threw the first no-hitter of the 2013 season at the Giants' expense. Recap » BBTN


Schoenfield: Bailey blows Giants away »
2013 MAJOR LEAGUE BASEBALL NO-HITTERS
LAST NO-HITTER BY FRANCHISE