Commentary
McGregor's arsenal, legacy growing
Originally Published:
September 29, 2014
By
Brett Okamoto
| ESPN.com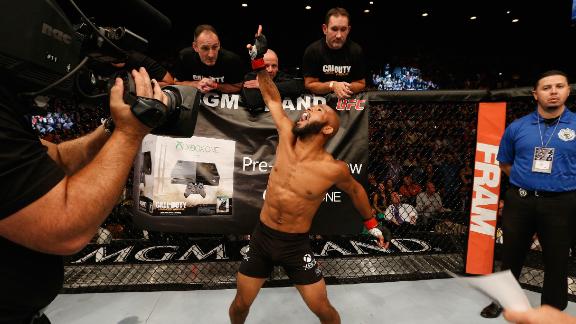 MMA Live Extra: UFC 178 Fallout
Phil Murphy and Brett Okamoto break down all the major storylines from UFC 178, including Demetrious Johnson's title defense, the rise of Conor McGregor, and the returns of Dominick Cruz and Cat Zingano.
MMA Live Extra: UFC 178 Fallout
NEXT VIDEO
LAS VEGAS -- Let's talk about the biggest story of the weekend: Conor McGregor.
Anyone who would argue that McGregor and his three-piece, ivory, elephant trunk suit was not the story of the weekend is either wrong or in denial. McGregor was the star attraction of UFC 178.
The 26-year-old is the real deal full package, unlike just about anything I've seen before in mixed martial arts. UFC president Dana White said Saturday he has never witnessed anything like the McGregor phenomenon. White is a fight promoter and partial to hyperbole, but this hyperbole is rooted in fact. McGregor has the makeup to be one of the biggest stars in UFC history.
Taking that into account, one can imagine how tempting it might be for the UFC to get McGregor into a title fight in his next appearance. Ultimately, I don't think that happens -- nor should it.
Not because the winner of a Cub Swanson-Frankie Edgar fight Dec. 13 will be that much more deserving of it. Sure, both Swanson and Edgar are ranked higher than McGregor, but not so much so that it would be a travesty to see him leapfrog them to the title.
To me, the UFC would actually do McGregor (16-2) a favor in booking him one more fight before awarding him a title shot.
Above the trash talk and the custom-fitted threads, what impresses me most about McGregor is his improvement between fights recently. He's hitting his athletic peak and optimizing it. The contrast in his fighting style on Saturday and his last fight against Diego Brandao just two months ago was quite noticeable, I thought. McGregor was more aggressive than usual against Dustin Poirier and he showed off some of the kicking arsenal he discussed at length during the buildup to the bout.
Give McGregor another six months and who knows what he'll add to his game. He'll be a different fighter than he was Saturday, that's for sure -- and the UFC should remember that when it books his next fight.
As good as the Irishman is, he'd be an underdog to the knockout power and wrestling ability of Chad Mendes or the athletic, precision striking of Jose Aldo. McGregor quipped Saturday that when featherweights feel his power, "it's a whole new ballgame." It will be a whole new ballgame for McGregor as well, once he steps in against Mendes or Aldo.
That's not to dismiss McGregor's chances of beating those guys, but what's the rush? McGregor and his legion of rowdy Irish fans aren't losing any steam if the UFC pushes back his title appearance by six months. If it were up to me, take McGregor to Brazil for the Aldo-Mendes fight scheduled at UFC 179 as planned. Let him speak to the media, say what he has to say about the winner. Bring him back, let the ligaments in his thumb heal and then book him to fight Chan Sung Jung in the UFC 183 co-main event Jan. 31 in Las Vegas.
Let the legend (and more important, the fighter) grow a little more. And now, fighter grades from UFC 178.
UFC 178 Grades
Dominick Cruz

I mean, we knew Dominick Cruz could fight. The question was how comfortable he would look on his legs. Well. He looked comfortable. McGregor might have been the superstar of the weekend, but Cruz's statement is impossible to ignore. Is this guy actually the favorite heading into a title fight against TJ Dillashaw?

Demetrious Johnson

He made a high-quality flyweight look like an amateur. This is becoming par for the course for Demetrious Johnson. That's already five title defenses. As if they were nothing. Will he end up cruising right past the UFC record of 10? These individual performances aren't getting a lot of attention, but eventually the body of work has to.

Conor McGregor

I watched the replay several times the day after the fight and to me, it was a legal punch that dropped Dustin Poirier. You can have any opinion of Conor McGregor that you want, but there is no disputing he is a big 145-pounder with impeccable technique that allows him to generate a ton of power. He is a major threat to anyone in the division.

Cat Zingano

Just wasn't going to be denied. That's the best way to describe Cat Zingano's performance. Even when Amanda Nunes was cracking her with ground and pound early, Zingano just wasn't losing that fight. It was basically that simple. I don't know if will alone can beat Ronda Rousey, but there's no question in my mind this sets up as the most intriguing fight of Rousey's UFC career so far.

Donald Cerrone

He basically sleepwalked through the first round. Not to take anything from Eddie Alvarez, but it was another flat start for Donald Cerrone. He is who he is and at this point, don't expect that to change. At least he has the chin required to get through those bad starts and once the engine warms up, few are better.

Kevin Lee

The 22-year-old Kevin Lee stayed within himself and didn't get careless, which might have been difficult on a night that seemed primed for "statement" type performances. Lee fought intelligently and managed to show a few new tricks while sticking with his bread and butter for the win. It wasn't anything to write home about, but it was solid progression.

Jorge Masvidal

Not the biggest or cleanest win of his career, but "Gamebred" got a "W" and should draw ranked opponents from here on out. Mission accomplished. Jorge Masvidal is iron-chinned and we saw that again, as he repeatedly walked right through Krause's jab.

Yoel Romero

The extra recovery time was precious. You know it. I know it. Yoel Romero knows it. He looked very good early and has the innate ability to still fight well, even while breathing heavily through the mouth and giving off the general impression he's completely gassed. This result will end up standing and it's a big win for the Cuban.

Stephen Thompson

"Wonderboy" was calculated against an underrated veteran in Patrick Cote, who didn't make this fight easy for him. Thompson could have been more aggressive in seeking a finish, but no one is questioning this guy's finishing ability. It's not going to happen every time and at the end of the day, he left no doubt who won this fight.

Eddie Alvarez

Eddie Alvarez certainly didn't give a poor performance and he backed up the claims he had made prior to the fight regarding how comfortable he'd look. The moment didn't beat him. A better fighter did. Will be interesting to see how hard UFC matchmaking goes at him in his second fight. Even though losing his debut is perfectly defensible, an 0-2 start would be a letdown.

Manny Gamburyan

Manny Gamburyan looked physically good at a new weight class. He was losing the bout until Cody Gibson sort of offered his neck on a silver platter. Can't expect that to happen on a regular basis, but credit to Gamburyan for taking advantage -- both of the neck and the mike time, as he called out Bryan Caraway.

Tim Kennedy

Tough, but Tim Kennedy is going to have to eat this one. Highly, highly unlikely any kind of appeal will change this result. He took a lot of damage early, but clearly he had all the momentum heading into the final round before "Stoolgate." Not much else to say, really. Kenendy is a phenomenal middleweight, but his path to a title just got a lot longer.

Brian Ebersole

Not too hot, not too cold. This was about as generic as a win can get. Brian Ebersole hung in against some nasty leg kicks and stayed busy enough to get a decision, but he looks like he's fighting in mud these days, with almost no athleticism or speed to speak of. Appreciate Ebersole for the variety of his technique and fight IQ. But don't expect to be "wowed" at this point.

Amanda Nunes

After the great start, Amanda Nunes was sort of like a meat being tenderized for dinner. This was an opportunity to earn some name recognition, but when it was all said and done, that didn't happen for Nunes. She was easy prey for Zingano two-thirds of the time.

Dustin Poirier

You could play the guessing game all day. Could Dustin Poirier have done anything differently? It's not like he held back any more than previous fights, nor did it ever feel like he froze. But if he's going to ever break into the title discussion in a real way, he has to do much better than this.

James Krause

His jab looked tremendous, but where was an effort to land anything else? This felt like one of those fights where James Krause had an opening for a possible win, but never could work himself up into walking through the door. He fought timid and not to lose, instead of to win.

Chris Cariaso

Hey, he'll always have the program to show his grandkids, right? Chris Cariaso was as milquetoast as milquetoast gets. An anonymous henchman in a James Bond flick that doesn't make it past the opening action scene. We barely knew ye.

Takeya Mizugaki

Felt like Takeya Mizugaki got blindsided. It might have been three years, but Mizugaki should have remembered exactly how good Cruz was. This kind of thing can happen in this sport and Mizugaki just fell victim to an early shot, but no other grade feels appropriate for this result.
MMA columnist for ESPN.com
Analyst for "MMA Live"
Covered MMA for Las Vegas Sun
EDITORS' PICKS
Rick Story isn't about to play "sacrificial lamb."
Brett Okamoto »

Cung Le has been suspended for using HGH.
Brett Okamoto »

Demetrious Johnson wanted to be the best fighter ever.
Blog »