Commentary
Jones benefits from Gustafsson win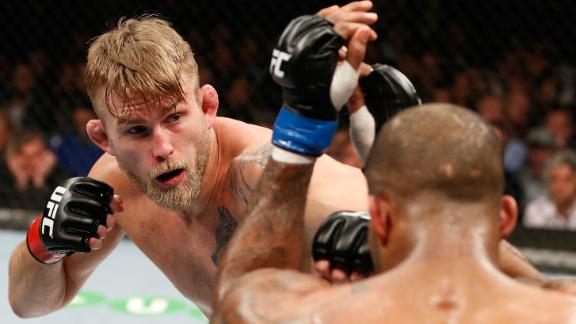 MMA Live Extra: Gustafsson Wins
MMA Live Extra: Gustafsson Wins
NEXT VIDEO
Jimi Manuwa was in over his head.
Let's be frank. With respect to the hard-hitting light heavy, he wasn't beating Alexander Gustafsson at UFC Fight Night 37 on Saturday.
The intrigue of the main event was never about Manuwa. He made for a great supporting actor, but the show was about Alexander Gustafsson and whether, by some form of train wreck, he might let a rematch against Jones slip away.
And considering this -- that the fight was always Gustafsson's to lose and when it was over, we all basically said, "Yeah, that looks about right," -- I feel slightly obligated to defend UFC champion Jon Jones for a paragraph or two.
Fans have lit up Jones since he (a) opted to fight Glover Teixeira next month instead of Gustafsson, (b) referred to Gustafsson's fight against Manuwa as an "easy path" back to the title and (c) suggested Gustafsson fight Daniel Cormier to determine the No. 1 contender.
I mean, in reality, are Jones' comments that far off the mark? Again, no disrespect to Manuwa, but did he represent a real challenge to Gustafsson's rematch hopes? Does Gustafsson's win over Manuwa (or Cormier's recent win over Patrick Cummins) feel completely like a high-profile, No. 1 contender win?
Jones will never be guilty of always saying the right thing, but in this case, I don't find his statements about Gustafsson that appalling. Jones is facing a brute at UFC 172 in Baltimore. While I probably won't pick Teixeira to beat him, he's a real threat -- a powerful opponent with a great chin, combinations and wrestling ability.
That doesn't figure to be an easy fight for Jones, whether he's favored or not. There is plenty of danger involved. You can't (or at least I can't) really hate the guy for asking Gustafsson to face a similar level of danger.
Bottom line: I don't see the logic in accusing Jones of running scared when he's never done so in the cage, where it really matters. Anyway, below are the grades for UFC Fight Night 37 and Bellator 111.
Ultimate Fight Night 37/Bellator 111 Grades
Gunnar Nelson

Can't say enough good things about Gunnar Nelson. Is he ready to hold the UFC title right now? Of course not. But he finds new ways to impress every time he's in the cage and he looked better than ever despite a 13-month layoff. He looks like the real deal.

Alexander Gustafsson

Manuwa's sublime punching power was fun to talk about but realistically, Gustfasson is so immeasurably durable that even the pre-fight "puncher's chance" comments about Manuwa felt a little hollow. The Swede did what expectations called for and set up the rematch against Jones that fans want to see. We'll see if Jones can do his part next month.

Eduardo Dantas

You can nitpick if you want. Eduardo Dantas lost the first round after he spent it almost entirely on his back. He looked fine in doing so though, as if he knew it was only a matter of time before a finish came. He was patient, relaxed and then spectacular when an opportunity presented itself. His victory dance probably needs work.

Michael Johnson

This was the kind of performance you wanted to see from Michael Johnson. He entered the fight ranked higher than Melvin Guillard, but it still felt as though this was a litmus test for the lightweight prospect. His hands look crisp and his confidence is high. He's ready for a top-10 opponent.

Lavar Johnson

There are holes in Lavar Johnson's game that, at this point, you have to assume will never get plugged. He is what he is: a hard-hitting, fast-starting menace with a serious grappling deficiency. He managed to overcome that deficiency Friday and he's still an intimidating force as long as he's on his feet.

Brad Pickett

Solid win in a new weight class, but it's hard to ignore some of the details. Brad Pickett was consistently beat to the punch. He's willing to brawl and pressure which can be effective, but at flyweight, where technique is king, it's hard to like his chances. The effort is 100 percent there for BP though, which makes him a pleasure to watch.

Anthony Leone

Anthony Leone's first title fight came in a sort of no-lose situation and he gave it a good run. His overeagerness to impose his will on Dantas led to the submission finish. The moment (and obviously, a very talented opponent) seemed to get the best of him. At 26, he can definitely turn this into a positive learning experience.

Jimi Manuwa

Despite the result, it's easy to walk away from Saturday with a higher impression of Jimi Manuwa then you did walking in. He was taken down, as many suspected he would be, but appeared relatively comfortable throughout and managed to work back to his feet near the end of the first round. He has more wins in the UFC coming to him.

Melvin Guillard

Melvin Guillard's career has produced its share of hard-to-watch moments and this might jump the top of the list. He appeared to just be executing a conservative game plan early on, but eventually it got to a point where it was pretty clear he didn't want to be there. Not really much else to say. Disappointing effort by Guillard.
MMA columnist for ESPN.com
Analyst for "MMA Live"
Covered MMA for Las Vegas Sun
SPONSORED HEADLINES
MORE MMA HEADLINES
MOST SENT STORIES ON ESPN.COM
EDITORS' PICKS
Johny Hendricks and Robbie Lawler meet at UFC 171.
Preview »

Curran submits Straus in closing seconds to regain title.
Recap »

Tyron Woodley could book a title shot with a win Saturday.
Notes »