Commentary
Let's keep Nick Diaz out of title talk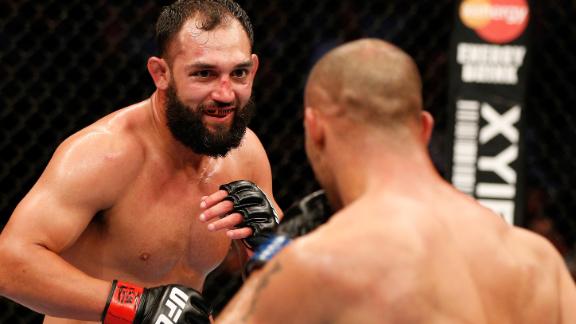 UFC 171: Hendricks Wins Title
UFC 171: Hendricks Wins Title
NEXT VIDEO
UFC 171: Hendricks Wins Title

UFC 171: Hendricks Wins Title

UFC 171: Dana White On Hendricks' Win

UFC 171: Dana White On Hendricks' Win

UFC 171: Hendricks Wins A Slugfest

UFC 171: Hendricks Wins A Slugfest
Nick Diaz had himself a time in Dallas.
The twice-retired Diaz (26-9) didn't miss out on a UFC 171 card that was built to showcase the talent of the welterweight division. And somehow, he got our attention despite never setting foot in the cage.
Video of him went viral in the mixed martial arts world on Friday, when he was shown taunting Johny Hendricks for missing weight. The next day, he sat cageside for the pay-per-view event, next to female bantamweight champion Ronda Rousey.
The typically media-shy Diaz also granted interviews with anyone who asked, and announced that after a year away from professional fighting, he is ready to return to the Octagon -- for a shot at the title.
That's awesome. Welcome back, Nick. But about that last part ...
Are we really talking about Nick Diaz fighting for the title in his first fight back? Tell me we're not. You guys, seriously. We're not, right?
Diaz is on a two-fight losing streak. He hasn't won a bout since October 2011 against BJ Penn. BJ Penn. A man who is currently training for a fight at 145 pounds.
But even more than that, you know why Diaz doesn't deserve a title shot? Because he didn't fight at UFC 171 -- despite getting an invitation. The UFC offered him a chance to avenge a 2012 loss to Carlos Condit in the co-main event, and he passed.
Diaz decided that fight wasn't worth his time. A welterweight by the name of Tyron Woodley, with about 15 text messages to UFC president Dana White, made it be known he thought it was worth his.
While Diaz sat cageside, Woodley (13-2) rolled through the highly ranked Condit -- whom we're still not sure Diaz could beat since Diaz opted not to fight him.
If Diaz were to get a title shot ahead of Woodley, I mean, what are we all doing here? What are we watching at that point? Fun, marketable fights are one thing. Giving a title shot to a man with more retirements than wins in the past two years is another.
Don't get me wrong: I am more than happy to welcome Diaz back to the UFC. A fight between him and Robbie Lawler is a home run. You could argue Diaz doesn't even deserve that, as Lawler was just five minutes away from holding the belt, but I won't.
Today, my vote is Woodley as the welterweight No. 1 contender. If Hendricks needs time to heal and the UFC wants to set up something official, have Woodley fight Hector Lombard or Rory MacDonald. But for now, Diaz shouldn't be in the conversation.
With that, here are the grades from UFC 171 and Bellator 112.
UFC 171/Bellator 112 Grades
Tyron Woodley

Tyron Woodley put it on Carlos Condit from the start of the fight. Following the injury, some said it appeared Condit was about to turn things around, but that's not how I saw it. Woodley's speed is a game-changer and his striking has caught up to his wrestling.

Johny Hendricks

What a night. Johny Hendricks doesn't earn a perfect score, as it wasn't a perfect fight. He took the most damage of his career, and a lot of it came from the same Lawler left hand over and over. He showed a champion's will in the fifth, though, and that's something you can't teach.

Robbie Lawler

Almost. Robbie Lawler was outstanding in defeat. He dealt with Hendricks' striking better than most welterweights before him and he created opportunities to win the fight. There was very little to criticize about his performance; he just ran into a better man on that night.

Pat Curran

Like Hendricks, Pat Curran got it done when it mattered -- in the fifth round. Scorecards later revealed Curran didn't need a finish to win the Bellator featherweight title, but he got one anyway. Still not enough for the "best 145-pounder in the world" talk to return, but a solid win for sure.

Kelvin Gastelum

Quietly, Kelvin Gastelum was one of the more impressive fighters of the entire weekend. The result (a split decision over Rick Story) won't turn heads, but this unseasoned 22-year-old is making huge strides. On his feet, he's far more technical than he gets credit for, and he rallied from two nasty left hands in the second round.

Hector Lombard

Two ways of looking at this one: criticize Hector Lombard for standing around in the last seven minutes ... or focus on the first seven minutes, during which he made Jake Shields look like an amateur. By not getting a finish, he blew an opportunity to get in the title picture right now, but at the same time, I wouldn't want to fight him.

Myles Jury

Undefeated lightweight Myles Jury took what advantages he had stylistically on paper and put them to work in the fight. It never really felt like he tasted the full, crazy Diego Sanchez, but regardless, he fought it right. Kept Sanchez on the outside, circled out when he blitzed and sealed rounds with late takedowns. Clean.

Daniel Straus

Not a bad performance by Daniel Straus, but he wouldn't tell you it was his best, either. Had he lasted another 14 seconds, he would have won the fight on my scorecard, but he appeared to wilt in the fifth round and never seemed to really hit a groove on Curran like he did in their second fight.

Carlos Condit

Takedown defense continues to be an issue for Carlos Condit. In some ways, it probably always will be, because he loves to come forward and throw kicks frequently. As true as that is, it doesn't make it a good thing. This division is loaded with powerful wrestlers and Condit is forfeiting points every time his back touches the ground.

Diego Sanchez

Diego Sanchez wrote on Twitter on Sunday that he wasn't himself after consuming a bad batch of steak tartare in Dallas. That's almost too weird not to be true. Either way, Sanchez has reached a point where aggression and heart are what win him fights -- that, and that alone. They were there Saturday, but not quite like we've seen previously.

Jake Shields

He just had nothing on Lombard. Nothing. It was a tough fight stylistically and became so one-sided, it was tough to even determine what Jake Shields' game plan was. Not the end of the world. It's his first loss since 2011. But at the beginning of this fight, wow, Shields looked like he didn't belong in there.
MMA columnist for ESPN.com
Analyst for "MMA Live"
Covered MMA for Las Vegas Sun
SPONSORED HEADLINES
MORE MMA HEADLINES
MOST SENT STORIES ON ESPN.COM
EDITORS' PICKS
Kennedy outworks Bisping by unanimous decision.
FightCenter »

Tito Ortiz feels positive about his return to the cage.
MMA Live

Johny Hendricks expects a return to action by summer.
Story »