Commentary
Another 'best ever' candidate?
Originally Published:
December 9, 2013
By
Josh Gross
| ESPN.com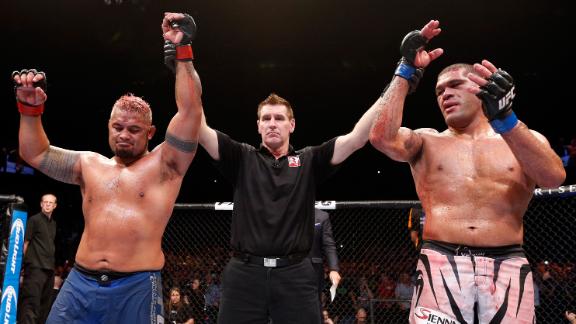 MMA Live Extra: Draw For The Ages
MMA Live Extra: Draw For The Ages
The year 2013 has been a banner year in the "best ever" category.
You can't watch mixed martial arts week in, week out, without being propositioned with the idea that the fight you're about to watch, or the one you just did, is simply the best (hat tip to Tina Turner).
The latest fight getting this treatment is, of course, Mark Hunt's heavyweight UFC clash with Antonio Silva in Brisbane, Australia. It was an amazing fight to watch unfold live. No doubt about it. Action picked up in the second half, leading to wild moments and flurries that left both fighters hurt, defenseless, in a position to recover and fight back. It was just surreal in some spots. These weren't lightweights bouncing bombs off one another's heads. Heavyweights.
Both guys north of 260 pounds, each ham-fisted with bad intentions.
It was an epic way to spend half an hour, no question. But the best heavyweight clash ever?
That's what some people are saying. The best heavyweight fight ever.
The best UFC heavyweight fight ever. The best five-round heavyweight fight ever. The best fight of the year. Hey, a person could reasonably argue in favor of Hunt-Silva being all those things. Had I chimed in on fight night, I might have said something similar. But I've tried to make a habit of waiting on "best ever" pronouncements. And because I'm writing this with a little distance, I feel comfortable not signing on to Hunt-Silva as being the best of the best from heavyweights in the UFC.
The first half of the fight was competitive but mostly vanilla. Hunt couldn't figure out distance against Silva. Silva was paying proper attention to defense. But then Hunt popped Silva and dropped the giant Brazilian in the third. And it was on. From that point forward, the next two and a half rounds were truly something to behold.
Still, it falls short of fight of the year for me. I prefer Jon Jones' win against Alexander Gustafsson, or Demetrious Johnson retaining his belt against John Dodson.
As for where it ranks all time among heavyweight fights in the Octagon, it'll be a fan favorite. No question. But I prefer Randy Couture versus Pedro Rizzo 1 (alternating 10-8 rounds followed by another grueling 15 minutes); Antonio Rodrigo Nogueira versus Couture (a classic style fight that delivered); Bas Rutten's clutch UFC debut stoppage of Tsuyoshi Kosaka; and the thrilling spectacle between Brock Lesnar and Shane Carwin.
UFC Fight Night 33
Mauricio Rua

Pulling a total reversal following a dismal effort against Chael Sonnen in August, Mauricio Rua made it quick when he snapped off a perfect counter left punch to stop James Te-Huna. The punch enabled one of the best light heavyweights in MMA history to remain at 205 without anyone making a stink about it. That's good news. Rua's probably locked into gatekeeper status at this point and his best days are surely behind him. But cutting 20 pounds to make the middleweight limit isn't the answer he's looking for.

Mark Hunt

Everything about Mark Hunt's effort in Brisbane is worth remembering, starting with his shirtless walk to the cage. Once he was locked inside with Bigfoot Silva, Hunt showcased a wide array of MMA skills. He fought from bell to bell with tenacity, and was obviously in terrific shape to handle the work rate and damage that piled up over 25 minutes. Match him up with anyone in the division, and fans will want to watch.

Antonio Silva

Antonio Silva is a terrific heavyweight. He has never earned the respect he should have because of his size and story. But the fact is he's notably nimble for his size, highly skilled, determined and, without a doubt, can take a tremendous amount of punishment. Silva gave as good as he got. He fought mostly on the feet and not only survived, he excelled in spots.

Soa Palelei

Soa Palelei did the smart thing and took advantage of an opponent's glaring weakness. Pat Barry never developed a ground game, so Palelei, a noted brawler who lost to anyone better than average, sliced through Barry on the floor, landed in full mount, and hammered down punches to secure an early finish. Don't read too much into this insofar as Palelei's UFC prospects go. His ceiling appears limited, even as he's riding high on a 10-fight winning streak.

Ryan Bader

It felt as though Ryan Bader was going to maim Anthony Perosh, but he didn't take it that far. Still, the powerful light heavyweight treated Perosh as he should have, earning a sweeping unanimous decision after three lopsided rounds. This win does nothing to indicate Bader's chances. He's been too inconsistent against the top of the division, and needs several quality efforts to get a sniff at the 205 title picture. Maybe a fight with Shogun?

James Te-Huna

James Te-Huna was caught against a superior fighter. At this stage, he comes across as a tough guy with the spirit to fight, but generally deficient when it comes to challenging the upper echelon at 205. Te-Huna left himself wide open when he threw a lead uppercut, and that's all it took for him to crumble to the canvas like he was rigged for controlled demolition.

Anthony Perosh

Anthony Perosh is 41 years old and got beat up pretty bad over the weekend. He'll never win a belt in the UFC. He can't realistically compete against the more talented contenders at that weight. Draw your own conclusions.

Pat Barry

Pat Barry could have been released from the UFC multiple times since 2009. Yet he always hung on based on some notion of fan devotion and his ability to engage in fisticuffs against other heavyweights. Versus an unheralded opponent, Barry fell flat. His grappling defense and tactics were nonexistent. So he was forced to eat punches from the mount for a stretch before being saved by the referee. This was a poor effort.
MMA columnist for ESPN.com
Has covered MMA since 2000
Hosts "Gross Point Blank" podcast
SPONSORED HEADLINES
MORE MMA HEADLINES
MOST SENT STORIES ON ESPN.COM
EDITORS' PICKS
McDonald can prove he's title material on Saturday.
Preview »

Mauricio Rua flashed a glipse of the old "Shogun."
Power Rankings »

Benavidez feels he'll be in top form against Johnson.
Watch